Has this ever happened – you have a perfect picture for your blog, but you just don't like the background. Maybe it has something that doesn't align with your branding or the overall vibe you're going for.
It's like finding the perfect outfit but realizing the shoes just don't match. Frustrating, right? But fear not! There are ways to salvage that ideal image. You just need a background removal tool. It will help you remove the unwanted elements that are clashing with your blog's aesthetic.
The best part? You won't have to spend an arm and a leg to use these tools. In this article, I have listed 7 free background removal tools that will effortlessly rescue great visuals from background chaos.
7 Free Background Removal Tool
Let's explore the features of these free background removal tools in more detail.

1. Remove.bg
Remove.bg is a simple and straightforward online background removal tool. You just upload an image, and voila, the background will be removed instantly. You will also be able to download the new edited image in one click without any sign-up.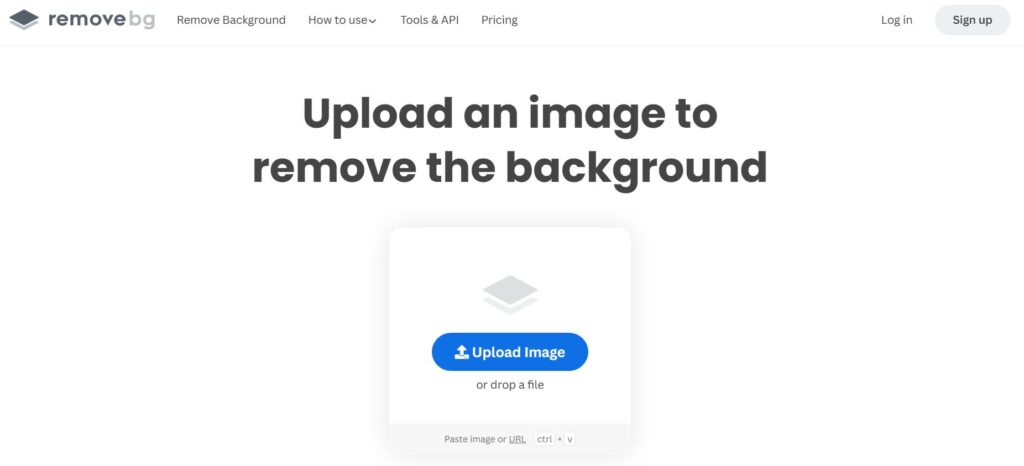 However, since the tool works automatically, you cannot manually select the individual layers that you want to remove from the background. It's best for a quick fix where you want to remove the entire background scene.
2. Adobe Express
The background removal tool by Adobe Express is also similar to Remove.bg. You just need to upload the image, and the tool works automatically in just one click.
Here's an example of how well it can remove the background of an image: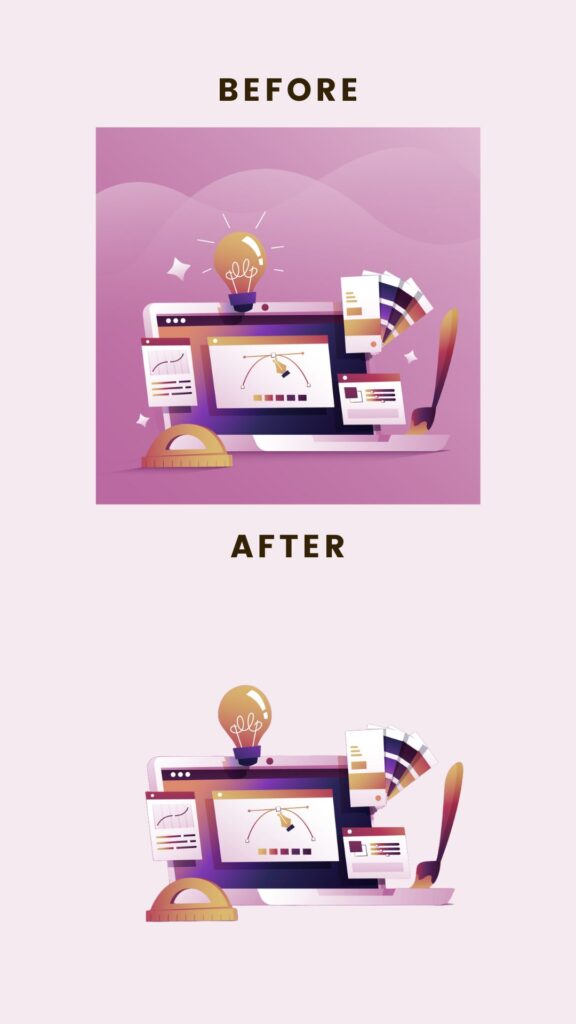 You'll, however, need to sign up for an Adobe Express account to download the image.
3. PhotoRoom
PhotoRoom takes things one step further by allowing you to remove the current background from a picture and add different colors to the newly created backgrounds.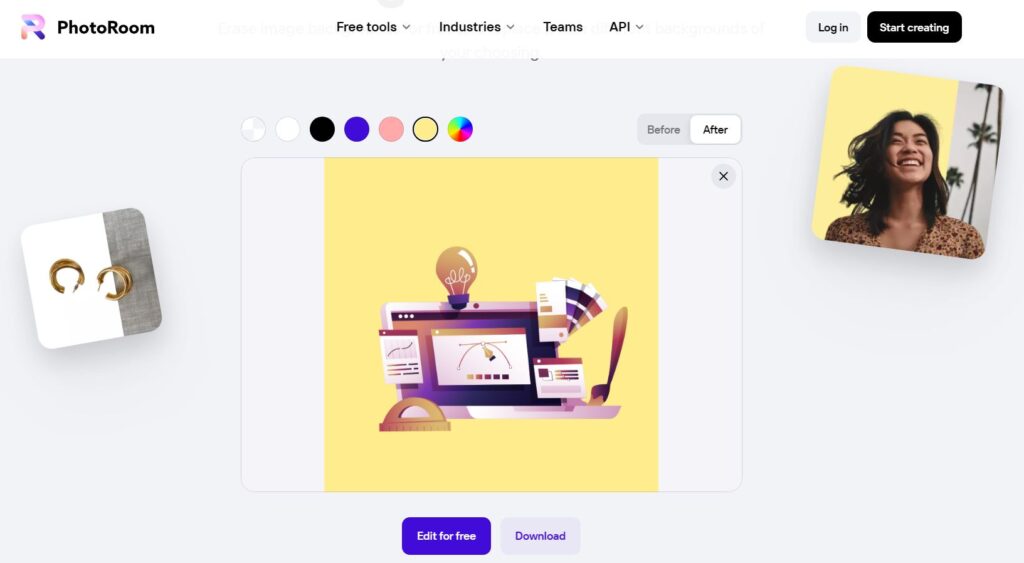 With just one click, the tool also allows you to download the images in the standard size of 1280px x 1280px.
4. Retoucher
If, instead of a single color, you need more variations and gradients, then Retoucher is the best choice. You can simply remove the background of your images and download them as they are in one click.
Or you can try some other amazing alternative backgrounds like this: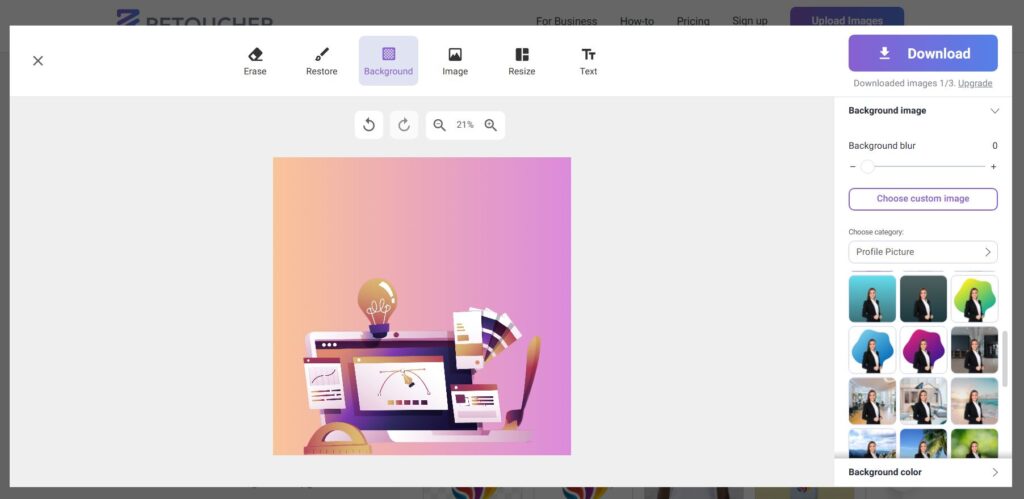 5. Magic Studio
Magic Studio offers two amazing tools – one for removing backgrounds and one for removing specific elements from the background. While the first tool is great, I would recommend using Magic Eraser if, instead of the whole background, you want to remove only a small section from your image.
Here's an example. I uploaded this image on Magic Eraser: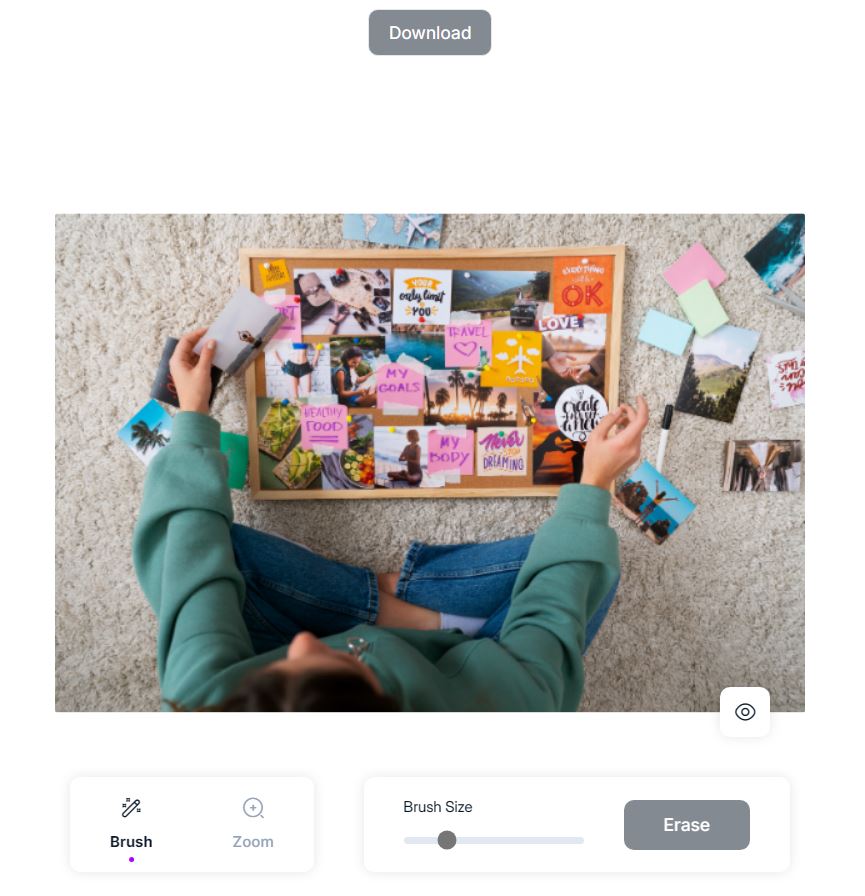 I wanted to remove the pictures and pens lying around the board. So, I selected them with the brush tool: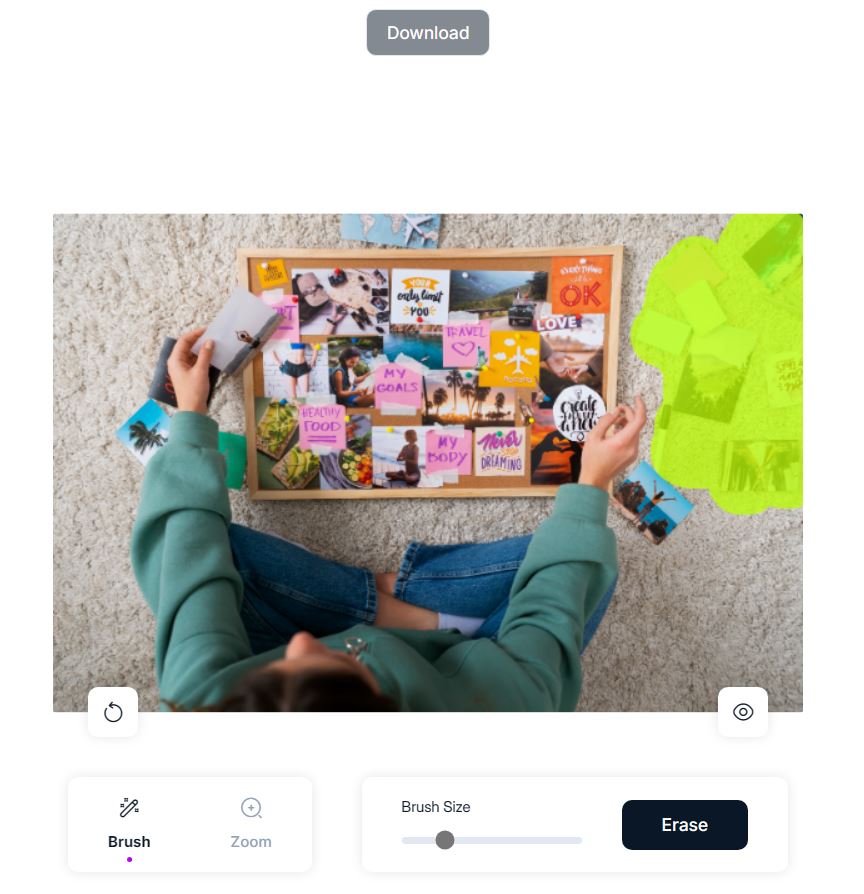 I clicked erase, and here's the final image.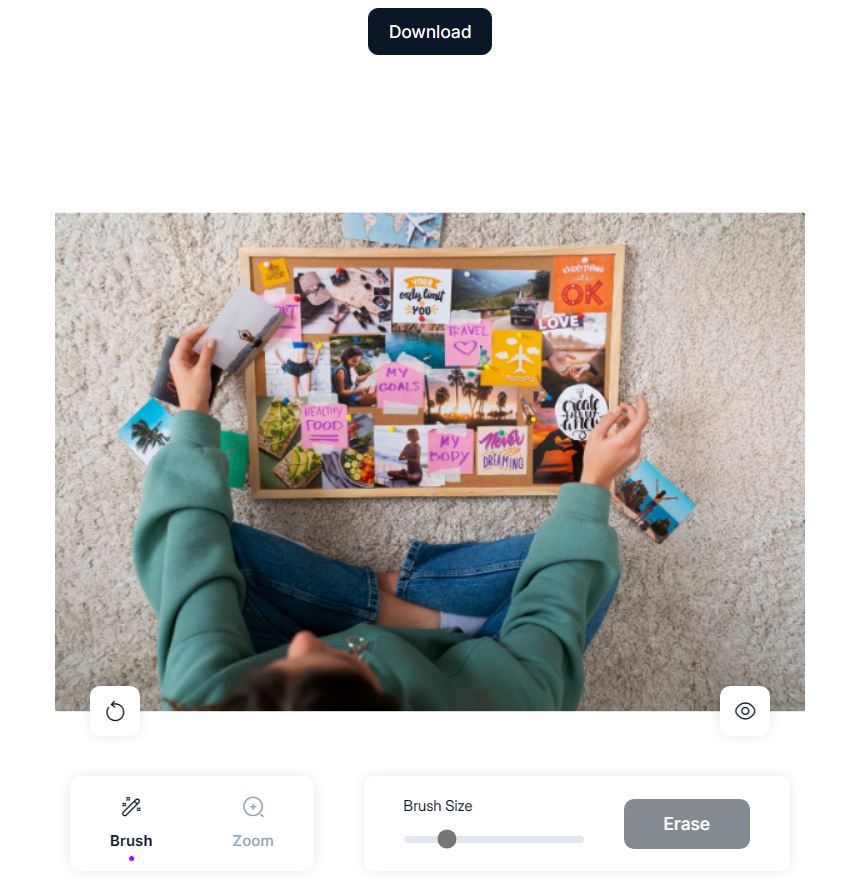 The tool removed the elements effectively. The only drawback is that the free version will allow you to download a slightly low-resolution image. You'll have to buy the premium version in order to download high-resolution images.
6. Background Eraser
Background Eraser is a user-friendly app available for iOS and Android. It doesn't offer any extensive features or functionalities, you just upload a picture and get the edited version back. This makes it a handy tool when you want to remove the background for your images in a hurry.
Here's an example of a stock image I edited with the Background Eraser app: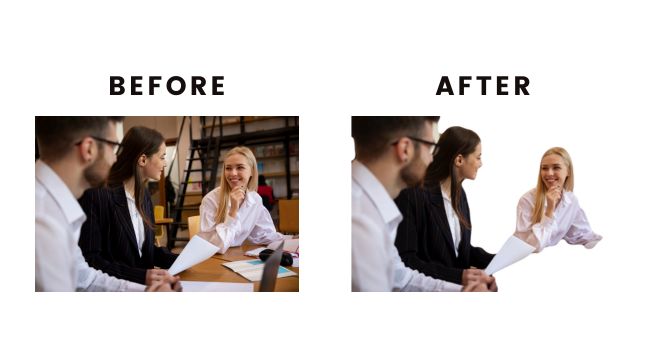 7. Photopea
Photopea is a more advanced yet easy-to-use editor that you can use to remove backgrounds. However, it only works if your files are in .ai, .psd, or .eps format.
The higher level of editing capability offered by this tool will allow you to remove specific layers in the background. You can simply right-click on the image and select the path as I have done in this image: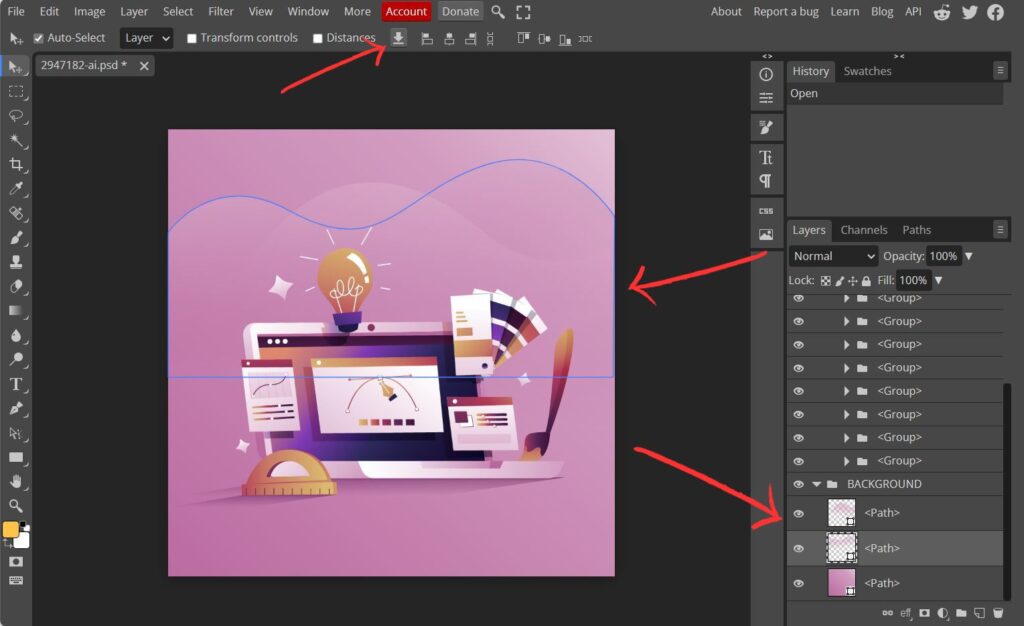 You'll see all the layers in the right sidebar, and you just need to click on the little eye icon to remove that layer or right-click it to delete. Once you're happy with the final image, just export the files in your preferred format in one click.
Summing Up: Which is The Background Removal Tool?
There are a ton of free background remover tools available in the market. While some are known for their simplicity, others are known for their advanced features. Ultimately, you need to find something that fits your specific needs and artistic vision.
And if you're looking for a hassle-free option, then you should sign up for our graphic design subscription. Our talented designers can handle the intricate details of editing and removing background, ensuring we deliver high-quality results every time.