A graphic designer can turn 💩 into 🌈
But it isn't always easy to hire a graphic designer online.
You'll have to look for the right skills as per your brand's requirements. The total cost of hiring and managing a designer is another thing you'll have to consider in detail.
In this article, I'm going to help you streamline your hiring process by sharing what skills you need to look for in a designer, how to frame a perfect job description, and the budget you should allocate for your hire.
How to Hire a Graphic Designer
1. What do most companies ignore when starting the hiring process?
The biggest mistake I have seen companies make when they hire a graphic designer is not preparing a good brief.
Most companies, especially the small ones aren't aware of their style. You need to do your homework first by understanding your brand and its needs. You can do this by going through various designs and websites online and see what does and doesn't appeal to you.
You need to be very clear about what you like, what you don't like and the reasons for the same.
This step will set the tone for the entire project. It will give your designer the necessary insight, background, and foundation for the effective creation of the design.
For an overview, I think a design brief should include the following:
Your company's profile
Who is your target audience?
Who's your competition?
What is the project?
Reference materials
Any definite do's and don'ts with the colors and design
What is the time scale?
A list of deliverables
This brief will not only save you a lot of time when you hire a graphic designer but it will effectively guide the overall workflow of your project.
2. What skills are needed in a graphic designer?
What makes a good designer a GOOD designer? and what separates them from great designers?
Apart from the usuals like creativity, past experience, and technical knowledge what else should you look in a graphic designer?
It will be tough to hire a graphic designer who excels in every aspect of design. Here you'll have to consider your business goals. If you are a new or a small business your immediate goal is to grow your brand. The big players are however looking to scale their design operations.
The skills you should consider if you are also looking to grow your business are:
Technical Know-How – The designer should be familiar with at least one or 2 graphic design tools like Adobe Photoshop, Illustrator, or After Effects.
Communication Skills – A designer has to articulate ideas to companies, clients, employers, etc. They need to possess strong public speaking skills for presentations and writing skills for proposals. They should also be able to communicate with clients and employers by phone and email.
Accessibility – The designer should be in your reach whenever you need assistance. Make sure they are comfortable with working in your time zones.
Cost – Hiring a freelancer costs less than hiring someone full-time. But with freelancers, their availability is a big issue. If you have a lot of design needs you are always better off hiring someone full-time.
Problem Solving – Your designer will often face issues at the website's development stage or with the client's challenging expectations. They should know how to make things work and solve the problem.
Now if you are a big brand looking to scale your business, you should consider the following skills when you hire a graphic designer:
Coding – Not an expert but a basic understanding of HTML and CSS is important. This way the designer knows what goes into creating a website.
Branding – Simple churning of design is not enough if you are creating a brand image. It is important to maintain a similar quality and consistency in all designs whether on your website or on your social media.
Client Handling – Your designer should have a good understanding of your customer's needs. They should work towards fulfilling their requirements with regular interaction.
A mere college degree isn't enough today. You will have to judge your designer on skills beyond what is listed in their resume. A simple way to do this is by streamlining your design process to filter out candidates more suitable for your business.
3. Should you hire an in-house designer, or freelancer or outsource your design worries?
Finding the right balance between expertise, timing, and the cost is quite hard. Various factors need to be considered when you look to hire a graphic designer online. While big companies possess the resources of hiring someone in-house, the other millions of small businesses often inclined towards hiring a design agency or freelancer.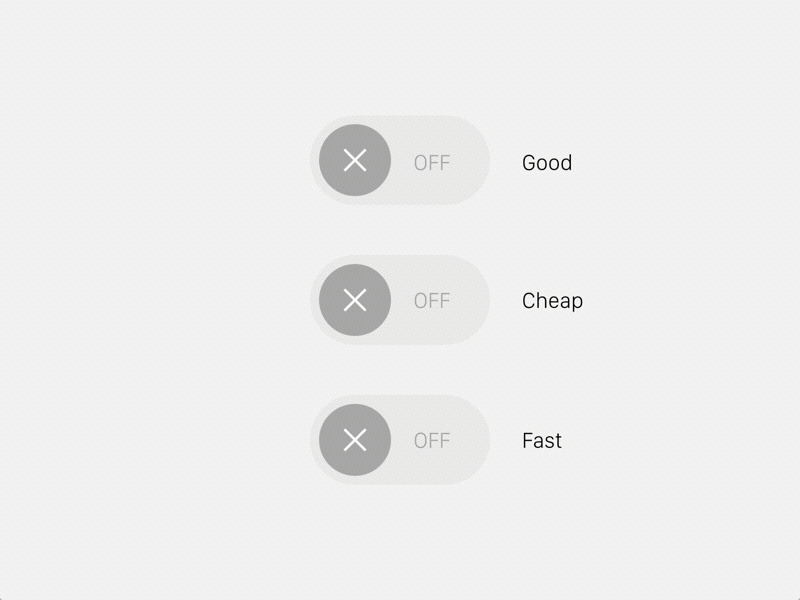 Below I have laid out the pros and cons of hiring an in-house designer, a freelancer, and outsourcing graphic design services.
You can use this comparison to decide how to hire a graphic designer:
A. Hiring In-House
When you hire a graphic designer in-house, you get total control over their time allocation. Plus they're readily available and familiar with your brand. This is a budget-friendly option but it is not easy to find the right creative talent, especially in a time-sensitive hire.
Also, if you are hiring freshers, you will have to make them work with a mentor or someone they can look to for guidance. You will have to develop a long term plan for their professional development and better returns.
Your in-house designer can also lose perspective and creativity in monotonous tasks. Make sure they are challenged enough in a day to day tasks in order to sustain their artistry.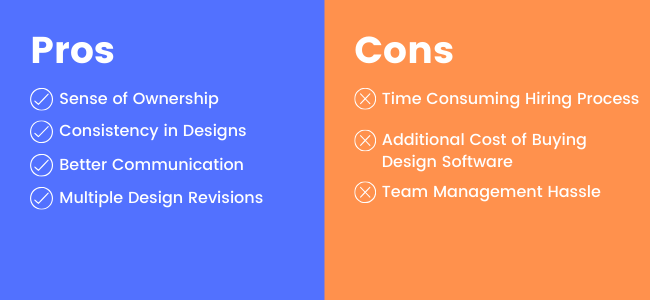 B. Outsourcing to a Freelancer
When you decide to outsource your design works to a freelancer you can select someone with expertise in the niche you require. You won't have to offer any employee benefits and they will bring in new fresh perspectives. Since they work on a range of projects they have a wider knowledge of the subject that benefits the quality of your project.
A freelancer working on a contract is also bound to complete the projects within the deadline and scope. But they won't be dedicated to your needs 100% of the time. If they're good they'll probably have multiple clients making them quite busy! Also, since they aren't working on-site, communication can be a bit of a hassle.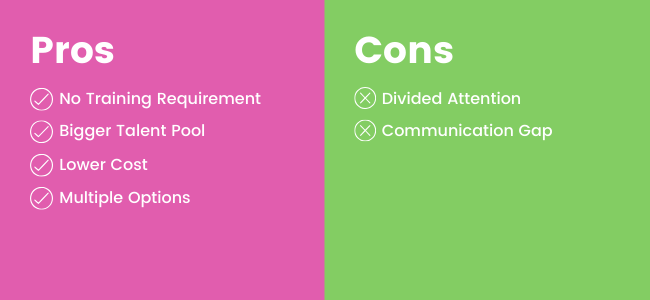 C. Outsourcing to an Agency
Outsourcing your design need to an agency will help you reduce overhead expenses by 10-15%. You'll also get access to on-demand graphics with expert quality and 24*7 support.
You can also subscribe to a monthly unlimited graphic design service to manage your constant need for fresh graphics. These services are charged at a flat monthly fee with no contract and a money-back guarantee.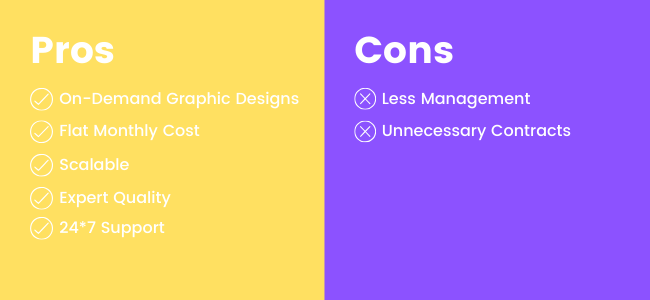 At the end of the day, there is no easy fix-all solution to hire a graphic designer online. You need to decide your priorities and then assess the best course of action.
Consider your budget, workload, training time, office space, and required expertise before making a decision.
4. How to prepare a job description for your graphic designer?
Have you decided to hire a graphic designer in-house?
I have put together a job description including the responsibilities, skills, and experience necessary for a graphic designer. You can, of course, edit this according to your specific needs and use it to hire a great in-house designer.
Job Responsibilities:
Collaborate with your marketing and development team to brainstorm ideas and develop new approaches.
Develop graphics that identify our product or convey a message.
Experiment with different colors, images, text styles, and layout to find the best.
Coordinate with clients to understand their requirements.
Review final designs before publishing them.
Test graphics across various media.
Implement changes and revisions recommended by the clients.
Ensure the final graphics are visually appealing and in line with the brand image.
Requirements:
A Bachelor's degree in graphic design or any related field.
A strong and diverse portfolio
Proficient with tools like Adobe Creative Suite, QuarkXpress, Sketch or Figma
Good communication skills
Strong attention to detail
Time management skills
5. How much does it cost to hire a graphic designer? (Graphic designer salary range)
The salary range for a graphic designer will vary depending on how much experience they have and through which medium they are working with you.
Here's an idea of the ranges that you should expect to pay if you hire a graphic designer:
In-house Graphic Designer
0-2 years of experience: $40,000/yr to $49,000/yr
2-5 years of experience: $45,000/yr to $57,000/yr
5+ years of experience: $51,000/yr to $71,000/yr
(These ranges are estimated by Salary.com)
Apart from the salary, there are other additional costs that come along with hiring a full-time graphic designer. You'll have to get a subscription to software like Adobe's Creative Cloud which can cost you up to $52.99/mo. Their accommodation costs, employee benefits, subscriptions to project management tools you use in your office, etc should also be kept in mind.
Outsource Freelancer
Freelancers usually work on hourly rates that can range from as low as $20/hour to $90/hour on Upwork depending on the experience. The higher your budget, the higher the quality of designs.
Here you'll have to pay more to include bonuses, overtime, or the revisions. Some designers even bill their clients in increments, for example, you'll have to pay 25% or 50% more for every revision.
Outsource Agency
You will only have to pay one flat monthly fee when you are working with a Design Agency like Digifloat. This price includes unlimited designs and revisions by experts.
The prices for this service start from $399/Mo for a standard plan that is ideal for individual content creators, $649/Mo for a pro plan ideal for small businesses to $999/Mo agency plan ideal for big players.
You can check out the complete pricing table for our unlimited graphic design services here.
6. Where to hire a graphic designer?
Although there's no shortage of online resources, using the right platform to hire a graphic designer is very crucial. Indeed and LinkedIn are two very popular and reliable sources where you can post a job. You can also use any of the following freelance portals to hire a freelance graphic designer:
A. Toptal
Toptal provides a freelancing platform to connect with designers. You can hire a graphic designer freelancer and also for the long term using this marketplace. One of their biggest feature of this platform is that it matches you with a designer specific to your needs, interests, and timeline. The applicants go through an intensive screening and testing process that identifies the best talent in the industry.
But since Toptal only selects the best designers their rates are higher than their competitors. This makes it unfit for small companies and sole content creators. You can still explore the platform with their no-risk trial period.
B. Upwork
Who hasn't heard of Upwork?
It is probably the most well known of the freelance marketplaces with over 17 million users and 3 million jobs posted each year. They have 90% of customers re-hire that guarantees strong customer satisfaction. Here you can find designers at all experience levels that fit within any budget.
Upwork also alleviates risk by asking the users to pay only once certain project milestones are completed.
C. Dribbble
Created specifically for designers, Dribbble provides them space to show their work, meet, and share ideas. You can join the platform, develop your job board, explore portfolios, and reach out directly to designers, hire a graphic designer, or use Dribbble's Talent Partner solution.
The simple and authentic community of dribbble includes designers of all types. They can provide each other with feedback that exhibits the talent of the community. You can find some real gigs in significantly lesser time here.
7. How to manage a graphic designer? What metrics should they be held accountable for?
Measuring the creativity of your designer is probably the hardest thing to do. You simply cannot quantify "quality" in designs.
This is the reason why mapping the impact of your creative teams isn't easy. But there are certain Key Performance Indicators (KPIs) you can use to measure the performance of your designer.
I. Client Satisfaction
You can ask your clients to submit ratings and feedback at the end of every project. This will help determine what your designer is doing right and what they can improve upon.
II. Time Spent on a Project
This metric measures the efficiency of your designers. Comparing the estimated and actual time taken conveys how good your design team is with on-time deliveries and meeting deadlines.
III. Communication
Does the client have to repeat their creative brief again and again? This shows there are inadequate communication skills that can lead to multiple revisions and time wastage.
IV. Conversion Rate
Now you cannot measure the success of your designer by the conversion rate on a webpage as there are other factors involved. But engagement and conversion on your video content and other social media graphics are a good measurable KPI for your designer.
Other technical elements like bugs in design in different devices or platforms and the effect of design on page load speed should also be taken into consideration when measuring the success of your creative team.
If at the end of the first year your designer doesn't have good client ratings or there aren't any measurable conversions, you should question whether they're the right person for the job.
In this case, you should just throw in the towel and hire us. Our unlimited graphic design services will help your business with every design needs, hassle-free… at a flat monthly fee.