Great designs are made from great design briefs.
When you know how to write a design brief, you can save a lot of time by eliminating unnecessary emails, calls, and meetings. It'll help both the client and the designer align project expectations.
There is absolutely nothing that can replace a proper and well-written brief.
But not everyone understood this. For a very long time, design briefs were underrated by both the clients and the designers.
As a result, not a lot of people know how to write a design brief. So I decided to help them out here.
An ideal brief does vary, depending on the scope of work and the experts involved. But mostly it consists of 9 important elements, each describing a specific part of the project. In this post, I will show you what these elements are and why you need them.
How to Write a Design Brief
What Your Design Brief Should Cover?
Like every other thing, there is no one size fits all in design brief.
But no matter what your design project is, you mainly have to define your business objectives and condense the key information about your end goals. You do not have to go into the nitty-gritty of the design.
Here's an overview of what you need to include when you write a design brief:
Company's Profile
Scope of Your Design Project
Your Target Audience
Design Requirements
Any "Don'ts"
About Your Competitor
Deliverables
Project Timescales & Budget
Contact Information
You can add or subtract anything from this list depending on what kind of design you are requesting from your designer.
1. Company's Profile
Start by introducing your company to your designer. This will help them get a clear understanding of the business they're working with and the sector they're working in.
Briefly answer the following questions:
Which industry do you work in?
How big is your brand?
What makes your company unique?
What are your brand missions, values, and visions?
This part of the design brief is very crucial if you are working with a freelancer or an agency.
2. Scope of Your Design Project
Here you have to answer what your design project is and what are your goals for this project.
You'll have to cover the following questions in this section:
What do you want to get designed?
Do you want to build it from scratch?
Are you redesigning something that exists?
How many pages do you want? (for web UI)
What features and functionalities do you want?
Where are you going to use this design?
What do you want this project to achieve? (entertain, inform, or drive sales)
All this information will not only help your designer understand what he needs to do but it will also decide the price quote for your project.
3. Your Target Audience
Most often designers approach a project with user personas in mind. Therefore, it's crucial for them to know what your target audience is.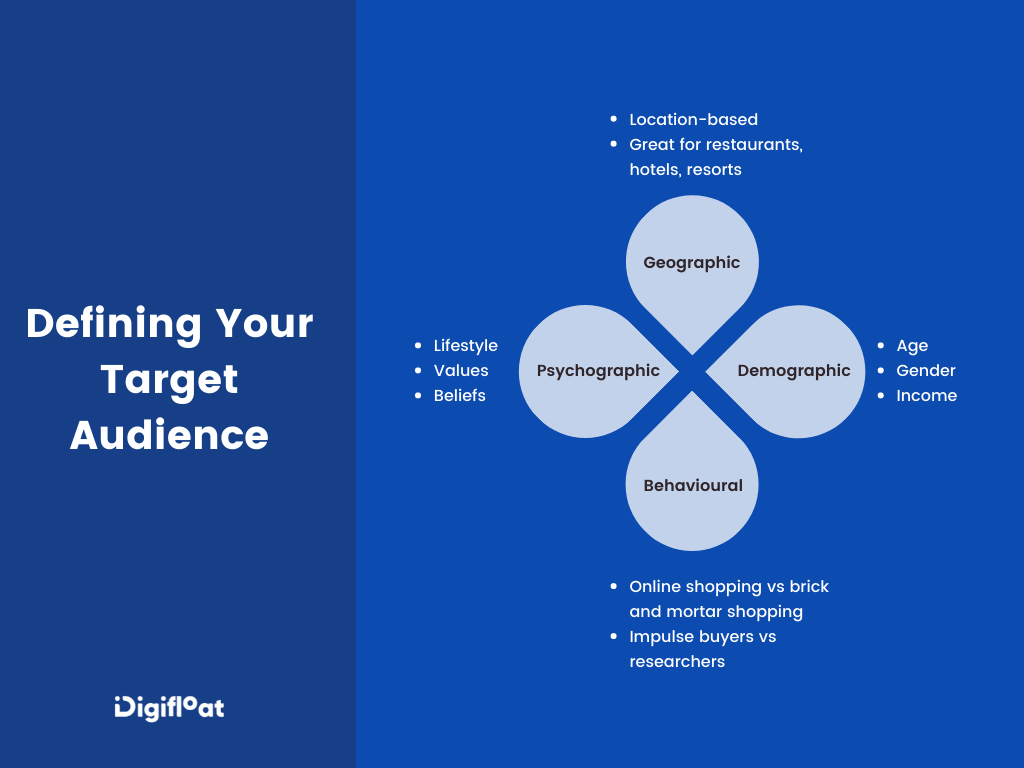 You can define your target audience by taking into account your ideal customer and building a persona around them.
You will have to answer questions like:
What are their age and gender?
Do they have any relevant habits or hobbies?
Which platform, social media channel, or website do they visit the most?
What are their pain points?
4. Design Requirements
In the digital world, a lot of people believe that designers can do everything by themselves. Let me break the news to you, this is never true! You'll have to guide your designer by telling them what you need.
You don't have to get super technical, just answer the following questions:
Are there some specific colors you want to use?
Do you have a predefined icon or image you wish to add?
Is there a specific font you use for your branding?
What dimensions/resolutions do you want?
You can also add some reference images for websites here to paint a better picture of your vision.
More information you share in this section the better.
5. Any "Don'ts"
Although it is not recommended to add restrictions from the outset, you can still mention some stuff that you don't like in a design.
This can be a certain color, font, layout, or certain type of imagery like stock photos. Don't be afraid to share your ideas with your designer but don't be completely closed off to new ideas put up by your designer.
6. About Your Competitor
No matter what your business niche is, you are bound to have some competition. Many times people shy away from mentioning their competitors because they believe that the designer might copy them. But that's not why we look at your competitors.
Defining who is your competition helps in understanding what works in the marketplace and what doesn't. Your designer will be able to better visualize how to make you stand out from the crowd by underlining your USPs.
7. Deliverables
This is a very important step. You need to mention from the start what you want your design agency to deliver.
If you are getting a blog image or social media graphics, you might need a simple PNG or raw files like PSD. But if you have a more complex design project, your list of deliverables might vary.
For instance, if you get a logo designed, you will need a copyrighted document signed by your designer. For many complex UX designs, people often demand sitemap and architecture information. Remember to state all this in your design brief.
8. Project Timescales & Budget
Now comes the more technical part. You'll have to break down the key dates and your budget here.
Be realistic. You cannot give your designer a UX design request and expect them to deliver it by tomorrow for $100.
Your project timescale should not only highlight the final deadline but also identify any progress milestones you wish to see. Deciding on these things beforehand will allow you to be a part of the development process and will give you enough time to ask for revisions.
To give you a rough idea here's the turnaround time of our design agency for different projects: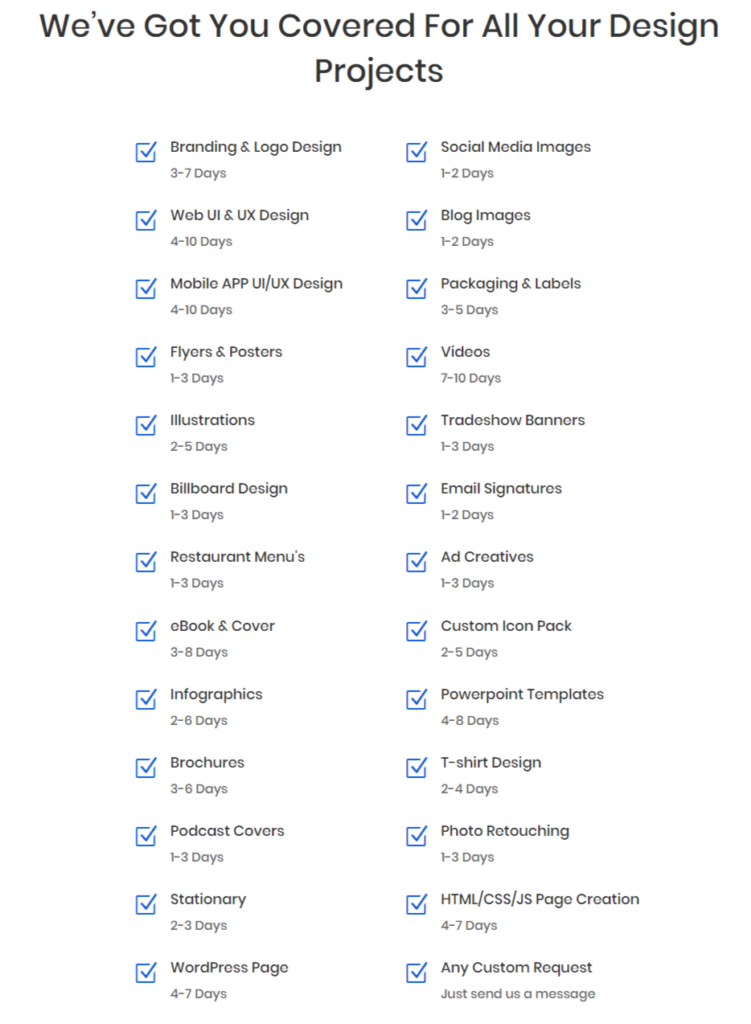 When it comes to budget, people feel they might overcharge themselves for the least amount of work. But you have to understand that by setting a budget you'll be able to get the most out of your designer.
Also keep in mind how complex your request is, the list of deliverables you require, and the time scale before setting a budget.
9. Contact Information
Assign someone from your team who will be looking after this project. It can be you, your marketing manager, or someone else from your team.
Remember to mention their name, email address, or work phone number when you write a design brief.
This will help improve the communication process between your company and your design agency.
How to Write a Design Brief: Free Design Brief Template
I tried to briefly explain how to write a design brief. You can change this as you need and make it your own. This will be the guiding document for the project so make sure to cover everything necessary.
I have also put together a free design brief template that you can download right away!