According to Upwork, 10 million people are considering freelancing after the COVID-19 pandemic. This would be a 17% increase in the total freelance workforce compared to the 57 million people that freelanced in 2019.
For employers, this is a great opportunity to prepare and build their freelance network. In the coming future, it will become harder and harder to find talented people who are willing to work full-time.
As an agency, we hire freelance graphic designers regularly. No doubt we face multiple challenges including accountability and communication. But hiring freelancers also gives us a scope of flexibility wherein we can easily upsize or downsize the team depending on the requirements.
Another big benefit of hiring a freelance graphic designer is that we get to hire talented people across the globe.
If you haven't had a pleasant experience with hiring freelancers, we'd suggest you change your hiring process. Most employers scrutinize the freelance graphic designer portfolios and hire the one that fits their budget. There are many more steps in-between that are often overlooked.
In this article, I'll share a detailed process of how to hire a freelance graphic designer for your company. Bear in mind that this is just a framework that can be molded as per your requirements.
How to Hire Freelance Graphic Designer

1. List Down Your Requirements
Many freelance graphic designers specialize in a particular field that can be illustrations, UI or UX design, packaging design, pitch decks, or print design. As an employer, you need to be certain of what you require.
If you already have a website, you don't need to hire someone who is really good at UI/UX design. You can overlook this skill and hire freelance graphic designer who specializes in what your brand needs.
2. Write a Design Brief
Employers often do a lousy job at assigning a task to a freelance graphic designer. Sometimes they don't want to spend too much time on a small project or they might fear oversharing information with someone who isn't a part of the organization.
But you have to remember that bad project descriptions lead to bad designs. How can you expect a freelancer to design something good when they aren't getting clear instructions on what you are expecting.
Firstly as an employer, you need to assign the job of writing a design brief to someone who knows everything about the project. It can be the project manager, marketing manager, or someone else from the team.
An ideal design brief does vary, depending on the scope of work and the experts involved. But to give you an overview let me mention a few things that need to be included in a design brief:
Company's Profile
Introduce the company and the industry you work in? You can include your company's missions, values, and visions. Also mention why your brand/product is unique.
Scope of Your Design Project
Tell the designer what is your design project and what are your goals for this project. Here you have to define what you want this project to achieve?
Your Target Audience
Graphic designers approach a project with user personas in mind. Therefore, you need to describe your target audience, their age, gender, location, and interests.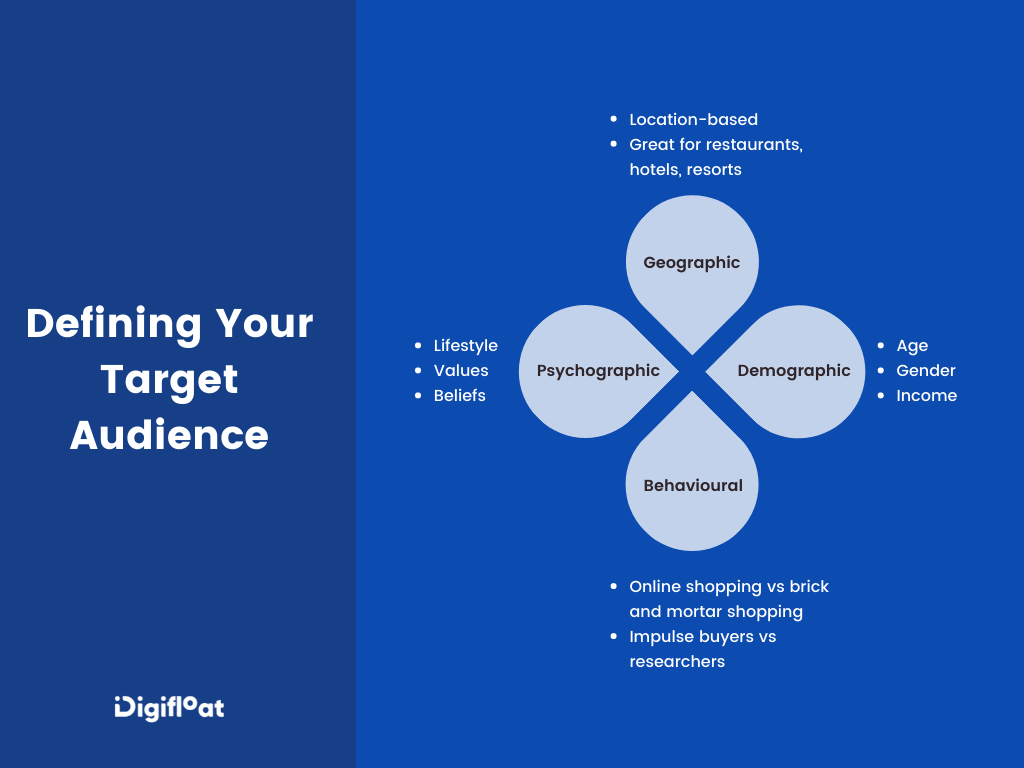 Design Requirements
Go a little in-depth about what you want your designs to look like. What colors do you want to use? Do you have a predefined image you wish to add? What are the dimensions you want?
Any "Don'ts"
Some organizations have certain rules that need to be followed in all their designs. For example, we never use stock imagery on our social media or website. If you have any such restrictions it's best to keep the designers informed from early on.
List of Deliverables
Deliverables can vary according to the project's requirements. For a blog image, you might only need a PNG or PSD. But if you are getting a logo designed, you will need a copyrighted document signed by your designer.
Project Timescales
Your project timescale should highlight the final deadline and any progress milestones you wish to see.

3. Decide the Budget & Payment Method
This is the part where most employers struggle. Exactly how much should a design cost? A freelance graphic designer can charge you anywhere between $300 to $1000 and even $10,000 for a website design. And honestly "you get what you pay for" isn't always true.
To understand how to set a budget for your graphic designer, analyze the scope of work and the timeline. Do you need a blog image or a logo design? How much work will be involved on the part of the designer? Similarly, if you need the project delivered urgently, it will shoot up the price.
Upwork provides general time estimates for popular projects, including variables that may have an impact on the project timeline: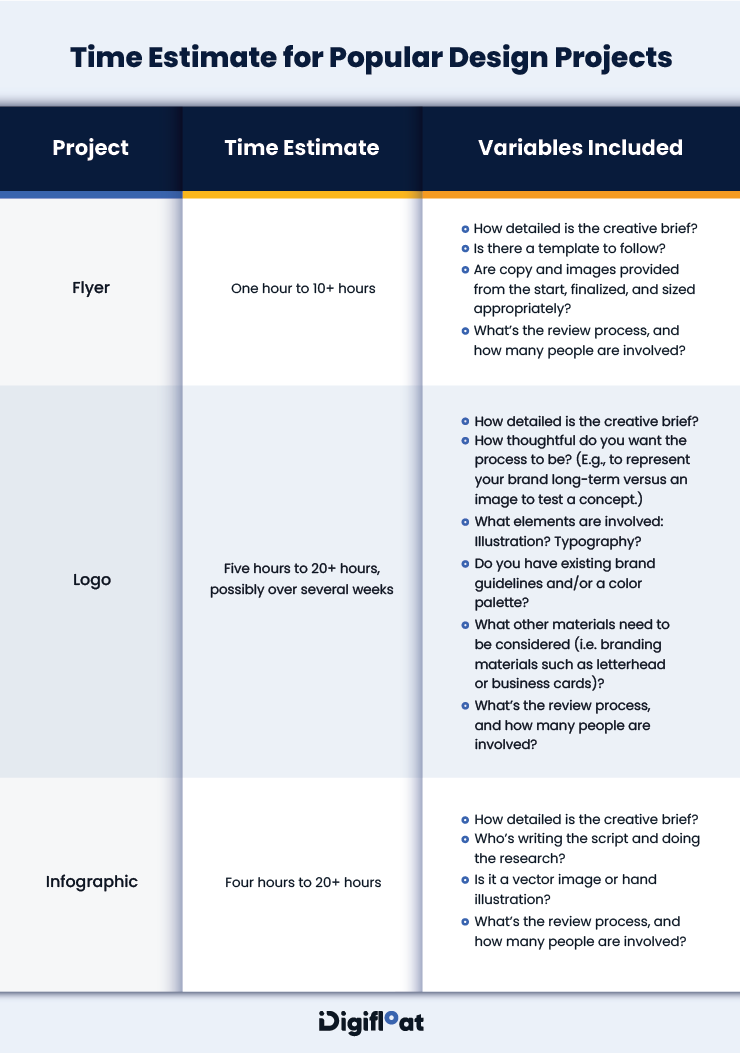 Depending on the timeline, you'll be able to decide whether to pay the designer per hour or a fixed project fee. Although the freelance graphic designer hourly rate is cheaper especially when you have a small project, the one-off fee gives you room for negotiation.
4. Find Prospects on the Right Channels
There are multiple platforms where you can find and hire freelance graphic designer. It's important that you understand each of these platforms and the kind of designer they offer.
Let me explain some of my top picks in a little more detail:
Upwork
Perhaps the most popular freelancing platform. Upwork allows you to post a job to hire freelance graphic designer. You can either wait for freelancers to bid for the job or manually search for the available candidates. There are thousands of people for the job but you can use their advanced filter option to narrow down the search results.
If you choose to sign up for Upwork you'll be charged a 3% payment processing and administration fee. So if you hire freelance graphic designer for a fixed price of $100. You'll be charged an additional $3 fee and your total will be $103. And if you hire someone for an hourly rate, the fee will be assessed when they charge your billing method each week.
Talking about the workforce, Upwork is very selective while approving profiles of their freelancers. They don't disclose the criteria based on which they approve or disapprove of a profile. But a lot of times, they consider the supply-demand balance and the quality of a freelancer's profile.
Indiehacker
This is a pretty unconventional place to find freelance graphic designer. But Indiehacker is a big community where you can connect with like-minded professionals. They have various groups like job boards, looking to partner up, design and UX, etc where you can post your requirements and budget to find prospects.
You might get only a handful of applicants but these are real people who won't waste your time.
Reddit
Reddit is a pretty competitive place because the ratio of employers and employees is very disproportionate. But the reason I recommend this platform is because of the wide variety of graphic designers available. Plus the prices are quite affordable and great for small one-time projects.
Some popular subreddits for posting a job are /forhire, /hiring, and /DesignJobs.
Digifloat
Digifloat is an on-demand graphic design, UI/UX development, and video creation service. It's the best option for someone who is willing to outsource graphic design without any headache.
When you sign up for our unlimited graphic design services, we'll assign you a dedicated account manager who'll constantly look after all your design requests. And you'll be able to track the progress of each task via email or your Trello board. It'll look something like this: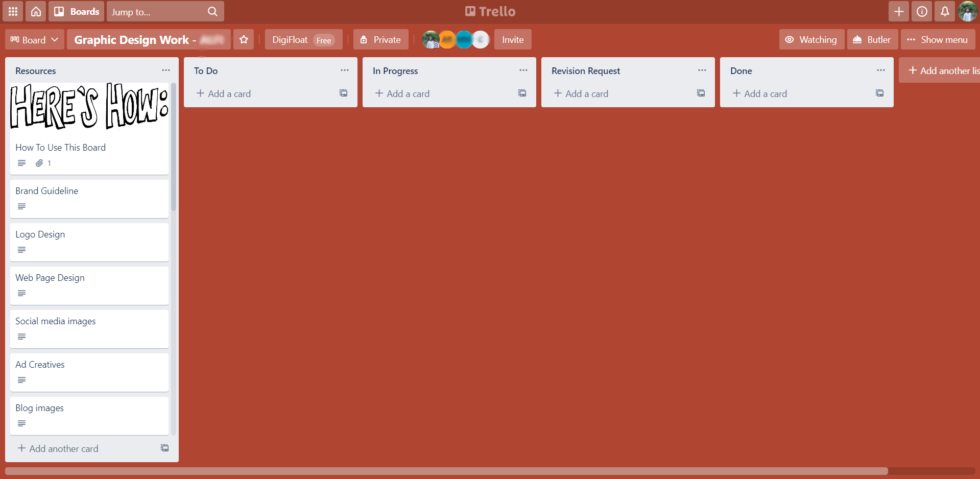 You can check out our entire design portfolio here.
99Design
99Design lets you either find and hire graphic designer yourself or run contests wherein multiple designers will send you ideas for your project.
It is definitely a pricer option but you'll get to work with a community of professional graphic designers. And since every category has flexible pricing for all budgets, I'd suggest you go here to check the full price list.
Apart from hiring a graphic designer traditionally, you can also run a design contest. Here you can submit a design brief to their entire design community. Various designers will submit their ideas and you'll be able to pick your favorite design.
5. Compare the Design Style
Now that you have some design prospects, you want to narrow down your options. While hiring an in-house designer, you can conduct face-to-face interviews to know more about the candidates. But this is not an option when you hire freelance graphic designer.
So how can you pick the right candidates?
The first option is to read reviews and testimonials of their previous work. If you're using Upwork, you'll get these reviews on the designer's bio. If you're hiring an agency, you can find their reviews on Trustpilot.
Apart from their reviews, you have to take time to analyze the designer's portfolio. They'll either have their portfolio on their personal website or some other social networking platform like Dribbble and Behance.
Now every graphic designer you'll find will have a different style and way in which they approach a project. You have to find someone whose style appeals to you. Their previous designs should reflect something that you like and would want to add to your project.
You can even look for designers who have previously worked on similar projects as you require. It'll show their style and skills in creating the kinds of designs you want.

6. Pick an Effective Communication Method
Improper and inefficient communication between the client and the freelance graphic designer can severely affect the quality of the designs. You cannot blame anyone because the communication gap can be due to multiple reasons including the time difference, language barrier, etc.
It's best that you set proper communication methods to avoid frustration. It'll completely vary depending on your unique situation. If you hire someone through a freelancing platform you'd be able to talk to them on the platform itself. But if you're hiring someone for a long-term project, you can exchange Skype IDs.
But remember most freelancers prefer minimal contact, you cannot expect an update every hour. You can ask your designer to email you an update every day. Or you can set up weekly meetings on Skype or Google Meet.
Whatever you do, make sure you discuss the communication process before you hire freelance graphic designer.
7. Carry Out Test Assignments
If you have a big project ahead, you cannot take any risks. I'd suggest you test your graphic designer's skills before hiring them.
What we do at Digifloat is invite the person onboard for 1 day, give them tasks, and see how they perform. We do this for every employee whether it's a designer, writer, or client manager. This process has proven to be very effective for us.
Now you don't have to hire someone for a whole day. You can ask someone to design a social media graphic or an ad creative to understand the designer's sense of style.
8. Run a Design Contest
Yes, we're getting inspired by 99Design. But we think design contests can be very powerful if you organize them properly. For starters, you need to pick the task carefully. You cannot run a contest and ask the designer to design your entire website. A single task such as a logo or a landing page is great for design competitions.
Then you need to present a very descriptive design brief and the rules of the contest. This is what will eventually attract the designers to your project. The price money needs to be enticing yet something you can afford.
If you're a small business and you think good designers won't be able to find your design contest, you can try inviting them yourself. If you have a list of prospects that you shortlist from the places I recommended above, you can directly contact them. But make sure you send out personalized messages, compliment their previous work, and explain why you shortlisted them. This will ensure the designers know that they aren't just a part of a mass email campaign. It'll gain their trust that the contest is real.
Summing Up: How to Hire Freelance Graphic Designer
Whether you want to hire someone for a small project or you lack the resources to keep a full-time designer, there's a massive community of freelance graphic designers at your disposal. You just need to streamline your hiring process in order to connect with talented designers.
But if you want to completely outsource your graphic design tasks without any headache, sign up for our unlimited graphic design services. We offer ad creatives, custom illustrations, website and app UI/UX designs, video editing, and everything else in between for a fixed monthly price.