An amazing business idea isn't enough to get your project off the ground. You need funding! And for that, you need to impress the investors.
This is where a pitch deck comes into play. You can make a lasting first impression by presenting your product or service through an intelligible pitch deck.
Now the question is "How to Make a Pitch Deck?". If you have a graphic designer at your disposal, making a pitch deck will be a cakewalk. But for most startups, who are looking for funding, this is a haunting question.
To help you out, I am going to show you how to make a pitch deck easily using free tools online. I'll also discuss some tips and best practices to make your pitch more captivating.
Let's get started…
How to Make a Pitch Deck
You can use this table of contents to navigate to the section most relevant to you.

1. Design Pitch Deck
Let me assure you that you don't need to be a designer to design a pitch deck for your startup. But it's important that you understand the difference between a good and a bad pitch deck.
A good pitch deck consists of attractive design elements and clear content. That means each slide needs to be informative yet minimalist and the design needs to be consistent to represent your brand message.
Let's first discuss the content part of your pitch deck…
What to Include in a Pitch Deck?
On average, a pitch deck consists of 15-20 slides. By adding more slides, you risk losing the interest of your audience. Try to keep everything simple by adding only the relevant information like:
I. Introduction
Start by introducing yourself and your company. You can add your logo, business name, and contact information here.
II. Problem
Every business exists to solve the problem of its audience. Highlight what pain points you are targeting.
III. Solution
Now explain how the problem can be solved. Introduce your product/service and describe its value proposition.
IV. Target Audience
Include a description of your target audience. Predict the size of your target market and its statistics like demographics.
V. Competition
Talk about the existing businesses and your competitive landscape. You can include a SWOT analysis too.
VI. Competitive Advantage
How is your product or solution different and better than the already existing competitors?
VII. Business Model
Present a strategy on how you plan to acquire customers and make money.
VIII. Finances
The entire purpose of a pitch deck is to get funding. So make sure you mention how much money you require.
IX. Present your Team
Who is going to work on this business with you? Include a description of your partners or team members (if any).
Free Tools to Create a Pitch Deck
Now that you have the information you need to add to your pitch deck, let's see how to make a pitch deck. Microsoft PowerPoint and Apple Keynote are very popular options. But their design templates have now become overused. The tools I am recommending below offer some unique and up-to-date templates to impress your investors.
I. Canva
The most famous online designing tool, Canva can also be used to design a pitch deck. Here you can browse through hundreds of paid and free pitch deck templates. Pick the ones you like and edit as required.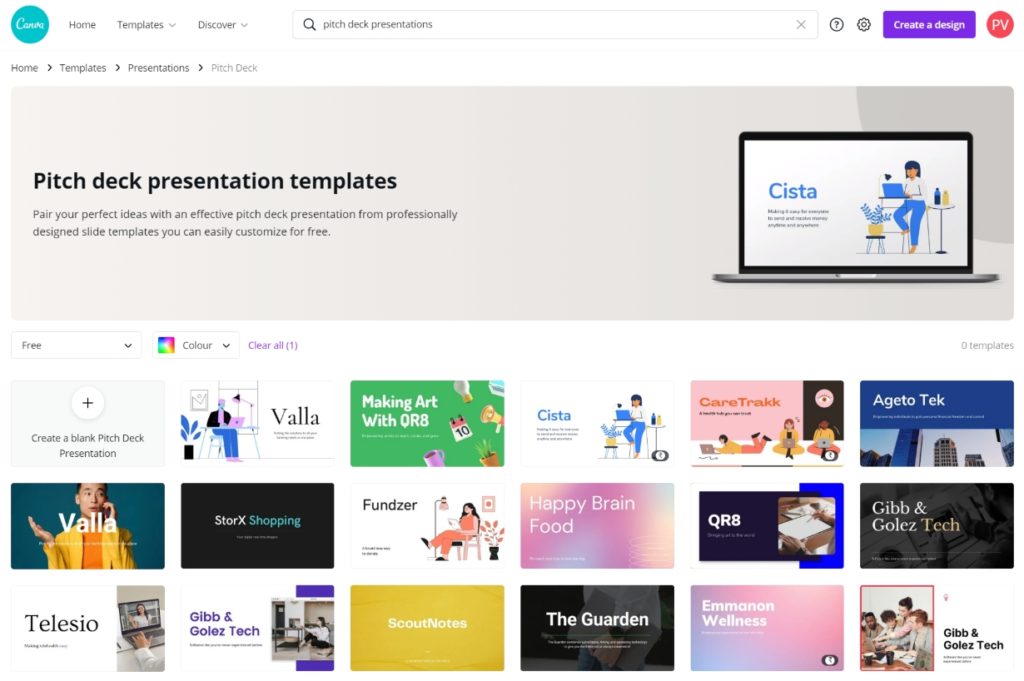 II. Beautiful.ai
Beautiful is an online presentation maker that you can use to create your pitch deck. It comes with extensive design features and millions of modern images and icons.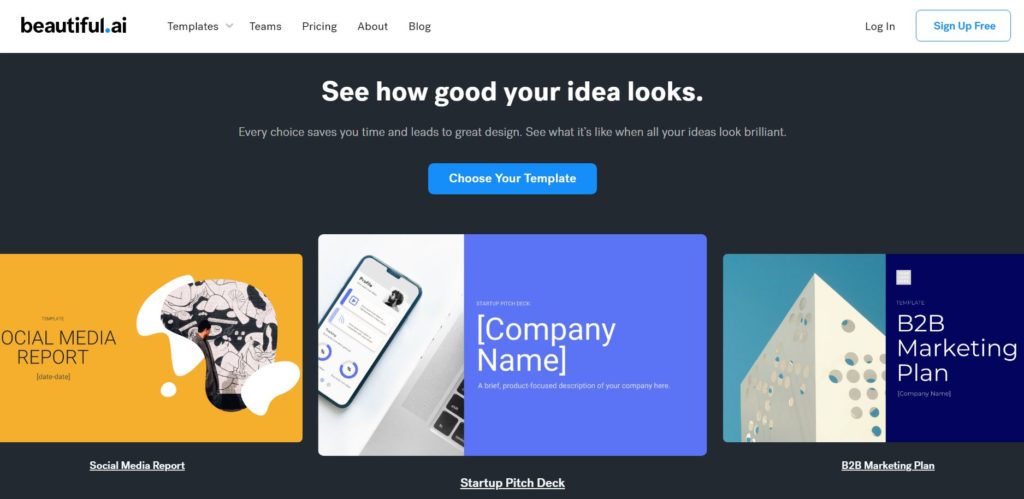 III. Visme
Visme is another popular online editor that offers ready-made pitch deck templates. You can use their high-quality vector icons, color palettes, millions of stock photos, and interactive data visualization tools for free.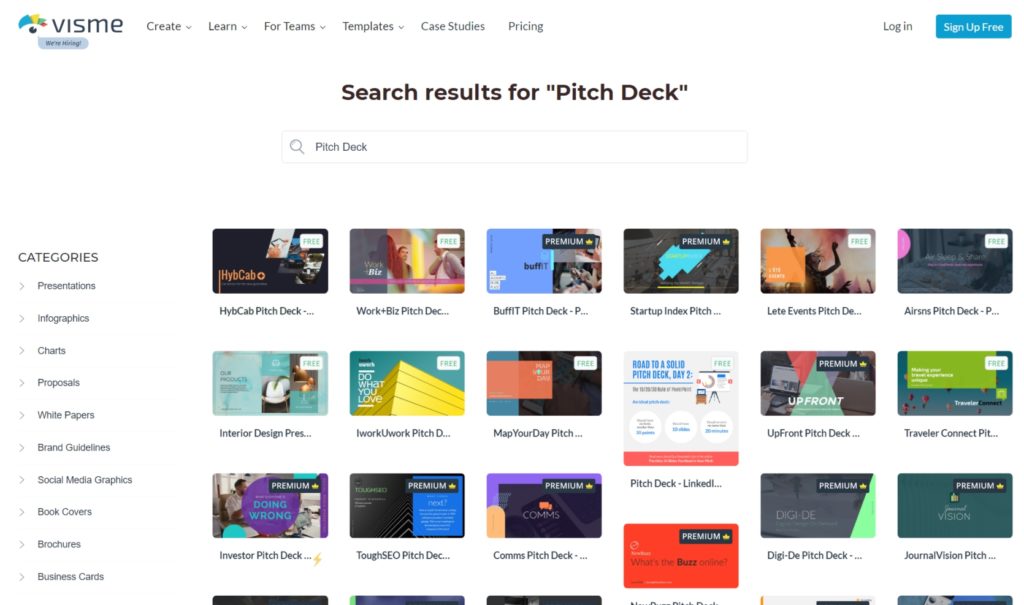 Tips & Best Practices for Making a Pitch Deck
I talked about good and bad pitch deck design in the very beginning. This section is an extension of that point. I want to highlight a few do's and don'ts to keep in mind while making a pitch deck.
I. Opt for The Storytelling Approach
Storytelling is a great way to establish an emotional connection with your investors. Base template (another popular pitch deck template maker) has amazingly described 3 approved ways of storytelling.
My favorite and the one we use at Digifloat is the hero's journey. It's a personal tale that shows your journey of encountering a problem, building a solution, and then dedicating yourself to solving that problem for others.
II. Limit the Content
We want to deliver as much information as we can about our business plan to our investors. But too much content can be a bad thing as you risk losing the interest of your audience.
It's best to keep the content short, concise, and to the point. Don't make the investors wait for too long before telling them what you are selling.
III. Keep the Design Elements Consistent
The design elements of your pitch deck will include the colors, fonts, shapes, and spaces. These should be consistent throughout the slides. Even the charts, graphs, illustrations, and photos you use should have harmony.
If you have already designed your logo and brand identity, use that in the slides. Avoid using cheap stock imagery. Here's a list of 41+ free design resources to help you out.
IV. Include Facts and Figures
Making guesses and relying on assumptions is the worst thing you can do in a pitch deck. Yes, a major part of your business model will be based on strategic hypotheses but the rest should be backed by actual facts.
V. Convey Urgency
FOMO or the fear of missing out is very common amongst investors. They don't want to miss out on a big investment opportunity. You can take advantage of this fact by creating a sense of urgency around your idea. But do it carefully, as too much exaggeration can sound fake.

2. Pitch Deck Examples
Inspiration doesn't always come easy. If you're wondering how to make a pitch deck, you'll have to browse the internet to get inspired. You can start by looking around pitch deck templates on Dribbble or Behance.
It would also be very helpful if you look through the pitch decks of already existing companies. These are the ones who were proven to impress the investors.
But remember these were relevant a few years back, so you cannot replicate them today. Just use them as an inspiration. After all, these are the startups that later become billion-dollar companies.
I. Moz Pitch Deck
This pitch deck by Rand Fishkin, CEO of SEOMoz (now known as Moz) raised over $18 million in funding. Although this wasn't the seed pitch as Moz had been in existence for almost 5 years before this pitch.
They needed funding to scale their business so they used their current revenue and profits to impress the investors.
II. Buffer Pitch Deck
Buffer had a small 13 slide pitch deck. A lot of people today consider it outdated and quite simple. But the reason I am mentioning it in my pitch deck examples is to show you their unique approach.
They used slides like "Traction" and "Milestones" to show their growth over the years. This helped them present the actual potential of their business.
III. Tinder Pitch Deck
Tinder's pitch deck follows the hero's journey. It uses storytelling to connect with the audience. And the slides are in the order I mentioned in the beginning i.e. introduction, problem, solution, product, USP, and then the business model.
Summing Up: How to Make a Pitch Deck
Whether you are looking to launch or scale your startup, you need to know how to make a pitch deck. Something that's powerful, memorable yet simple, and informative. You can use the tools I recommend in this article to create a pitch deck easily.
But if you are still struggling, get in touch with us. Our expert graphic designers will help you bring your vision to life.