I am sure I am not the only one who is tired of seeing the image of some businessmen in fancy suits shaking hands in a conference room on every other website.
These are stock images and they are everywhere. You can get them at a very cheap price on the internet and use them in any way you like. But the only problem here is that you are not the only one using them.
These images have been used by so many people over and over again that users now find them cheesy, funny, and impersonal. So much so that they have started creating meme pages dedicated to stock images.
Now even though stock images are getting so much hate, the power of visual communication is at an all-time high.
So how about trying an alternative – Illustrations.
Illustrations are drawn by artists to provide a visual explanation of the written text. You can hire a graphic designer to create custom illustrations from scratch or you can download these from free illustrations websites. Just make sure the website offers royalty free illustrations that can be used for commercial and personal purposes.
Let me show you the best 16 free illustration websites…
16 Royalty Free Illustrations Websites
Let's dive into some details about these royalty free illustrations websites…
1. Ouch!
The team of Icons8 launched Ouch, a collection of free illustrations images in fun styles. These graphics claim to class up your projects with a clean and trendy look.
You can download these for free with just one click. Or you can pay a small amount for a license that will allow you to get vector source files and edit them as you like, and get full access to these icons, photos, and music.
2. unDraw
Owned solely by illustrator Katerina Limpitsouni, unDraw features more than 500 royalty free illustrations in every category imaginable.
unDraw lets you:
Find illustrations that fit your product
Download graphics in png and SVG with just one click
Scale these according to your need
Change color to better suit your brand
Use high-quality graphics on your site for both commercial and personal projects
Embed code directly in your HTML and save your server requests
These graphics are constantly updated and are free to use without attribution.
3. Humaaans
This is one of my favorite free illustrations websites from the list. Humaaans lets you create mix-and-match illustrations and animations of people. You can rotate and position various elements in your humaaans however you like.
It feels like directing your own story by mingling different clothes, hairdos, and body postures. With humaaans, you can also change several backgrounds to create the perfect scenes.
4. Absurd
As an online marketer, I am always on the lookout for some out-of-the-box creations. And I found this website absurd.design that combines absurdity, imagination, and imperfection perfectly. Their playful designs are enough to turn heads and stop thumbs from scrolling.
Here's their black and white collection that is available to download for free.
You can also get each of these in color drops with a small membership fee. Which, if you ask me, is completely worth it!
5. Glaze
The team of Glaze has a passion for making the internet beautiful. They offer some premium quality, royalty free illustrations images that are used by educational institutions, non-profits, startups, fortune 500 companies, and individuals alike.
You can try their free version and if you do fall in love with them like me, you can always buy a paid version that comes with full backgrounds, complex scenes, and multiple characters.
6. LukaszAdam
Lukasz Adam is an illustration designer and SEO manager who offers free SVG images for commercial and personal purposes. On his website, you can find different avatars illustrations, SEO illustrations, island illustrations, eCommerce icons, web design, and Bitcoin icons, and so much more.
You can use any of these free Illustrations as a hero image on your landing page design and the icons to represent your service or for your content.
7. Whoosh
When we started Digifloat, we used these illustrations all over our website. I find this collection very versatile and quite amusing. Just have a look at some of these:
I mean that delivery guy always cracks me up!
You can too find some fun and unique images for your website in png format from Whoosh. For other variants like .ai, .sketch, .fig, and .eps, you will have to pay a nominal price.
8. Flaticon
Flaticon, powered by Freepik is the largest database of free icons available in PNG, SVG, EPS, PSD, and BASE 64 formats. You can find over 2,269,000 vector icons for your website, social media graphics, and web apps.
And even if you don't find the perfect icon, you can always edit the size, position, and colors with their unique icon editor.
Another amazing feature about this website is that you can make your own Flaticon collection by saving a copy of your favorite icon. You can share it with your teammates or use it later yourself.
9. Freebies by Outlane
Outlane is a digital design agency, a team of people who love to create new things. They offer some unique and royalty free illustrations for both personal and commercial projects. These illustrations are dedicated to various spheres, including workspaces, fictional characters, and festival stuff.
You can find some quirky Game of Throne characters, background patterns, Christmas illustrations, and so much more here.
10. Retro Vectors
You'll love this website RetroVectors filled with quality free illustrations images from the 1880s to the 1980s!
These are produced from a number of sources and references like newspapers, catalogs, posters, and all manner of printed ephemera.
The fascinating material of this website provides artwork and craftsmanship from artisans long dead so new life can be breathed into it.
And although RetroVectors retain the copyright to individual items this material is royalty-free and available for commercial use.
11. DesZone
DesZone has everything you'll need to create consumer products, social media graphics, and other printed materials like flyers, brochures, and leaflets.
These free illustrations images are available in AI, EPS, and PNG formats and can be used for both commercial and personal purposes.
12. ManyPixels
With ManyPixels, you can discover new royalty free illustrations every week. These are free to use in a commercial or non-commercial way for your landing pages, blog posts, newsletters, social media, and more!
They have a variety of tags for their illustrations like cities & monuments, environment, food & beverage, health & hygiene, web design, and so much more. You can also adjust their colors as per your needs before downloading them.
13. Blush
Blush brings customizable free illustrations from artists around the world. They say their goal is to make art more accessible to all while championing illustrators.
You can easily download their illustrations for free and use them for both personal and commercial purposes. The tool is also available as a plugin on Figma and will be soon available in Sketch and XD.
14. Open Peeps
Open Peeps is a hand-drawn illustration library by Pablo Stanley. It offers free illustrations that can be used in marketing imagery, comics, product states, user flows, personas, storyboarding… or anything else you want.
You can customize every illustration by changing emotions, clothes, hairstyles, and even mix and match to create different Peeps.
15. Illustrations
Illustration by Vijay Verma features 100 awesome illustrations that he designed during 100 days of illustration challenge. And now you can download these completely free and use them to design mobile apps, landing pages, or presentations.
16. Open Doodles
Open Doodles embraces the idea of Open Design. It offers free illustrations that you can copy, edit, remix, share, or redraw for any purpose without any restriction. You can download the individual illustration in PNG and the source files directly on Dropbox.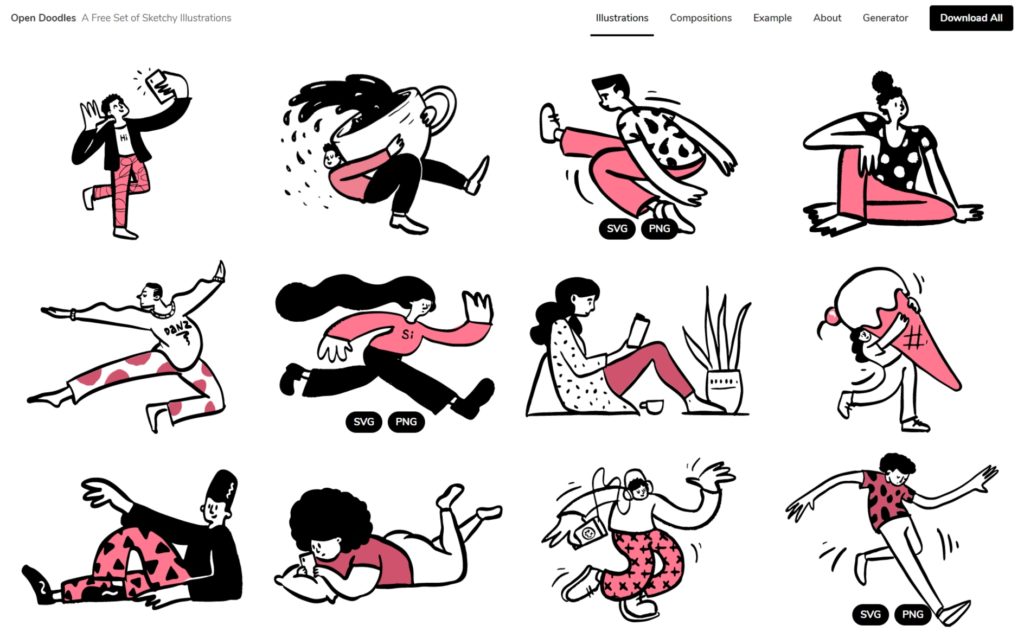 Best websites for royalty free illustrations images – Conclusion
Illustrations establish a special mode of communication by adding a personality and character to your digital projects. And with so many options to choose from, you'll never have to go back to cheesy stock photos.
Couldn't find the perfect illustration here?
Our designers will create them for you!