In the last decade, online marketing become the front and center for every business owner. But the recent resurgence of offline marketing is allowing brands to remove the human-to-machine interactions and connect with their customers on a personal level.
It's a bit unconventional, but T-shirts are now a big part of offline marketing campaigns that aim to increase brand awareness. This cost-effective method helps brands stand out from their competitors and build a strong identity.
The only downside is that designing a T-shirt can be daunting for someone who has no idea about printing techniques, the right colors, and apparel designs. If you're also struggling to design a T-shirt for your brand, we're here to help you out.
We have been designing T-shirts for our clients for years, and in this article, we'll teach you how to design a T-shirt in 7 simple steps.

Before we start…
Have you decided on a budget for your T-shirt design?
Deciding on how much to spend on T-shirt designing can be troublesome. You aren't sure about the fabric you need, designs, and quantity to order. If you haven't decided on the budget early on, you can end up wasting a decent amount of money.
One way to avoid financial loss is to order your T-shirts in small quantities. Don't go for bulk orders from the very start. Even if you have extensive savings, don't put them in all at once. Start small, especially if you're doing it for the first time.
Let's Design a T-shirt
No doubt, designing a T-shirt is a time-consuming process, but to make things simpler, we have broken down the entire process into 7 simple steps:
Let's discuss how to design a T-shirt in a little more detail…
1. Understand The Types of Printing Techniques
There're various printing techniques available, and you'll have to consider different factors like your T-shirt design, budget, and time while choosing the best printing techniques.
To give you an overview, below are some of the most popular types of printing techniques you can choose from:
1.1 Screen Printing
Screen Printing, also known as silk screen printing, is done using a stencil to transfer ink onto a T-shirt.
Advantages
Promises high-quality
Long-lasting
Works best for large quantities
Fast results
Disadvantages
Not ideal for complex and intricate design
Can be costly
1.2 Vinyl Cutting
This method uses a professional CAD cutter to create the design and then uses the heat press method to transfer the design to the T-shirt.
Advantages
Suitable for both small and large quantities
Very durable
The design doesn't deteriorate with time
Disadvantages
Needs a special CAD cutter
Affects the flexibility of the T-shirt
1.3 Heat Press Printing
This technique involves printing the design on a transfer paper, which is then placed on the fabric and pressed using a heat press machine. The heat and pressure of the machine cause the ink to transfer from the paper onto the fabric.
Advantages
Effective for complex and intricate designs
Easy to use
High-quality output
Disadvantages
Not considerable for dark clothes
High heat can damage the cloth
Time-consuming process
1.4 Direct-to-Garment Technique (DTG)
This printing technique uses a DTG printer. It works in the same way as the paper printer – by spraying ink onto the fabric. If you're planning on designing and selling T-shirts for a long time, you can invest in a DTG printer and work from your home.
Advantages
Easy to employ
Gives soft finish
Can be used for multiple designs
Disadvantages
High investment cost
Less design durability

2. Pick a Color Palette
While choosing a color combination for your T-shirt design, you'll have to keep every aspect of your business in mind. This includes understanding your target audience, their age group, and interests. It can be enticing to choose a trendy color, but we'd recommend sticking to your branding colors or a palette that represents your brand personality.
In general, you'll have to finalize two types of colors – the fabric color, which is the base color of the T-shirt, and the print colors, which are used in designing the graphics or images on the T-shirt.
Also, remember that print designs are based on the CMYK color model instead of the RGB model. This means the colors you see on your laptop screen may differ from the printing ink colors.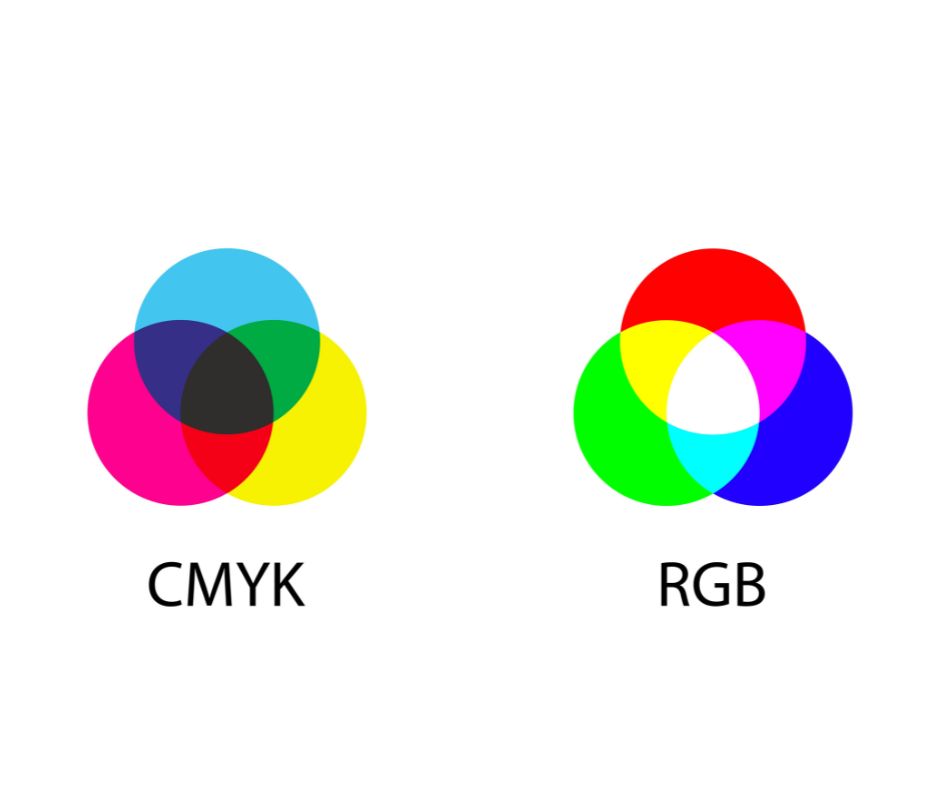 If you're working with a graphic designer or using Photoshop or Illustrator to design a T-shirt, you can easily change the color modes to CMYK colors. You can also talk to your printer beforehand and check if they can help you convert your designs from RGB to CMYK.
3. Browse Your Design Concept
Finding the designs to print on a T-shirt is the most creative yet daunting task. You might already have a few ideas about what you want to do, but in any case, you should take some time to browse the internet for some latest T-shirt design ideas.
Dribbble is one of our favorite websites for design inspiration, but you can also browse Behance and Pinterest to find some new ideas.
To get your creative juices flowing, we have listed below some of the most commonly used T-shirt design ideas:
3.1 Company's Logo
This is great for branding, and companies like Adidas and Calvin Klein have been selling T-shirts with their logos for years. However, if you're a startup with a Wordmark logo, your target audience might not prefer wearing your brand name on a T-shirt. You can consider this option if you have a cool Pictorial Marks logo or a Mascot logo.
Confused about what's your logo type, read this article about different types of logos.
3.2 Quotes
People love wearing T-shirts with relatable quotes. You can print something funny or motivational or incorporate a hashtag that aligns with your brand's niche. For example, a fitness brand can print #eathealthy or #stayfit, and a travel company can print #wanderlust or #exploretheworld.
Just make sure you aren't copying someone else's quotes or designs, as it might lead to copyright infringement.
3.3 Event-Related
If you're planning to giveaway T-shirts during an event, you can mention the name or location of the event on a T-shirt. But again, do check with the event organizers to get permission to print their event details.
4. Choose a Font
When choosing a font for your T-shirt design, it's important to prioritize readability because if the text is difficult to read, it will negatively impact your message and T-shirt sales.
The most popular choice of T-shirt fonts is sans-serif fonts, such as Helvetica or Arial. But you can also use other stylized fonts, like rustic serifs or chubby retro, to convey a certain mood or tone.
People also like to do something creative with typography to make the T-shirt design look more appealing. Here're some examples: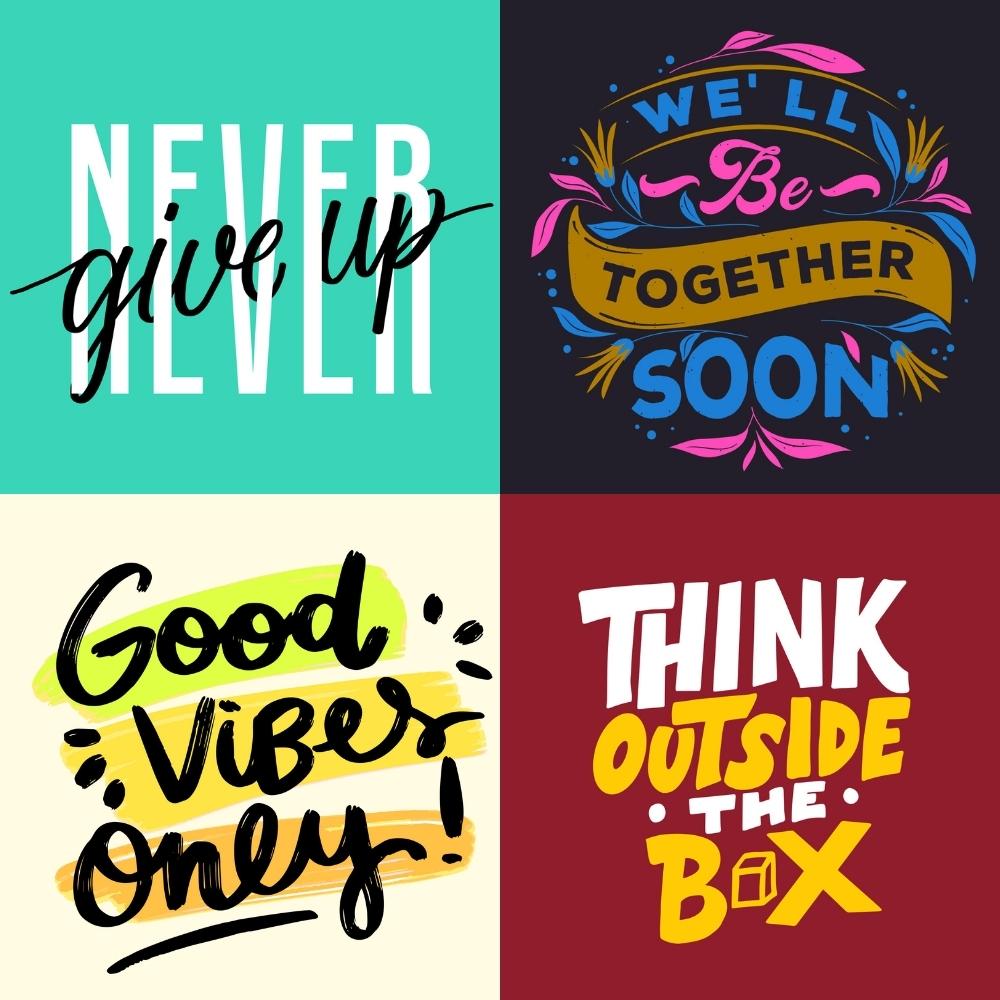 Whatever you choose, just make sure you test the design on different backgrounds to ensure it remains legible.
5. Decide The Style of the T-shirt
When designing a T-shirt, you need to choose a style that is comfortable to wear and appeals to a wide audience. For example, collared or round-neck T-shirts are quite popular and considered a suitable fit by people of various ages. However, crop tops or tank T-shirt designs aren't as popular and are also considered inappropriate for a business.
The same applies to choosing the T-shirt fabric, as you need to pick something that's comfortable to wear and doesn't irritate the skin. Cotton is a popular choice as it's soft and breathable, but you can also opt for a blend of cotton and polyester to get both softness and durability.

6. Pick a Free T-shirt Design Tool
Now that you have figured out everything about your T-shirt design, you can actually begin designing a T-shirt using any free or paid design tool or software. Our top 4 recommendations includes:
6.1 Canva
It's no secret that Canva is always our first choice. It's an easy-to-use design platform that offers many design templates and functionality free of cost.
To get started, simply go to their templates library and search for T-shirt designs. You'll get more than 1000 options to choose from.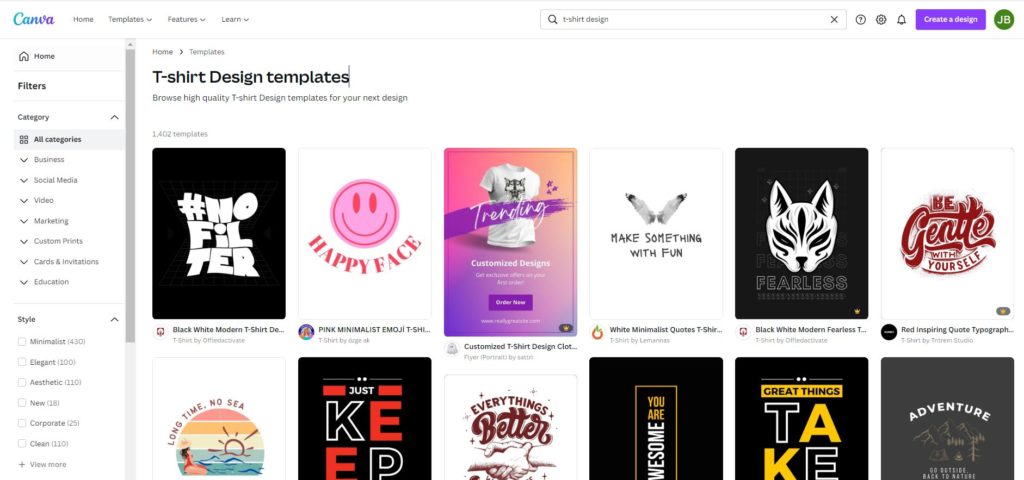 You can take your time to explore these options, and if you come across a template that matches your vision, you can use it as a starting point to modify and create your own unique design.
6.2 Adobe Photoshop
If you're familiar with Adobe Photoshop, then this is your best option to design a T-shirt. You can create your own designs from scratch and even work in the CMYK mode to improve the final print quality.
6.3 Adobe Express
An easier alternative to Adobe Photoshop is Adobe Express. You can use this tool to design a T-shirt from scratch or edit one using their templates. Their design functionality allows you to add your own images, fonts, and logos to personalize your designs.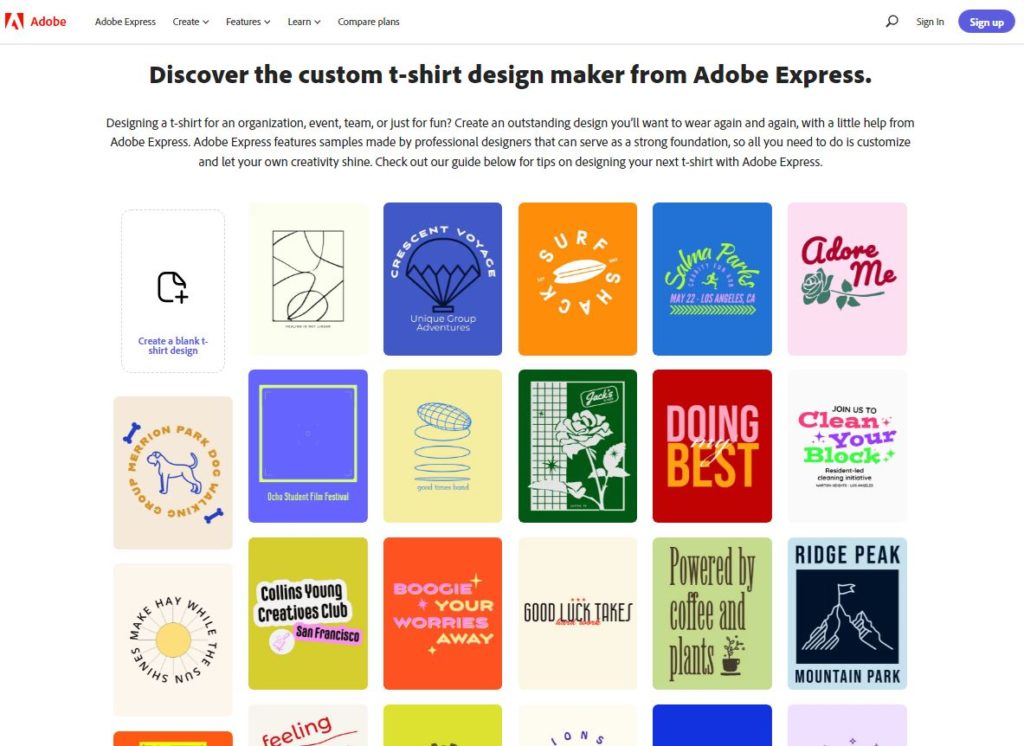 6.4 PlaceIt
PlaceIt by Envato is another popular design tool and Canva alternative that you can use to design a T-shirt. They have some great options that'll allow you to create T-shirt design mockups and T-shirt video templates to attract more customers.
7. Find a Printer
Once you have the designs, you need a printer. But before talking about various printing options, let's talk about another hassle-free choice. If you want to design and sell T-shirts without worrying about the deliveries and inventory, you can sign up for a POD (Print on Demand) site like TeeSpring.
These platforms give you the freedom to design a T-shirt and personalize it with your branding while they handle the printing and delivery of the final product to the customers. Even though it is a paid option, it is still ideal for complete beginners.
If you wish to go the DIY route and get the T-shirts printed yourself, then your next step will be to find a good and reliable printer.
Here're a few things to keep in mind while hunting for a printer:
Ask them if they'll help you convert your RGB designs to CMYK
If your printer has an art department, talk to them, as they'll help you out in refining the final designs
Determine the overall cost of having a printer before finalizing
Opt for looking at a few samples to see how the printing process works before finalizing the final design
If you're ordering in bulk, get discounts
Summing Up: How to Design a T-shirt
That's it! We tried to include everything about designing a T-shirt in this article. By following all these tips and tricks, you can easily design a T-shirt for your brand.
But if you're still struggling, don't hesitate to contact us. We have a team of designers who specialize in designing for print media, including T-shirts. You can easily submit your ideas and work with an expert team for a fixed monthly price.
Sign up for our unlimited graphic design services and get your T-shirt design back within 24 hours.