Cliché social media marketing strategies don't work for small businesses.
If you don't have enough followers or the content to promote you won't be able to leverage social media beyond your social networks.
But there are ways to grow your brand.
In this post, I'll walk you through some tried and tested social media marketing strategies for small businesses.
Let's start…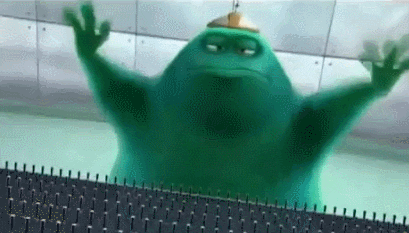 How to Create Social Media Marketing Strategies?
Don't go head first with posting random staff.
Remember we are talking about social media marketing strategies.
So start by strategizing stuff out:
Find Your Target Audience
Understand Different Social Media Channels
Lookout For Your Competitors
How do I do this?
I'm glad you asked.
Follow-through…

I. Find Your Target Audience
To put it in simple terms your target audience includes the people whom you want to show your posts.
Knowing who your target audience is and what they want will help you create content that they are more likely to engage with.
More engagement = More brand visibility
But the most common mistake here is making assumptions.
Rather you'll have to create an audience or buyer persona using social media analytics.
You can use built-in social media tools like Facebook Insights, Twitter Analytics, Instagram Insight or third-party tools like Hootsuite.
You need to focus on answering the 5Ws and 1H here:
Who is your target audience? (age, gender, location)
What are they looking for? (entertainment, information, services)
Why are they looking for this type of content? (to get a job, to have fun, to earn money)
Where do they hang out online? (Facebook, Twitter, Instagram)
When do they hang out online? (Specific time like morning or night or specific days like weekend or weekdays)
How do they like their content? (Videos, photos, long posts)
II. Understanding Social Media Channels
Not all social media networks are created equally.
For some business niche, Instagram is the powerhouse, some gain engagement on Facebook, and others get more pull on LinkedIn.
It is wiser to have a presence on every major platform but you need to choose the ones to double down on.
You can do this by narrowing down the platforms that are most used by your target audience.
The majority of people between the age group of 13-50 are active on Facebook. However, it has seen a drop in traffic in their young audience. These teenagers and young adults are now found double-tapping on Instagram.
Twitter is also more preferred by youngsters. LinkedIn, however, has always favored those with professional careers between the age group of 25–35.
Ultimately which platform you use will make a huge difference between your online success and failure on social media.
III. Lookout For Your Competitors
Hop on to your competitor's social media pages, see what they are doing and how's it working out for them.
This will help you understand the market, better target customers and forecast the market's potential.
Look at the type of content they publish and how frequently they publish. Is there a specific platform they are more active on?
You don't have to copy exactly what everyone is doing. You have to use this information to get started on the right foot.
For example, you can find out which social media platform is better for your business by examining which platform is most used by your competitor.
Most Effective Social Media Marketing Strategies
As I mentioned before, there are so many different strategies that work on social media. The ones you need to choose will depend on the size of your company, your niche, and your business goals.
The marketing strategies for real estate companies will be different than those for a law firm. Similarly, for a small or medium-sized company, the marketing strategies will aim at finding and engaging with the right audience.
If you do it correctly, you can easily acquire new customers through social media.
But what's the correct way?
I've been hard at work figuring out social media marketing strategies for small businesses. These following strategies have been tried and tested on multiple startups and niche businesses:
11 Best Social Media Marketing Strategies
Let's explore each of these social media marketing strategies in-detail…
1. Post Regularly
You might be amused by the fact that several studies have sought to answer the question of "How often to post on social media". Every study has a varied result, proving that there are no right or wrong answers here.
If you post infrequently, your audience will forget that you exist but if you post too often, you will become a nuisance and you will end up overcrowding their feed.
Most popular studies have come up with the following results:
Facebook: 1-2 posts per day
Twitter: 5-10 posts a day
Pinterest: 5-30 pins a day
LinkedIn: 20 posts per month
Instagram: 1-2 posts per day
These numbers can make any small business owner sweat.
Don't worry even we don't feel these are the ideal numbers for you.
Truth be told, the actual number varies from business to business. For example, Nat Geo Travel posts an average of 6-7 times per day on Instagram and they get an average of 195k likes per posts at a 0.41% engagement rate.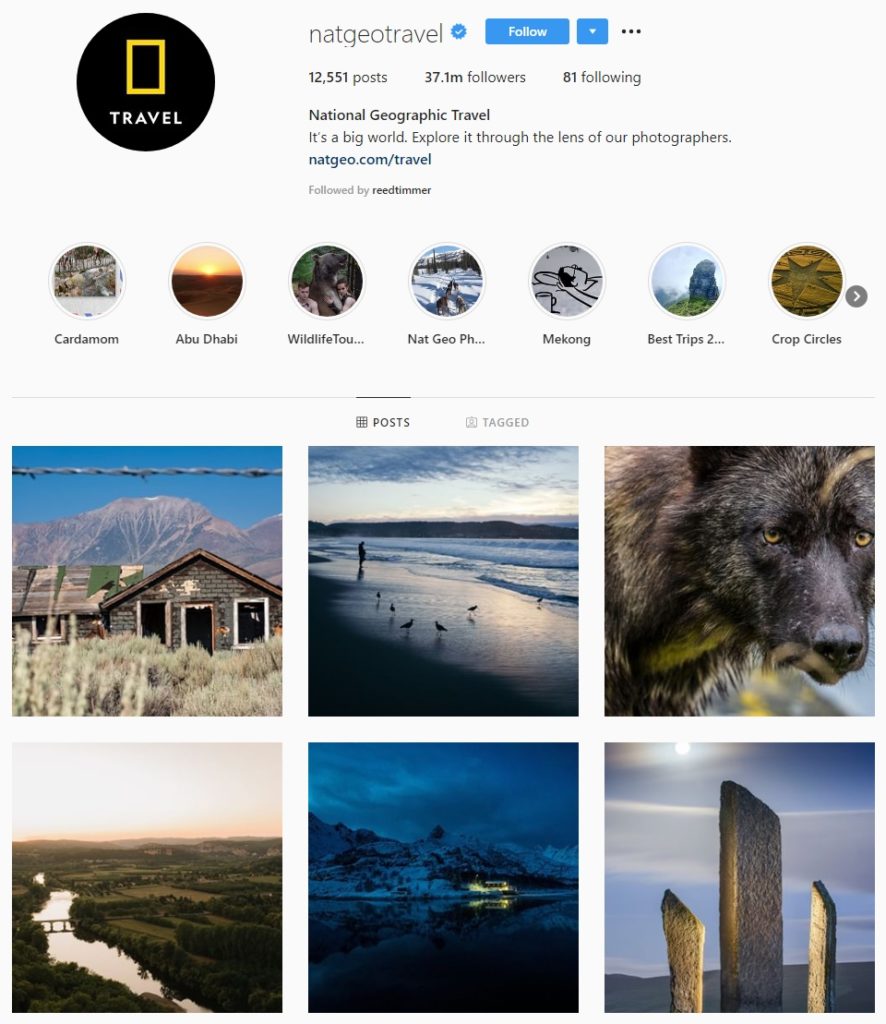 On the other hand, brands like Adidas post an average of 1 time every week on Instagram and they get an average of 142k likes per posts at a 0.77% engagement rate.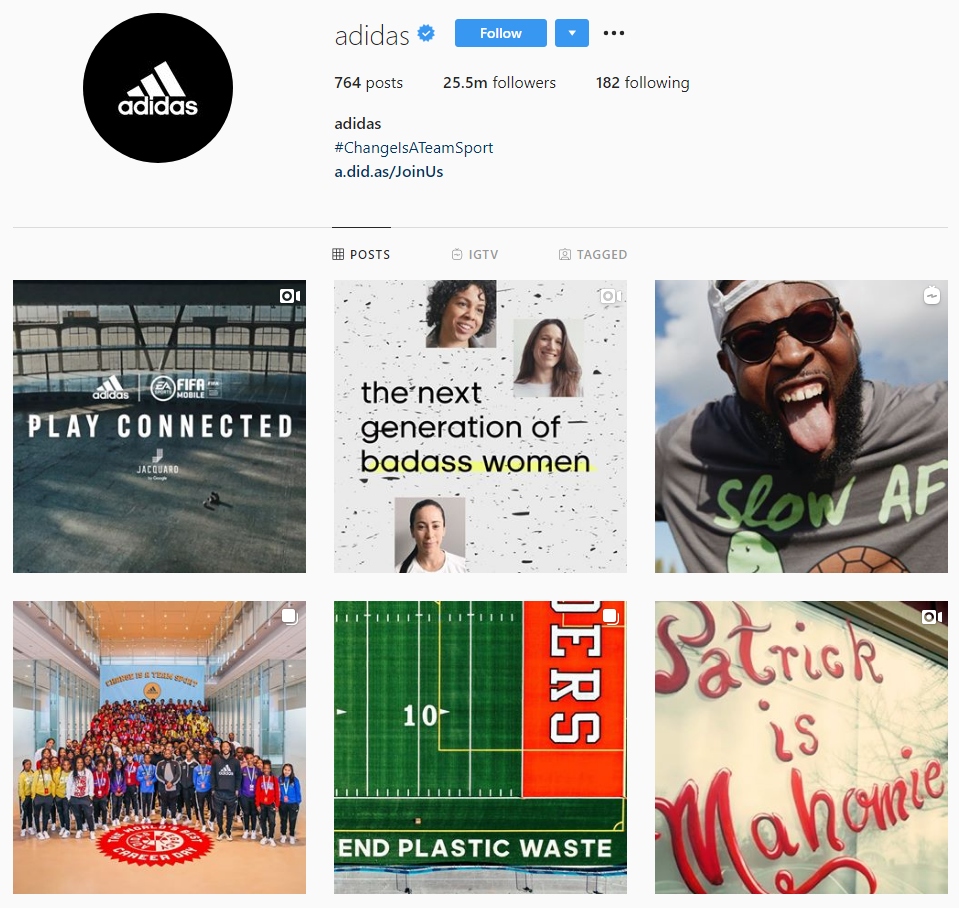 It depends on the kind of audience you have.
Ideally, I always recommend posting once every day on every platform. You can grow your followers by up to 56% by posting every day!
(You will read more about what you can post in the later points)
The important thing here is to choose a routine and stick with it. Always be consistent with your social media platforms.
2. Keep it Light
A unique brand voice helps humanize your brand. It gives people behind your posts permission to be people and forge a connection that keeps your followers invested.
Therefore it is very essential to choose the right voice for your brand.
You can do this by examining the culture of your company and its audience.
A detailed study of your target audience that I earlier told you to do will come in handy here.
What gender is your target audience? What's their age? You'll be able to shape up your unique voice when you'll start taking these into consideration.
Basic rules to follow here are:
Avoid jargons
Stay away from clickbait words like 'now' or 'today'
Keep it light and friendly
Use humor
People online don't like to talk to machines. They are looking to connect with real people.
Humor is one of the most effective ways to connect with an audience irrespective of their age or gender.
Plus humorous content gets more share and tags.
Almost every big brand uses humor for brand recognition.
3. Use the Right Hashtags
Hashtags(#) are used for:
Promoting a post
Engaging with followers
Boosting marketing campaigns
Categorizing content
Finding and following trending topics
These hashtags are mostly used on Twitter and Instagram. Twitter allows you to use unlimited hashtags but it should be under the general limit of characters in one tweet i.e. 280 characters.
Instagram hashtags are the key to your visibility. You can use up to 30 hashtags per post but make sure they are all relevant to your post.
Facebook and LinkedIn hashtags, however, behave very differently as they are not searchable. Also, on LinkedIn, hashtags don't highlight as a blue clickable link, making them non-tagged keywords.
Focusing on Twitter and Instagram, you can use tools like Hashtagify.me and Tagsfinder to research the most relevant hashtags.
Some basic Dos and Don'ts of using hashtags are:
A. Avoid Hashtag Hijack
It involves using a hashtag that has absolutely nothing to do with what you are posting. This method is used for internet trolls and is mostly considered spam.
B. Don't # Random Words
Think if someone would realistically search for that keyword or phrase that you are hashtagging. And even if they do, is it going to be in the same context?
For example, this post on Twitter has hashtags like gain and convert. People don't search for these hashtags when they are looking for social media marketing tips.

The last hashtag social media marketing is both relevant and useful.
C. Don't Create Long Hashtags
#ItsHardToUnderstandReallyLongHashtags
Lengthy hashtags are complicated and difficult to understand. Short and sweet hashtags are more memorable, impactful and easy to consume.
D. Use Trending Hashtags
Twitter has a whole section of 'trending hashtags'. You can use these hashtags in your post to gain more visibility. But make sure your content and product are relatable to that hashtag.
4. Tag People & Companies
Tagging someone using @ is mentioning them in your post.
You must have tagged a friend on Facebook in a group photo. It's just like that but here you tag influencers or big brands.
Tagging on social media is a great way to give your posts more exposure and encourage engagement.
But don't go about randomly tagging people. They might get annoyed and report your profile.
Here's an idea of who you can tag:
Person or a brand featured in your photo
Person or a brand you are talking about in your caption
Other accounts that are relevant to your business like some media outlet that shares user-generated content
Author of a quote you are sharing
Website or individual from whom you took the image
Person or a brand mentioned in the post you are sharing
Someone who inspired you to write a post
5. Use Good Quality Graphics
A major part of social media marketing depends on the graphics you use. While scrolling through Facebook or Instagram, nobody stops to read your content. It's the image that grabs attention and makes people stop and read your content.
Now you need to put up great quality images that stand out from all the other images in your audience's feed.
As a small business owner, you might not have the resources to hire a graphic designer.
Don't worry, you don't even need one!
You can create your social media graphics yourself.
First things first, don't go after stock images.
These stock photos are extremely boring, overused and they don't really add anything to your content.
Use illustrations.
They are a part of the biggest design trends in 2019.
Illustrations are fun and they appeal to a wider audience.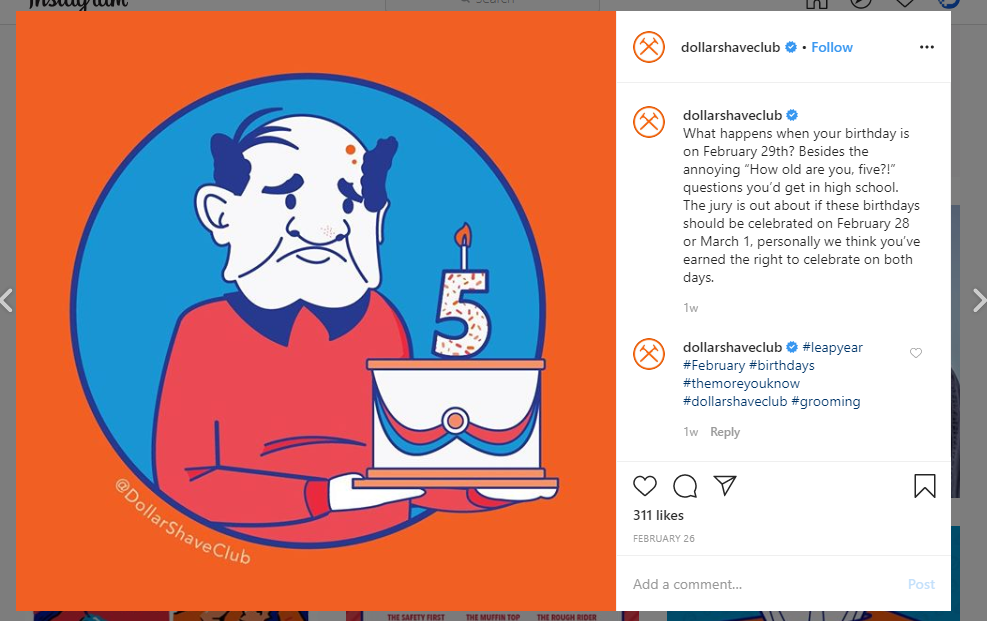 You can get free illustrations from websites like unDraw, Icon8 or Humaaans.
To edit these images there are so many free tools available but my favorite is hands down Canva.
Perfect for any beginner, Canva comes with hundreds of templates, images, illustration assets, fonts, and text stylings. You can easily create unique, high-quality images for your social media pages.
If you are looking for a more advanced tool, you can use PhotoPea. A free online image editor that supports PSD, XCF, Sketch, XD, and CDR formats.
You can also try more websites like Canva. I have talked about them in my article about Canva Alternatives.
Follow These Social Media Graphic Design Tips:
A. There is a different ideal image sizes for different platforms. Make sure you edit your image on that size. You can also use the free tool Landscape from Sprout Social to resize your images.
Quick Reference to Image Size: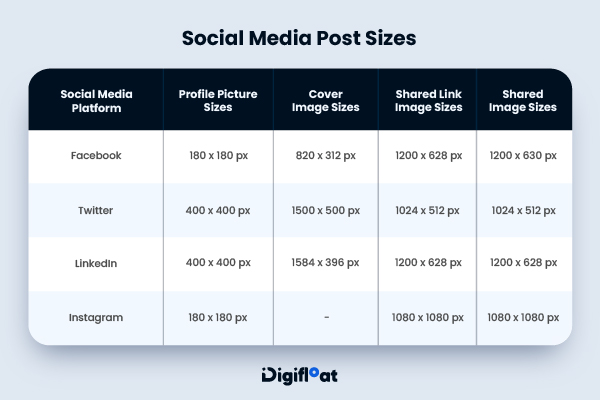 B. Keep the color scheme of all graphics consistent.
C. Keep the font type consistent.

6. Post Videos
Videos are driving the Internet today.
Every person who accesses the internet knows the power of video marketing.
But it's not easy for a small business owner to leverage social media video marketing to grow their business.
If you are just starting out with your business, chances are you have one of the two following questions:
What videos to make?
How to make 'em'?
Let me try to answer both of these questions.
Here are some realistic video ideas for you.
Testimonials – Even if you have only 2 or 3 clients, you can ask them to share their video testimony. Or you can make a short video compiling their written testimonies.
Product videos – If you are selling some products online, create videos of that product. Show how it looks, its features and some variants if available.
How to videos – How-to videos are the most searched for online. You can show how your products or services work in these videos.
Blog post – If you have started working on your blog pages you can turn those blogs into videos.
About us – You can create a short video about the owners of your company and their inspiration behind the company.
You can always try and experiment with new ideas like QnA, Announcement videos, or even live videos.
Now comes the harder question, how to make these videos?
You can hire a graphic designer if you are not on a budget or you can try the DIY approach.
You'll have to invest time into these videos to get them right. And you'll also need some video creation tools like:
This tool is the easiest way to create a video. You can create up to 10 HD videos using Headliner for free. It also transcribes the audio into captions or creates a video by simply uploading an article or an audio file.
This is a free software for screen capturing and video recording. You can use this to create how-to videos about your services or website.
You can create and export 5 videos for free on this video creation tool. It is a great tool for someone who is just starting out with videos as it offers a variety of professional templates. You can create explainers for social media or even presentations using Biteable.
Using these tools you can easily start creating videos for your social media platforms. Just make sure these videos are:
Entertaining or educating
Short and sweet
Attention-grabbing
Either sound less or have attached caption
7. Post Engaging Content
Once you are sorted with the visuals, comes the content or the caption for your post.
Visuals make a reader stop scrolling, it grabs attention but the text in your post makes them click. If you want someone to come to your website or your page you need to have an engaging copy.
And producing engaging content isn't easy. Many businesses have even agreed that it's the most challenging aspect of their marketing campaigns.
It requires extra time and effort but you can figure out ways to get it right.
It's about being original and producing actionable content. Tell stories that capture the attention of your audience and make them think or take action.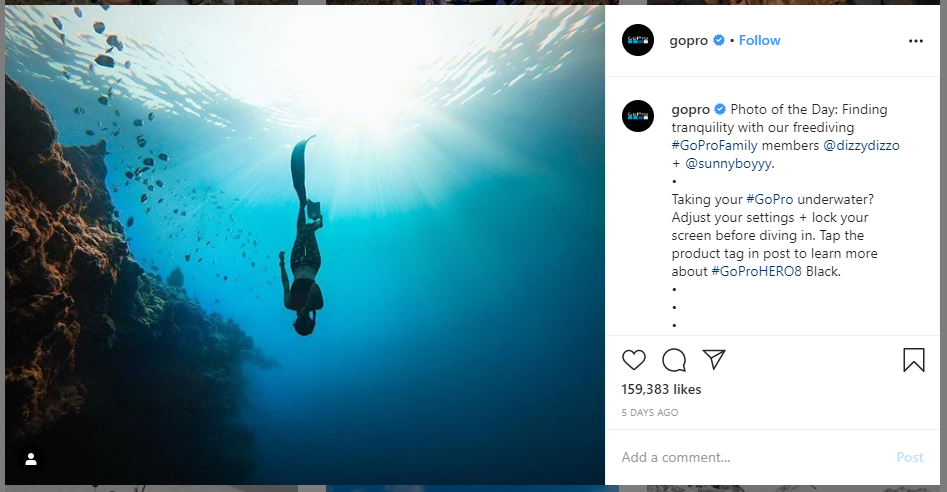 Here again, a lot of small businesses are confused about what content to share?
Here are some ideas:
Blog Posts
A no brainer! If you have a blog start sharing it on your own social media platforms.
About Your Company
Who are you? Who are the owners? Why did you start the company? This type of content will allow your audience to better know your brand.
Industry News
Say you are in the shoe industry and someone came up with a new idea like this one about 3D printed shoes. Post about this on your social media channels, ask your audience their views, set up a poll asking them if they would buy something like this or not.
Customer Reviews or Testimonials
Share what your clients say about you on your social media channels. You can also tag them on these posts but ask them first.
Holiday Wishes
Make a calendar of all important days and events that happen throughout the year. Post wishes to show your festive spirits around these days.
Hiring Announcements
If you are looking to hire someone, announce it on your social media accounts. Or even if you have hired someone, you can send out a welcome post to let everyone know about your company's culture.
Inspirational Quotes
It can be cheesy if you do it too much. But sometimes, it's okay! You can use quotes from industry leaders that your audience will relate too.
8. Schedule Post on Best Times
It is essential to publish your posts at a specific time for your social media marketing strategies to work. This specific time is decided after conducting careful studies determining at what time people use which platform.
Now different industries such as technology, healthcare, travel and tourism, and education all have different peak times. There's no study that can estimate the right time to post for everyone.
Also, the best time can often be the worst time for some businesses. For instance, a study says 7 PM on Wednesday is the best time to post on Facebook and every brand pushes its content to its audience at this time. Now on Facebook, there are 1,500 stories that could appear in a person's News Feed. So now you're essentially competing against at least 1,500 others. It's highly likely that your post will be seen by your audience.
So, when should you post?
Go to your Insights tool, you'll get a ton of data there. See what time your competitors publish their posts and how their content performs.
There should be a specific time at which they get maximum engagement. That will be the best time for you to post.
Ultimately, you'll have to experiment with various times and days to figure out what works best for you.
You'll have to schedule your posts at these specific times. On Facebook, you can directly schedule a post at any time of the day. But I always recommend using a third-party tool.
Two of my favorites are:
RecurPost
RecurPost is a free online tool that allows you to automatically share your updates at the best time and increasing your social media engagement every week.
You can add up to 3 social media accounts in their free plan. I recommend adding Facebook, Twitter, and LinkedIn here. It allows you to publish 10 daily posts per social account, which is enough for a small business.
You can switch to a paid account once you have a more established business.
Later
For Instagram, try Later! One of the best marketing platforms with over 2 million users. You can create a free account, add one profile per social platform, and publish 30 posts per month per profile.
9. Use Twitter Threads
Now let's move up from the basic social media marketing strategies.
There are certain ways in which you can get better engagement on a particular social media platform.
On Twitter, Tweet threads are the latest discoveries.
Well, not so latest as they were launched in 2017, but people have now started seeing their potential.
To create a thread, just publish a tweet and then reply directly to it the same way you would reply to a tweet written by someone else. Repeat this and reply to it with a third tweet, then fourth until your thread is finished.
A major reason people started using thread was that they weren't able to convey their message within the Twitters word limit.
But another major benefit is that it gets your tweets noticed.
The average life of a tweet is short. If it didn't receive clicks, likes and retweets in the first 30–60 minutes, the entire Twittersphere moves on and your tweet is forgotten.
With a thread, you have at least 6 tweets that 6x its life. Every tweet in that thread has its own permalink, that way it can be individually clicked, liked or retweeted.
If you also share a link in each thread, you'll get a 6x chance of being clicked on.
You can share a story, step-by-step tutorial, valuable tips on specific topics, or simply convert your blog post into a thread.
10. Participate in LinkedIn & Facebook Groups
There was a time when LinkedIn groups had a rare engagement and Facebook groups were full of spam.
But thankfully, times have changed.
Now you can join your niche groups on these platforms and participate in a dedicated discussion on business-focused topics. You can post information that other members find valuable or helpful.
This will help you grow your audience significantly.
The only rule you have to follow here is to not spam the group.
Instead, be strategic.
Understand the group and its rules. Start by introducing your brand, answer questions, and give feedback to other people's content.
You'll not only grow a strong relationship and following but also see some undeniable benefits along the way.
Bonus: Add Stories
Borrowed from Snapchat, Stories were first launched on Instagram, followed by WhatsApp and then Facebook and Facebook Messenger.
You can show videos or pictures on a full screen in your stories for 24 hours. On Instagram however, you can also save these stories to appear in circles at the top of your timeline.
Big brands use this feature to build brand awareness, increase engagement, promote events, go Live, and drive views to their posts.
See how Starbucks promote their Espresso in their Stories: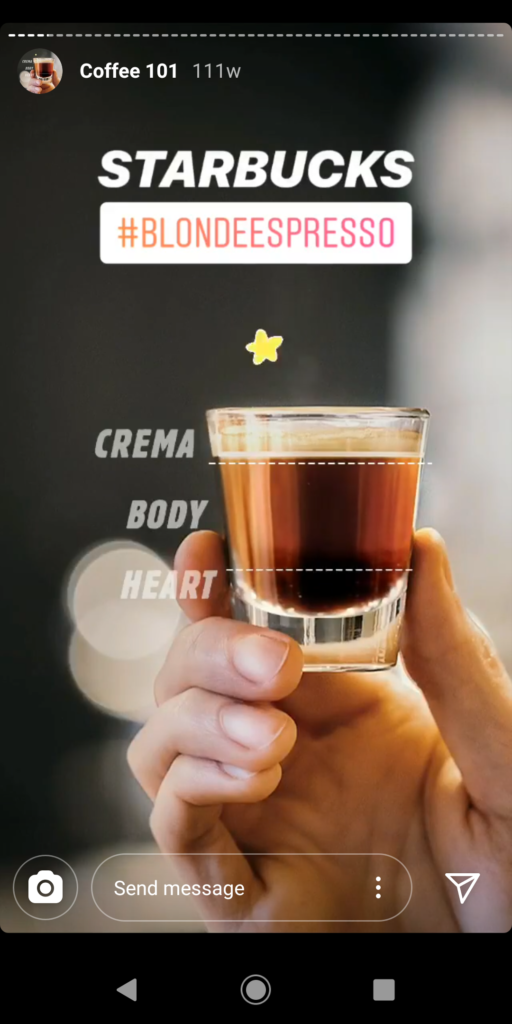 And how 9gag run quizzes to go engage with their followers: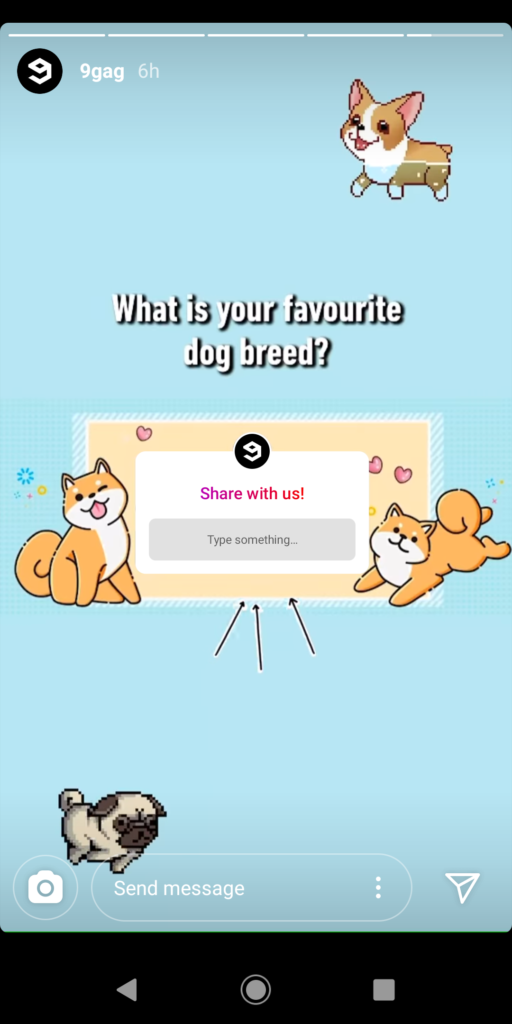 The biggest advantage of Stories is that these are not impacted negatively by the organic reach. Also, people like watching Stories content.
Just consider the following best practices while posting Stories to drive brand awareness and increase conversions:
A. Tag Products
If you have an eCommerce site, you can tag your products directly in your Stories. Whenever a user will click on a product tag, additional details about the product will pop up and if they click again, they will be taken to the page where they can purchase the item.
B. Use CTAs
Add call-to-action that will tell the users what action you want them to take like "Sign up for our newsletter today" or "Get started with a free trial".
C. Use Stickers
Stickers are both fun and catchy just like emoticons. You can add a relevant sticker to add a whole lot of extra attention that can actually drive more conversion.
D. Incorporate User-Generated Content
Testimonials are the biggest example of user-generated content. You can share it in your Stories. People love seeing other people use something and it is often a powerful driving force to increase sales.
E. Add Hashtags
On Instagram, Hashtags also work in Stories. Adding hashtags increase your chances of gaining more brand visibility through your Stories.
11. Hire an Expert
It took me around 3524 words to explain some of the best social media marketing strategies and believe me I tried to keep it short and sweet.
Are you getting a little intimidated?
It's normal for a small business owner to be lost between the sounds of likes, shares, and comments.
I have worked with many small and niche businesses and I have used all the strategies listed above to gain brand visibility.
Each one of these social media marketing strategies work but it requires time.
And for some of us, time is the biggest asset.
With a vast array of responsibilities, writing tweets and posting photos on Instagram never make it to the priority list.
In this case, I will recommend you get help from an expert.
Think about it, you or your other employees don't have any social media marketing experience, the time and energy that you are going to spend on might be a waste of resources.
With a professional, you'll have to invest some money but that money will be spent in the right way.
It might be worth a try!
But hey, if you can manage to twerk things around and make time for your social media marketing. I say, go for it.
The prime goal here is to have an awesome social media presence.
Try all the social media marketing strategies I have listed above. You can hire an expert at any stage of the process.