Content optimization is very impactful for SEO. It ensures that your content is not only written well but it's visible through the web.
Here's an example of how one of our well-optimized blog posts looks on search engine rankings:
Getting the first rank in 74,00,00,000 search results isn't easy. But it's all about incorporating the right keywords, graphics, meta and title tags, and links. And by no means we do all this manually. We rely heavily on various content optimization tools that help us increase our chances of ranking higher on search engines.
In this article, I am going to share these SEO content optimization tools with you. I made sure to only include FREE content optimization tools so that even if you're on a budget, you can try them.
Top SEO Content Optimization Tools
Let's discuss these SEO content optimization tools in a little more detail…

1. Small SEO Tools
Small SEO Tools is one of the largest collections of small but significant content optimization tools that you can use for free. This is a one-stop solution for every marketer.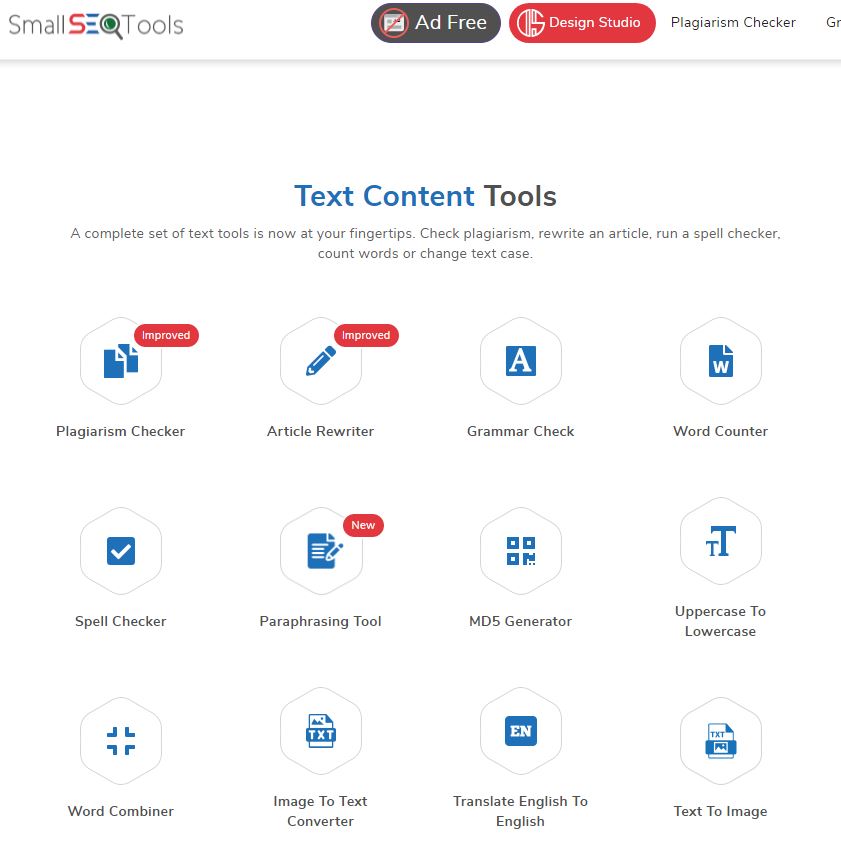 They offer more than 120 tools in 10 categories that you can use to create and analyze meta tags, get backlink analysis, measure and monitor your website's performance, perform keyword research, check plagiarism, and so much more.
2. MarketMuse
MarketMuse is AI-powered content research and keyword planner tool. It helps you analyze your content, suggest topics to cover, and develop content briefs.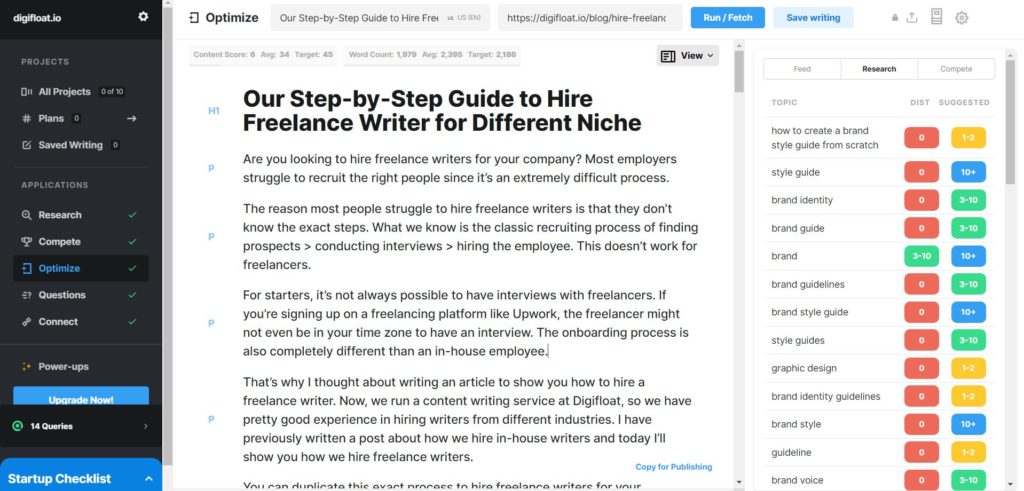 The text editor of MarketMuse provides real-time feedback with a content score that helps improve the quality of your content.
3. Canva
Canva is a well-known graphic design platform that can be used to create pitch decks, social media graphics, posters, logos, and much other visual content.
I am recommending a graphic design tool as a content optimization tool because graphics are a crucial part of content creation. They not only support the written content but also help elaborate complex concepts easily.

If you find Canva a little monotonous, you can have a look at my top Canva alternatives.
4. SparkToro
SparkToro allows you to perform in-depth audience research to better understand your customers and their needs. It exists to replace expensive market research surveys.
Below is an image of the Sparktoro dashboard. I searched for a query for the term "graphic design". Their database showed me what my audience likes to read, listen, watch, follow, share, and talk about online.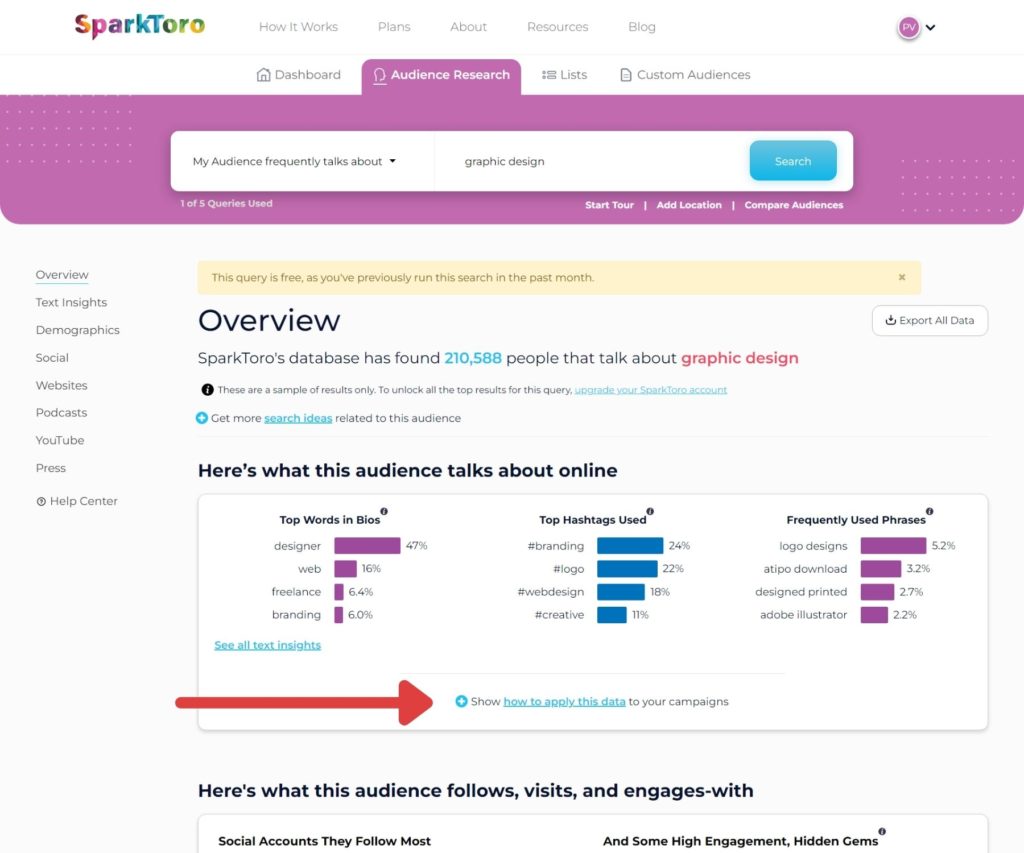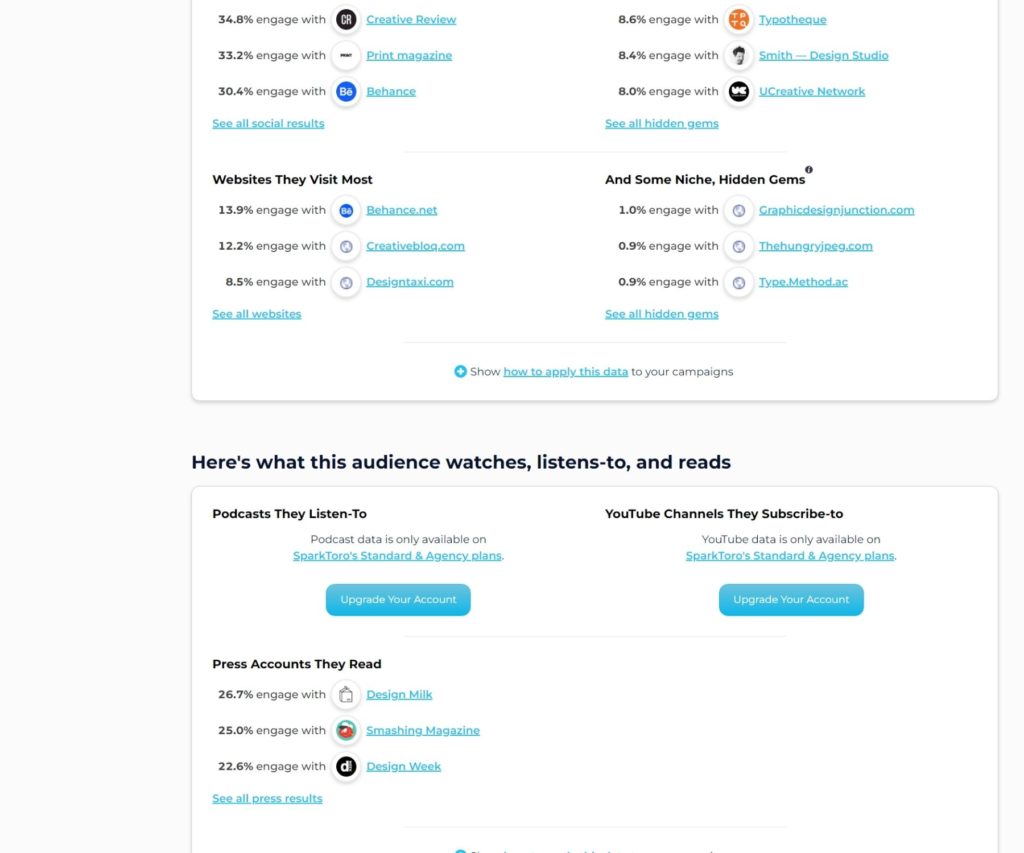 Below every row, you'll also find suggestions on how you can apply this data to your campaign. All this information makes SparkToro one of the best audience intelligence tools on the web.
5. Hemingway Editor
Hemingway Editor is a very popular content editor and one of my favorite website content optimization tools. It helps you correct grammar and improves the fluency and readability of your content. The UI of this app is also very simple to use. You can either write directly or copy-paste your content into the editor.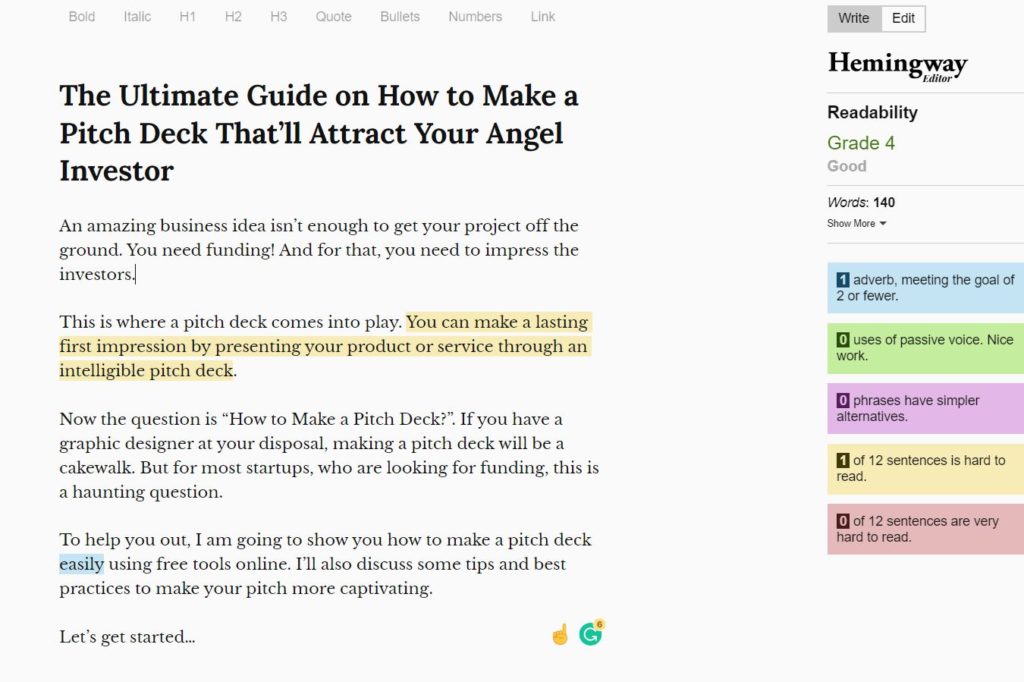 The changes recommended by the editor are color-coded for example the yellow highlight indicates the sentence is complex and hard to read. You can easily improve your content based on these suggestions.

6. Easy-Peasy
A strong and compelling headline is very important to attract readers. If you're someone who struggles to create such headlines, check out Easy-Peasy.
Although they offer multiple tools, my personal favorite is their headline generator and headline analyzer.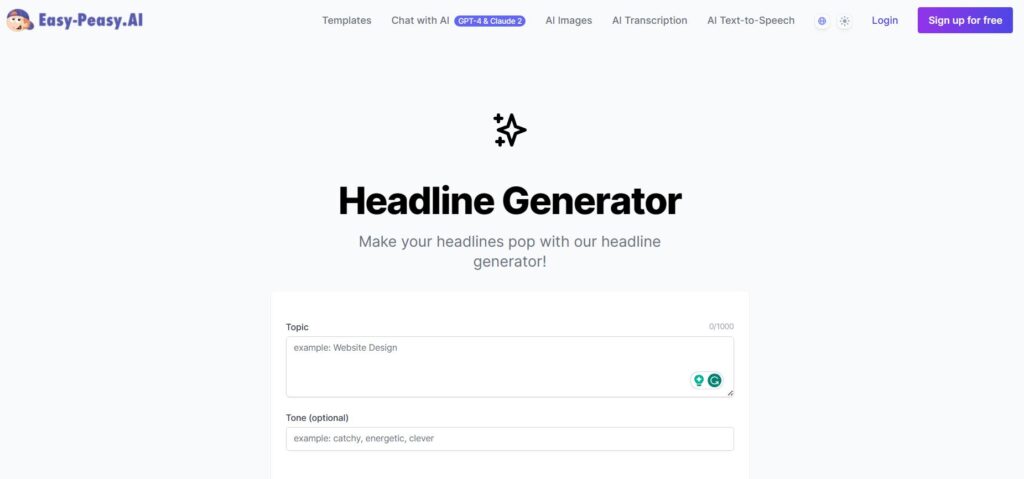 All you have to do is enter a keyword phrase like "Content Optimization Tools" and it'll generate multiple headlines. These won't be ready-to-use but they'll definitely stir your creativity.
7. SimilarContent
SimilarContent is a content optimization tool that'll help you create content that's optimized for Google's search engine. It lets you optimize your content, generate similar headlines and topic ideas, rewrite the content, and find keyword density on one dashboard.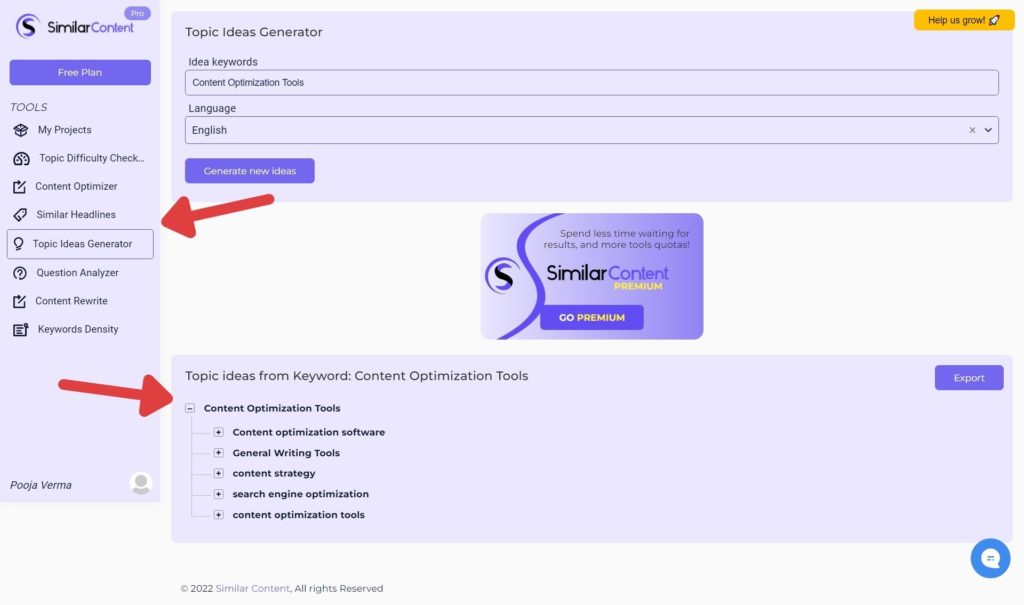 8. Keyword Tool Dominator
Keyword Tool Dominator lets you find long-tail keywords from Google, YouTube, Amazon, Walmart, Bing, Etsy, and eBay. It can be a very useful tool for multichannel marketers who want to optimize their content for Google as well as other search engines.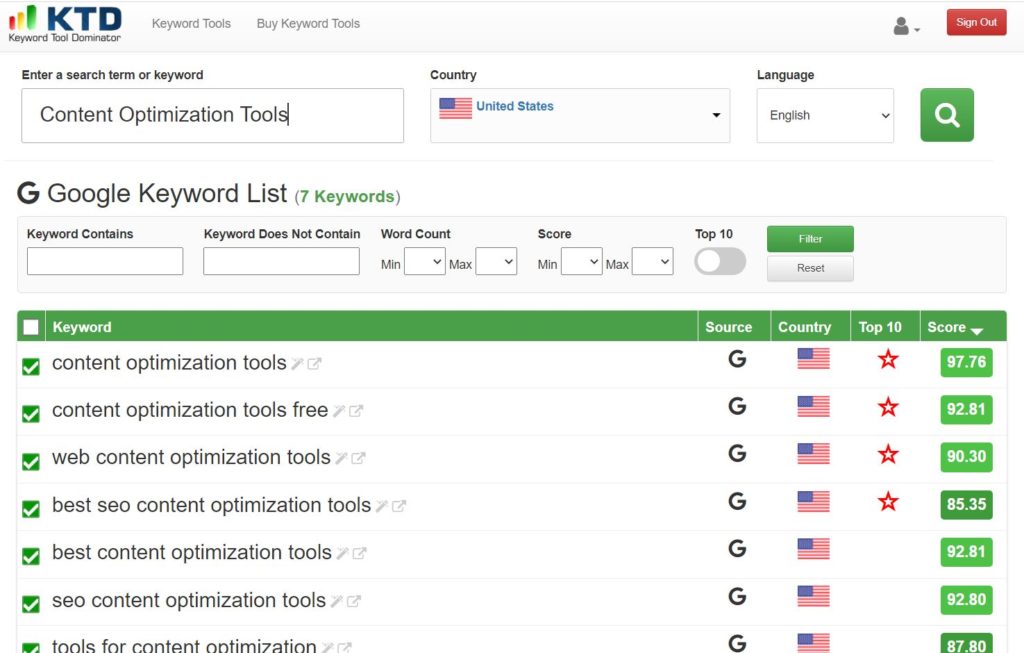 9. Keyworddit
Reddit has millions of active users and it's a great place for people who are looking to connect with their target audience outside the traditional social media platforms. If you have found a certain subreddit where your target audience engages the most, you can actually find what they talk about. You just have to enter the subreddit on Keyworddit and it'll give you the exact keywords with their monthly search volume.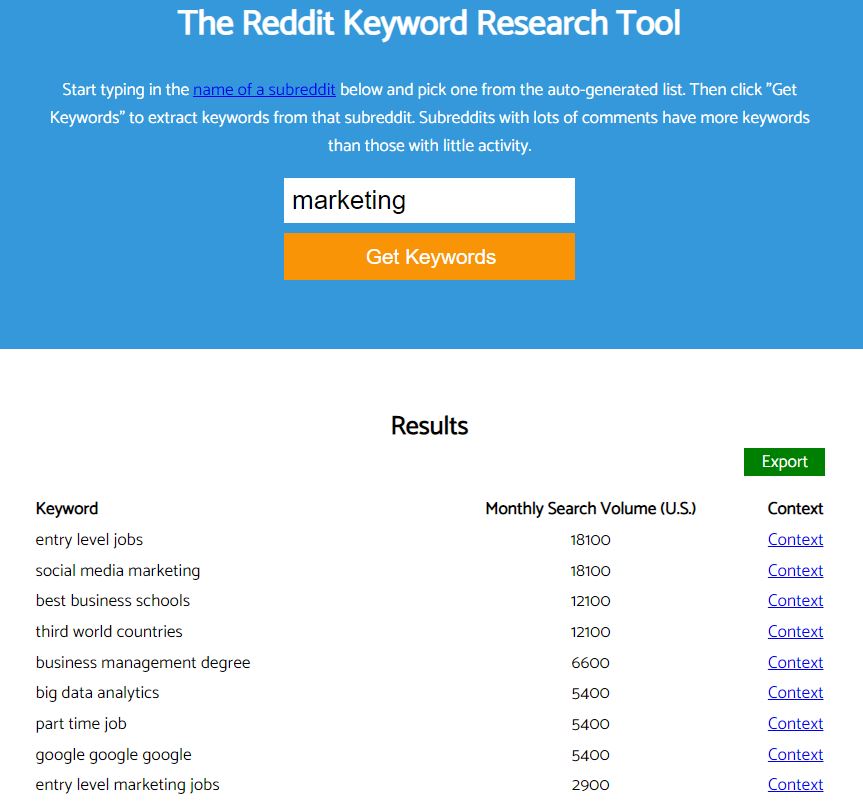 You can either optimize your content with these keywords or even create new content based on what your target audience wants.
10. LSI Keywords Generator by Keysearch
Search engines have become very intelligent as they constantly rank relevant content for any given query. And by adding LSI keywords to your content you let search engines better understand what your page is all about.
The easiest way to find such LSI keywords is via a Google search. Just type your query and let Google autofill list down all the related keywords. Another way is to use a tool like this one by Keysearch.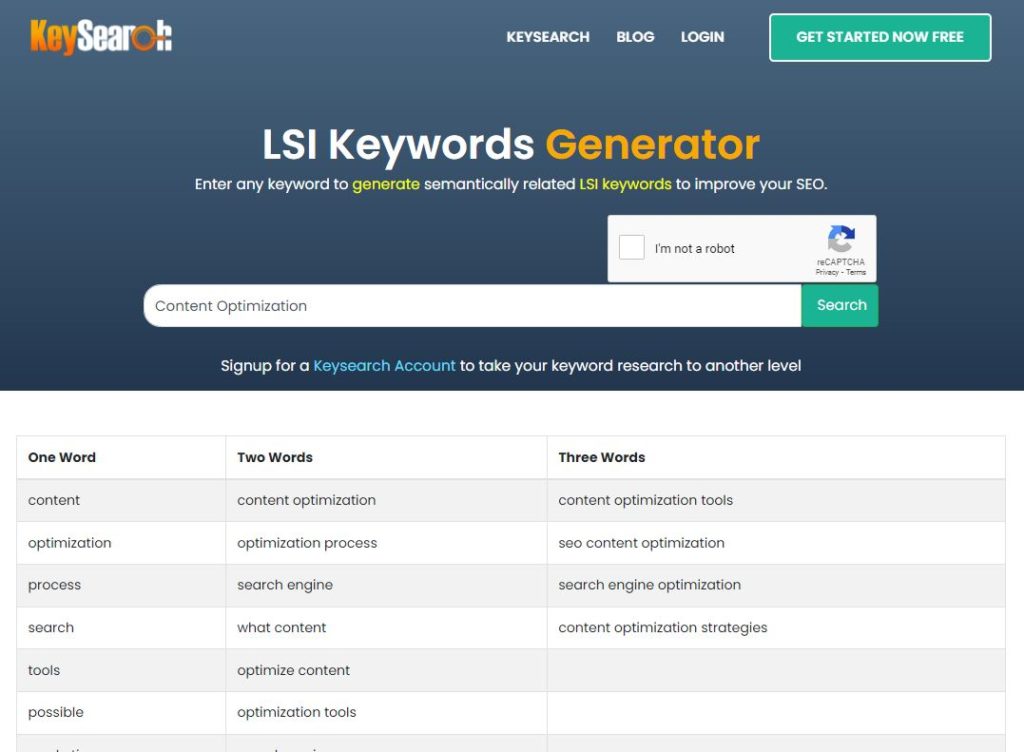 It's a completely free-to-use tool that recommends LSI keywords to help improve your SEO.
11. Google Search Console
Google Search Console is one of the most underrated content optimization tools. It's mostly used to get an overview of the website's performance including the total clicks, impressions, CTR, and the average position.
But you can also use it to find underperforming keywords that can be easily optimized to improve the SERP ranking. You can also find and fix sitemap issues, pages with high rankings but low CTR, page experience, and so much more.
Conclusion: Best SEO Content Optimization Tools
You have to be persistent with content optimization to achieve better search engine ranking. It can be time-consuming to do all this by yourself, that's why you need some good content optimization tools.
I tried to list down some of my favorite free content optimization tools but if you're still struggling to write SEO optimized content yourself, hire a professional. Sign up for our content writing services and get high-quality, plagiarism-free content in any niche.
Our writers excel in writing content that appeals to both the audience and the search engine's algorithms. We'll create content that's individually customized for your brand, prioritizing your company's message to connect with your customers.