Today businesses are actively investing in content marketing because it has proven to grow audience engagement and establish brand awareness.
But we have seen people investing in producing high-quality content and often struggling to measure its success. Or worse they spend time and resources measuring the wrong content performance metrics.
To help you avoid this problem, we'll discuss 12 content marketing KPIs you should measure based on your marketing goals.
Let's start…

Goal: Generate Traffic
If you're marketing goal is to drive traffic to your blog or website, you should measure the following content KPI:
#1 Content Marketing KPI: Channel
Your blog is getting a lot of traffic but where is this traffic coming from? Google Analytics can help you find the source of traffic under Acquisition > All Traffic > Channels. This will show you which campaigns are contributing to your goal. If something isn't working, you can either change your strategy or pull out of it.
And if something works well, you can double down your efforts there. For example, in the screenshot below, you'll see our blog gets the most traffic organically or via social. That's why we invest most of our resources in these two channels.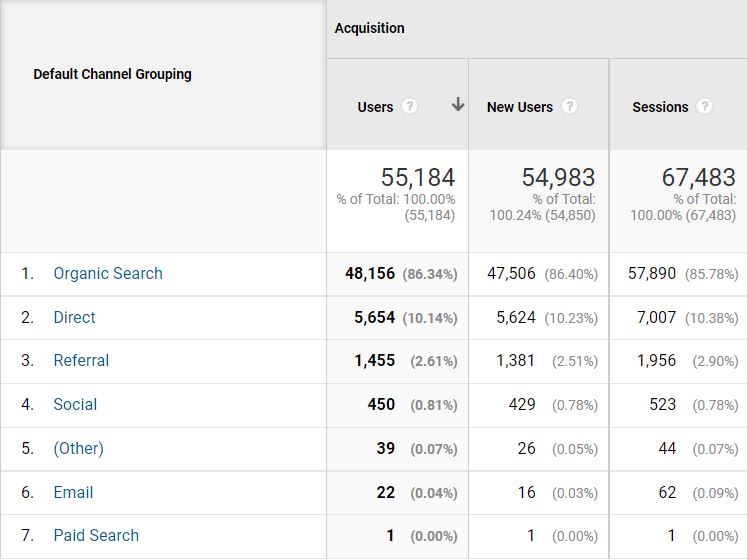 #2 Content Marketing KPI: Retention Rate or Bounce Rate
There's no right or wrong answer to the ideal retention or bounce rate. But these metrics help decide whether your content is relevant to the visitors. Sometimes the problem isn't with the content, but the technical SEO of your website. You might have a high bounce rate due to slow page load speed or a confusing site structure.
Whatever the reason will be the bounce rate will affect your website traffic and your search engine rankings as it's an important Google Ranking Factor. To avoid this make sure you follow a proper content optimization checklist for every blog post.
#3 Content Marketing KPI: CTR
The click-through rate or the CTR shows how many impressions of your content resulted in clicks. It helps you decide how well optimized is your CTA, landing page design, and content.
Say, for example, your blog is ranking number 1 on SERP and gets almost 1000 impressions every day. But if the number of people who are actually getting to your website is around 50, then your CTR will be 5%. Whether it's a good or bad CTR is subjective. But this value will definitely affect your website traffic.
Goal: Increase Backlinks
Backlinks are invaluable in SEO as they decide the credibility of your website. If this is one of your marketing goals, then you should monitor the following content marketing KPIs.
#1 Content Marketing KPI: Backlinks Gained
You guessed it, the first KPI is the number of backlinks you gained. You can track this number using Google Analytics, Google Search Console, or any other third-party SEO tool like Ahref. They even have a free version of their Backlink Checker that looks something like this: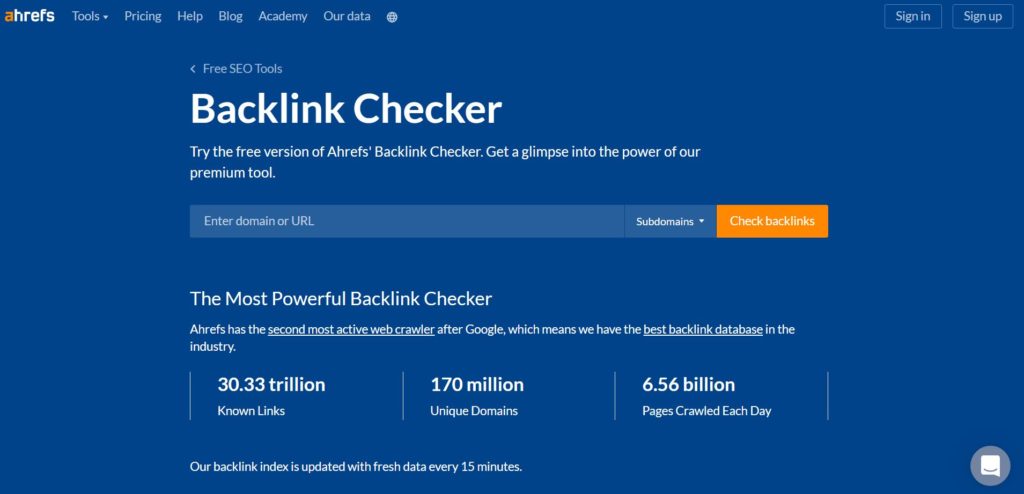 There are many backlink-building strategies including broken-link building, email outreach, guest posts, etc. But ultimately the success of your strategy depends on the number of backlinks gained.
#2 Content Marketing KPI: Traffic From New Links
The next KPI is to track the quality of backlinks. You might have gained 10 backlinks in a month but are those worth it? This will depend on the quality of the website that's giving you a backlink. If it's a high-authority website your page will get a ton of link juices and traffic. It would be preferable to avoid getting a backlink from low-authority or spammy websites.

Goal: Lead Generation (Both MQL & SQL)
There are Marketing Qualified Lead (MQL) and Sales Qualified Lead (SQL). If any one of these is on your marketing goals, then lookout for the following content marketing KPIs:
#1 Content Marketing KPI: Number of MQL
An MQL is a lead that has a significant engagement with your content. It can be through clicking on a CTA link, visiting multiple pages, downloading a lead magnet, etc. But simply visiting your website does not make them a marketing qualified lead. There needs to be adequate evidence to anticipate that this lead will convert into sales to be called an MQL.
You can easily track MQLs by creating goals in Google Analytics or using any other third-party tool like Salesforce.
#2 Content Marketing KPI: Number of SQL
A SQL is a lead that has shown a significant interest in buying your products. It can be through signing up for a product demo, interacting with your website chat support, or simply responding to an early sales outreach.
You can track these leads manually using Google Analytics or other third-party tools like Hubspot and Hotjar.
#3 Content Marketing KPI: MQL to SQL Rate
There's no ideal rate of MQL to SQL conversion, it varies depending on your specific industry. But by tracking this KPI, you can analyze the effectiveness of your marketing campaigns.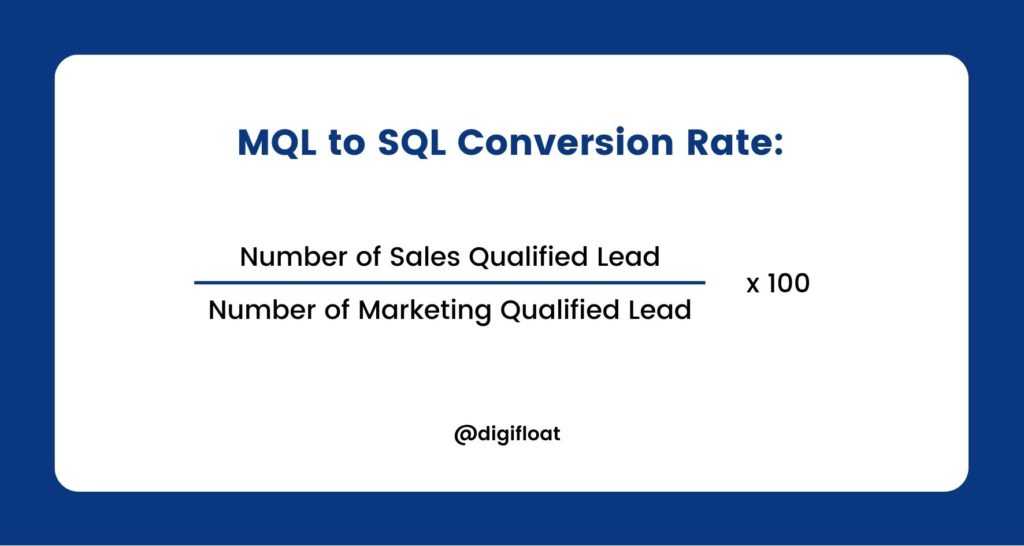 If the MQL to SQL is lower than expected, then there're chances your target audience isn't responding to your campaign as you predicted.
Goal: Increase Sales (Total Revenue)
Sales or the total revenue is often one of the biggest goals for eCommerce businesses. But if you're not tracking the proper content marketing KPIs for this goal, you'll end up wasting your resources. To avoid this, focus your efforts on tracking the following content KPI:
#1 Content Marketing KPI: Leads to Customer Rate
Lead to customer rate, also referred to as the sales conversion rate or lead conversion rate, helps you understand how effectively your team converts qualified leads into customers. These metrics are great for evaluating and optimizing your sales funnel.
#2 Content Marketing KPI: New Customer
Acquiring new customers can be costly as you'll have to invest in marketing strategies, creating new content, targeted ads, nurturing leads, etc. But if you can carefully monitor and measure your customer acquisition process, you can make a better decision about which strategies and campaigns are worth the effort.
#3 Content Marketing KPI: LTV or Lifetime Value
The lifetime value of a single customer represents the time frame from when they first entered your business up to the time they left your business. Ideally, this number should be lower than your customer acquisition cost.
For example, you spend $500 on marketing and advertising costs to get a new customer. So if their LTV is less than $500 that implies your customers are costing you more than they are making you in revenue. If the LTV is more than $500 then your making a profit.
#4 Content Marketing KPI: Churn Rate
The churn rate represents the number of people who have stopped using your service. It could be for many reasons like:
They're unsatisfied with your product or service
They have switched to using your competitor's product or service
Their customer journey came to an end as they only needed your product or service for a fixed period of time
Typically a high percentage of customer churn rate implies flaws in your product or services. By monitoring this sales-related marketing KPI you can improve your customer loyalty and your total revenue.
Summing Up: Content Marketing KPIs
We tried to explain some important marketing KPI examples above. Take these into account and make sure you are monitoring the proper content marketing KPIs according to your marketing goals. So for example your marketing goal is to generate revenue, you don't have to monitor the number of backlinks your get every month.
But in the end, it'll all come down to good content. If you're not publishing engaging and informative content, all your marketing efforts will be a waste. Sounds overwhelming, but it truly isn't. All you have to do is sign up for our content writing services to work together with an expert content writer. We'll deliver SEO-friendly content that'll help you connect with your target market.