Canva is hands down one of the best online design tools for non-designers. But sometimes it can get a little monotonous. Working with the same features and templates is not something everyone looks forward to.
Also, you might be missing out on more awesome things if you aren't exploring other websites like Canva.
In this article, I want to introduce you to some best Canva alternatives that offer much more interesting features and fun templates to play around with.
Also, every tool and website that I will mention below has a free plan. This way you won't have to invest money to try other options. But if you do end up loving something here, the price will be worth it.
21 Best Canva Alternatives For Free
Let's review these free Canva alternatives in detail…
1. Crello
Crello is considered one of the closest and best Canva alternatives as they both share some uncanny resemblance. But you should definitely try Crello for their professionally designed templates. The tool lets you create designs for social media, blogs, marketing materials, and other types of ads easily.
They offer over 25,000 ready-made static templates and 9,000 animated templates that are updated weekly.
Price: Free to download 5 designs every month
2. Fotoram
Fotoram.io is a free online editing tool that includes a photo editor, collage maker, and art photo maker. The tool allows you to resize images, crop, flip, adjust brightness and contrast, adjust color hue, add blur, add a vignette effect and much more.
Their art maker is very impressive as it lets you transform your photo into a picture of a famous artist in a few seconds. And the best part, you can download these images for free, without even signing in.
Price: Free
3. Snappa
Snappa is another online design tool and Canva alternative that lets you create graphics for social media, ads, and blogs in a snap. They have a simple and minimalistic editor that offers icons, vectors, photos and a simple set of shapes.
You can find a thousand of unique templates on their website before signing up. The only drawback of this tool is that you cannot create animation and GIFs.
Price: Free to download 3 designs every month
4. Easil
Easil is a drag and drop editor that offers 1000s of professionally designed, on-trend design templates. It also offers some of the most advanced image editing features like you can add drop shadow, glow, and curved effects to any text. You can also add metallic or glitter text masks and create animated GIFs.
Price: Free (Offers Upgrade)
5. DesignBold
DesignBold is another popular editor considered as Canva alternatives. It has a similar user interface, but it offers a larger selection of stock photos. Also, they have a fresh new set of templates that you can use for your marketing collaterals.
Price: Free (Offers Upgrade)
6. Photopea
Photopea is a web based graphic editor that you can use for image editing, web design or converting between different image formats. It is compatible with almost every web browsers, including Opera, Edge, Chrome, and Firefox.
Also, this is an advertising-supported software, and you don't even have to sign up to use it.
Price: Free
7. Digifloat
Digifloat is one of the best Canva alternatives on this list. We offer graphic designs ranging from web and app UI/UX design, marketing collaterals, branding and logo design for a fixed monthly cost.
This is a great option for small business owners and solopreneur who want to save time and get high-quality graphic design.
You can see our design samples here.
Price: $399/Mo (15-days money-back guarantee)
8. Stencil
Stencil is an easy-to-use graphic design tool for bloggers, business owners, and social media marketers. It offers 5 million stock photos, 1,200+ amazing templates, thousands of quotes, and hundreds of Google Web Fonts.
You can use Stencil on any web browser, download their Chrome extension, Firefox add-on, or even install their WordPress plugin to create images directly on your website.
Price: Free to save up to 10 images/month
9. Venngage
This is a tool for people who are looking to create infographics only. Venngage features 100+ infographic templates which you can use to create informative charts and visuals.
Other than that you can also use this tool to create presentations, reports and social media visuals from their customizable templates.
Price: Free to download 5 designs with their branding
10. Desygner
Desygner is another one of the Canva alternatives available for both iPhone and Android. It has a similar drag and drop editor with a right sidebar. But other than designing social media graphics and blog images, you can also edit PDF files and create logos.
Price: Free (Offers Upgrade)
11. Pixlr
Pixlr lets you create, edit and share images online with ease. Other than being one of the Canva alternatives, it is also an excellent alternative to Adobe Photoshop. But you don't have to install anything to use this.
One of its very popular features is removing background for free. You won't find many tools that do this. Other than that you can also use their templates, add fonts, textures, light streaks, dust flecks, and glitter to your photos.
Price: Free (Offers Upgrade)
12. Colorcinch
Colorcinch is a feature-packed photo editor & cartoonizer designed to be simple, beautiful, and free. It gives you over 50,000 vector graphics and icons and over 1.5 million stock photos to use.
The tool also lets you resize, enhance, and transform your pictures or even add special effects, filters, and overlays.
Price: Free (Offers Upgrade)
13. Befunky
Befunky is one of my most used online editor. It comes with 3 different design modes: Photo Editor, Collage Maker, and Designer. The first one lets you edit your images, the second one lets you create fun collages, and the third mode lets you create graphics for your social media or your blog.
The tool comes with a drag-and-drop editor and advanced photo-editing features that can be used to create stunning images.
Price: Free (Offers Upgrade)
14. Animaker
This Canva alternative is made for non-designers who want to create animation and live-action videos. Animaker lets its users make videos, short videos or GIFs, and edit live videos.
It features tons of professionally made templates and the largest collection of animated characters, properties, BGs, icons, images, videos and more.
Price: Free to download 5 videos/month with watermark
15. Fotor
Fotor is another powerful online photo editing tool that comes with edit, design, and collage features. If you are looking to make graphics for your social media or blog, you can use their design feature that comes with premade templates. The edit feature will allow you to 1-tap enhance, resize, crop, remove background, rotate and straighten your pictures.
You can also make a photo collage with their collage feature.
Price: Free basic pack (Offers Upgrade)
16. Adobe Express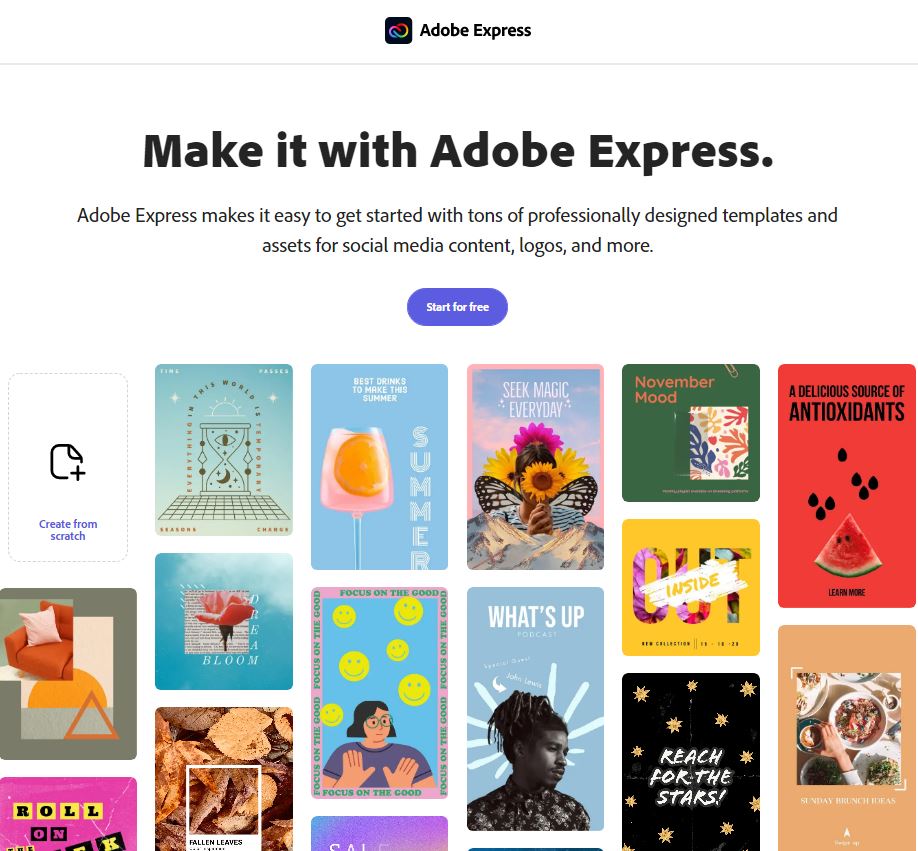 Adobe Express is one of the biggest Canva competitors in the market. They offer thousands of professional templates, Adobe's royalty-free library, and best-in-class layouts, colors, and fonts.
Unlike other Canva alternatives, Adobe Express also lets you create entire web pages and short videos in minutes.
Price: Free starter plan (Offers Upgrade)
17. DesignCap
DesignCap is made to help everyone create professional designs such as infographics, flyers, and social media graphics. They offer thousands of high quality templates and vast collection of illustrations, shapes, stylish fonts.
The user interface comes with a drag and drop builder and a right sidebar which is very similar to other sites like Canva.
Price: Free to save up to 5 designs
18. Gravit Designer
Gravit Designer comes with both basic and advanced features. Its interface looks quite similar to Photoshop, Sketch, and GIMP. You also get similar features like layers, drawing tools, grouping, shapes, text, effects, and more.
This tool is best if you want to design something from scratch. But it still offers some pre-made templates for blog posts and social media images.
Price: Free (Offers Upgrade)
19. Artboard Studio
This tool is quite different from other Canva alternatives, but I am adding it to the list because I know people are looking for it. Artboard Studio is an online tool that lets you create professional product mock-ups easily.
You can also create real-time interactive presentation slides with this tool.
Price: Free with limited templates
20. Doka.Photo
Doka.Photo is a straightforward website that allows you to quickly edit images without leaving your browser. You can use this tool to crop your images, add filters, adjust brightness, contrast, exposure, and saturation, add text, and resize your pictures.
Price: Free
21. Design Wizard
Design Wizard lets you create both videos and image designs in minutes. It comes with two different editors, a static graphic editor and a video editor.
Their design tools are very similar to Adobe as it includes layers and artboards. And their library features over one million premium images, thousands of high-quality videos, illustrations, and graphics.
Price: Free basic plan
To Sum Up: What are the best Canva alternatives?
Whether you are a marketer, online business owner, or content creator, you'll need a few online editors handy.
Canva is a great tool, but you should never stop looking for better Canva alternatives. You might stumble upon something really great.
But if you feel nothing is working out, or you're spending too much time designing, try delegating some tasks. Contact our design team to get unlimited graphic designs for a fixed monthly fee.