Over the last few years, companies have started building their marketing strategies around videos. Even social media platforms like Instagram and Facebook have started prioritizing video content.
Why? Because videos have become the most preferred means to consume content. For a business, video marketing is the most versatile and profitable marketing tool out there.
And when it comes to creating video content, online tools are the most reliable source for small businesses. A very popular choice is Biteable.
This web-based tool lets its users create social media content, banners, promotional videos, advertisements, and so much more. The video editing capabilities of Biteable are appreciated by small businesses and Fortune 500 companies alike.
But if you are someone who finds Biteable a little too complex, or you cannot find the tools you need, I'll show you some top biteable alternatives with better video templates and editing features.
11 Top Biteable Alternatives
Let's review these Biteable alternatives in detail…
1. Animaker
With 100 million+ stock videos and photos, Animaker becomes one of the most popular Biteable alternatives. With this tool, you can create videos from scratch, edit live videos, build characters, add subtitles, and so much more.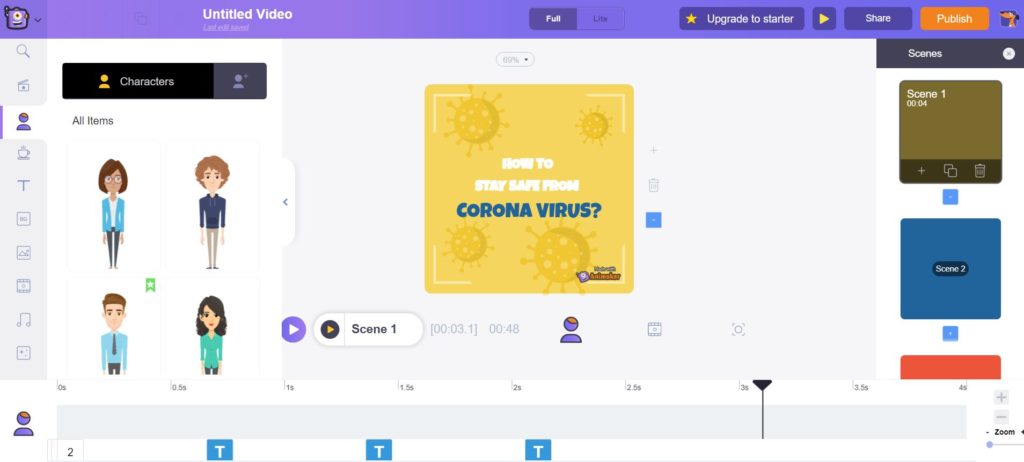 Features:
1000+ templates available
Upload and edit videos at 4K quality
Build character and add voiceover with auto lip-sync
Drag and drop editor
Royalty-free music tracks & sound effects available

2. Powtoon
With over 30 million users, Powtoon is one of the world's leading animation software. People use it to create animated explainer videos, whiteboard tutorials, presentations & GIFs, video infographics, characters, and so much more.
Have a look at the Powtoon's interface: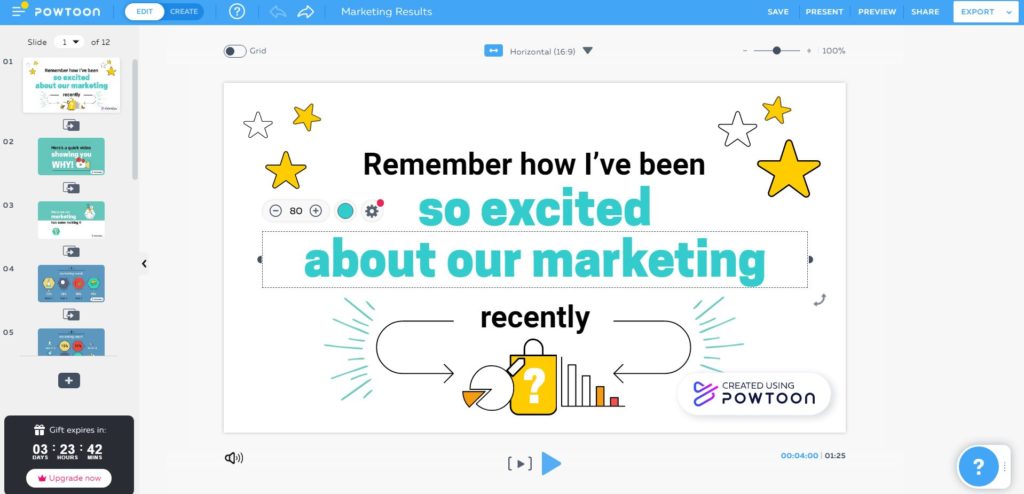 Features:
100s of professionally crafted templates
You get to choose aspect ratios & sizes
Free soundtracks and music
Fully integrated with Canva, Adobe Photoshop, Wistia, and PowerPoint
Visit Powtoon
3. Digifloat
Digifloat can be one of the best Biteable alternatives for businesses that are looking to delegate their work. We offer animated video creation and editing services with our unlimited graphic design subscription. Hence, by paying a fixed cost every month, you can get access to unlimited videos from our expert designers.
Here's a video sample created by our designers:
Features:
Unlimited video requests accepted
Access to high-quality graphics
24*7 support
Unlimited revisions allowed
Money-back guarantee
Visit Digifloat
4. Blender
Blender is an open-source and free creation suite that comes with a built-in video sequence editor. It'll allow you to perform basic actions like video cuts and splicing to complex actions like video masking and color grading.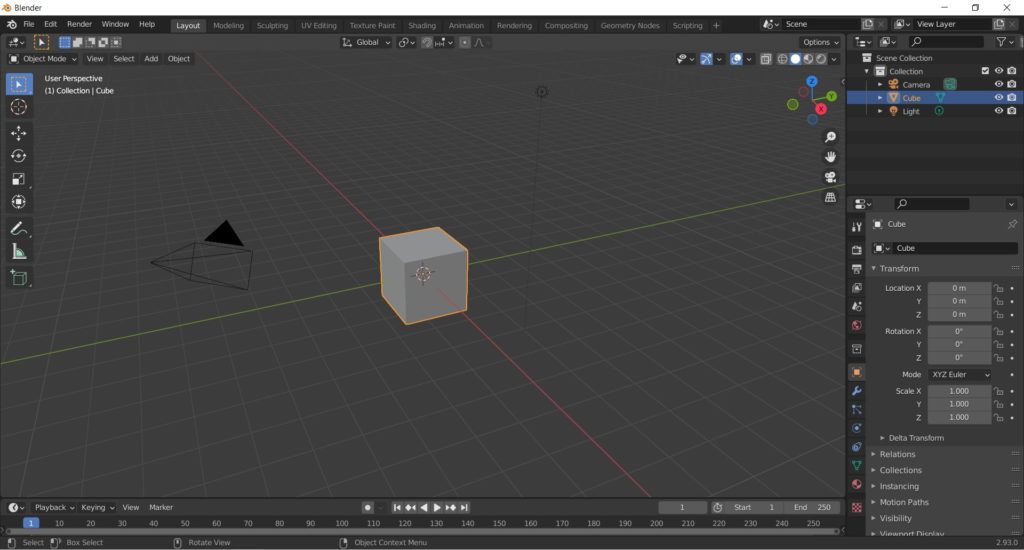 Features:
Used by many film editors and animators
Comes with more advanced features for pro creators
You can use this to edit more complicated videos
Completely free to download and use
Download Blender
5. Animoto
Animoto is another well-known Biteable alternatives. You can upload your photos and clips and start customizing their colors, fonts, and transitions or simply pick and edit one of their templates. They have featured these templates on their website, so you can look over them before signing up.
Here's an example of the kind of video ads you can make with Animoto:
Features:
Access to over 1 million Getty Images photos and clips
Thousands of licensed songs
Allows you to crop your photos and adjust media timing on the interface itself
Lets you explore templates before signing up
Visit Animoto
6. Flixier
Flixier claims to be the fastest online video editor with 1 minute render time. It's powered by cloud computing and can be used to quickly create visual content for YouTube, Facebook, or Instagram.
Have a look at Flixier's interface: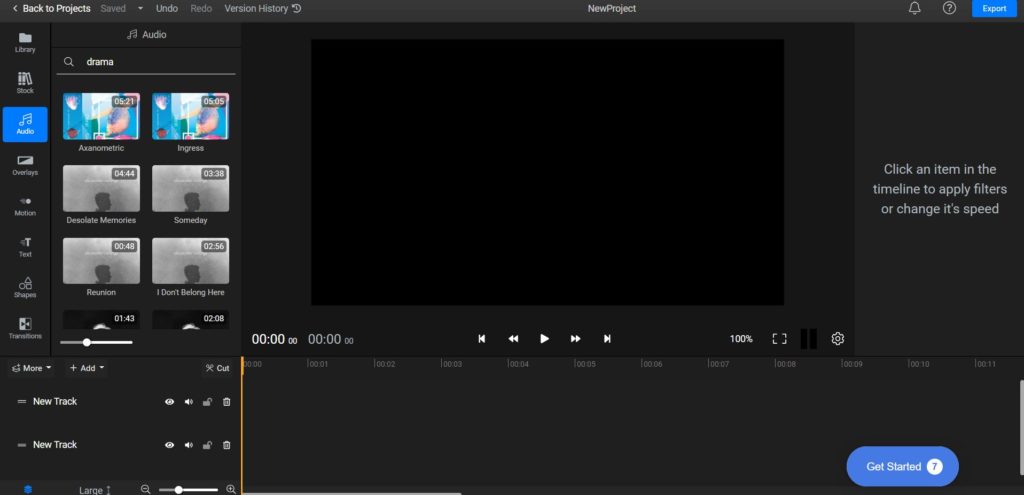 Features:
2 million+ built-in music, video and image stock files available
Real-time collaboration
50+ Transitions
Allows you to edit green screen videos
Quick render time
Visit Flixier

7. Lumen5
I have talked about Lumen5 in my previous posts as well. It's one of my favorite video maker tools and popular Biteable alternatives.
This tool has amazing AI-powered technology that lets you convert any piece of content into video. Simply paste the URL of your blog and click on convert to video: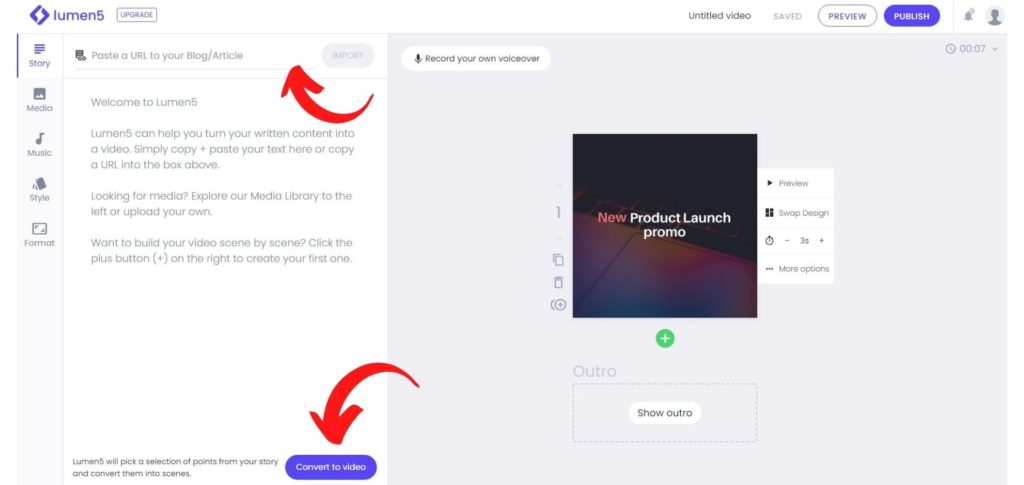 Features:
Easy access to millions of photos, video clips and audio files
Powerful A.I. to copy your blogs/articles
You can also plug in your RSS feeds to get a video template automatically
Great for making videos for social media marketing
Visit Lumen5
8. InVideo
InVideo is another drag-and-drop online video editor similar to Biteable. It lets you create ads, invitations, memes, social media graphics, promo videos, etc.
They have featured thousands of templates on their homepage, you can spend hours looking at these beautiful designs. Although, it won't be hard to find the one you love and customize it as per your needs.
Their interface looks something like this: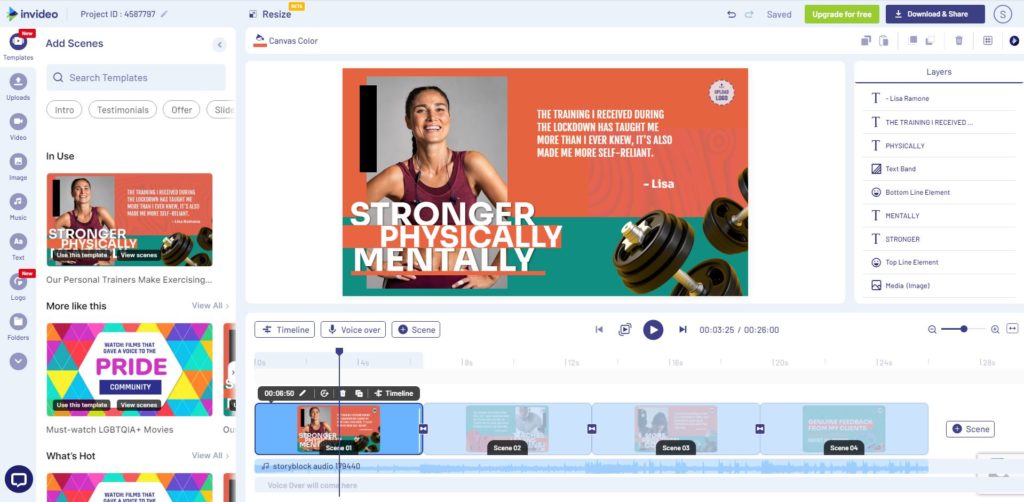 Features:
Thousands of pre-made templates
Lets you convert text to video
Awesome editing features like trim/extend clips, crop frames, and loop video
Visit InVideo
9. Clipchamp
Clipchamp is an online editor, compressor, converter and webcam recorder. It offers two products, Create, which is a drag-and-drop editor that allows you to trim, cut, crop, rotate, and speed control your video clips. Here you can also add text, soundtracks and images, adjust colors and apply filters.
The second tool Utilities includes a video compressor and converter and an in-browser webcam recorder. You can use this to reduce file sizes, convert clips into modern formats and record screens with your webcam.
This is how Clipchamp's interface looks like: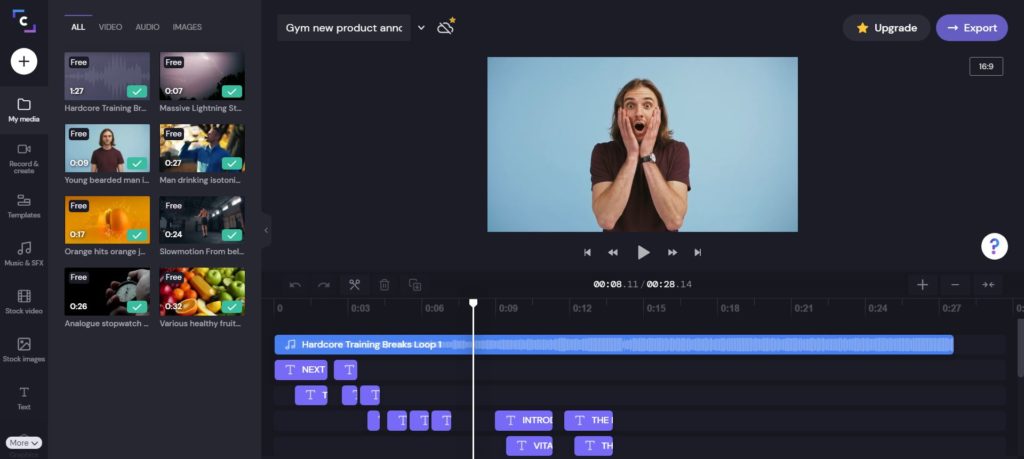 Features:
Offers a wide variety of functionality
Ready-to-use templates available
Gives access to over 100,000 assets from Storyblocks
Visit Clipchamp
10. Magisto
Magisto is a product of Vimeo, a popular video hosting and sharing platform. The reason I included them in my list of Biteable alternatives is that they offer something called Emotion Sense Technology. It's patent-pending A.I. technology lets you collaborate with artificial intelligence to ensure your videos elicit the right sort of emotional response.
Hence, this tool is perfect to create more personalized videos for your audience.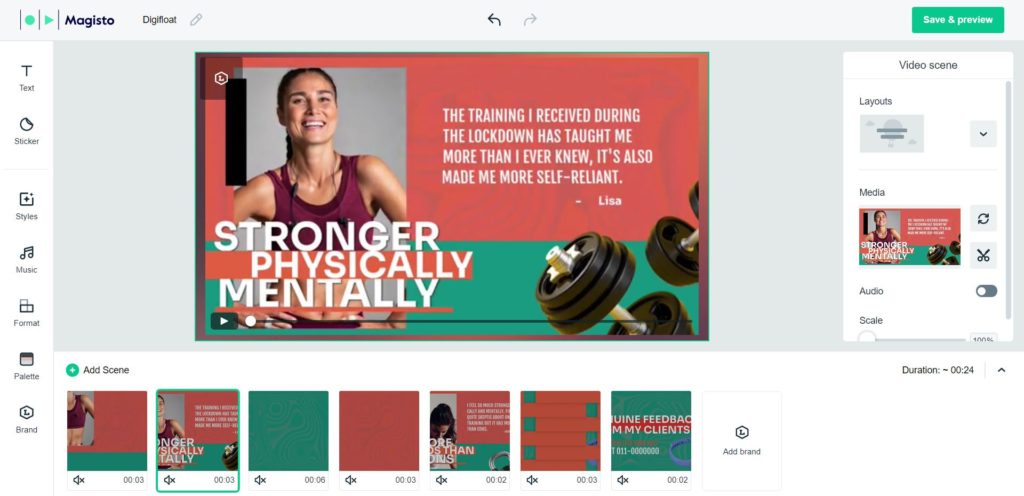 Features:
Unique Emotion Sense Technology
Premium editing styles
Personalized templates
Visit Magisto
11. Wondershare Filmii
Filmii is one of the many products of Wondershare. It is a beginner-friendly video editing tool that comes with ready-made templates, built-in elements, and royalty-free music. They have also organized their templates into different categories so whether you are a travel vlogger or a business owner, you'll find the right kind of templates for yourself easily.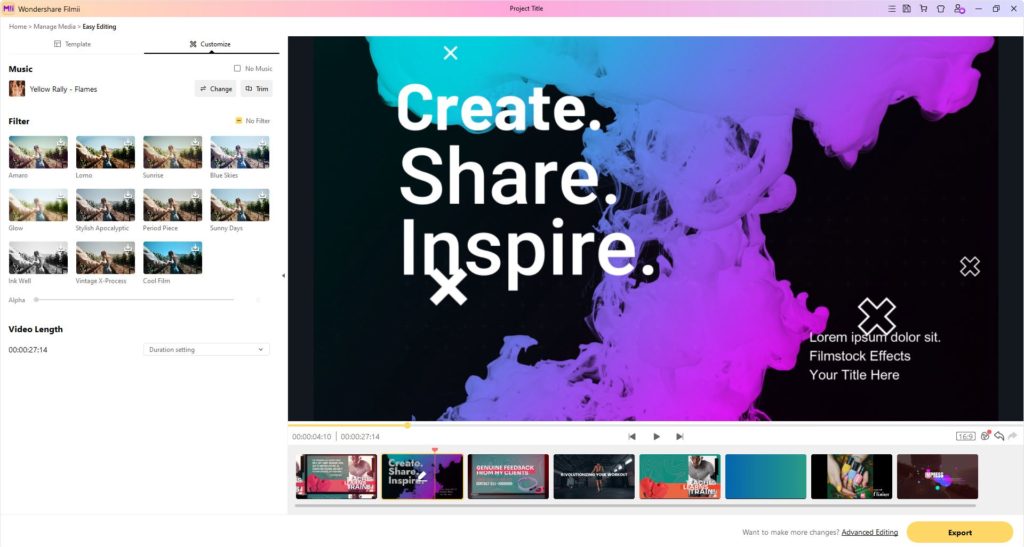 Features:
1000 high-quality resources included
You can add video templates of different aspect ratios
Download and use it for free
Visit Wondershare Filmii
Conclusion: Best Biteable Alternatives
No doubt, Biteable is an amazing tool! But there is no harm in exploring a few Biteable alternatives. You might find something even better for your brand.
And if you are someone who is looking to scale your business, you should consider outsourcing your graphic design and video requirements. You can spend the time managing your business, and let the experts handle the rest. Get started by simply signing up for our unlimited graphic design services starting from $399/month.