Harry Dry started Marketing Examples to share real-world marketing stories.
He didn't worry about ranking on Google. Nor did he use any paid channels.
Instead, he went looking for his target audience.
He offered them value with his content.
The result?
Marketing Examples gained 25,000 newsletter subscribers in just 12 months.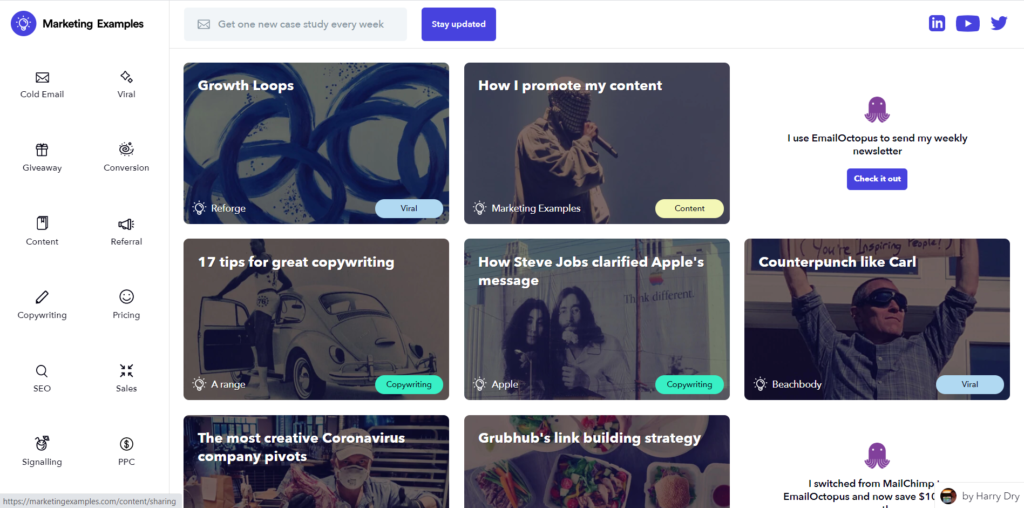 His website shares stories and tactics used by successful startups. The idea is that you can copy the techniques step-by-step.
In the essence of this idea, we are writing this post about how he grew his newsletter subscribers. You can copy and implement the same technique into your business and grow your email list.
We have broken down the entire process into 5 steps…
Step 1: Identify Your Target Audience
Identify whom you're talking to i.e who is your target audience.
A lot of people hypothetically come up with an audience they want to target and call it their target audience.
It's a little more complicated than that!
Your ideal target audience will be defined by demographics and psychographics.
I. Demographics
This is the statistical data about your audience. It allows you to identify them on the basis of:
Age
Location
Gender
Income
Education
Occupation
Ethnicity
Marital Status
Children's (If any)
Marketing examples offer case studies used by marketers around the world. So occupation is the only primary demographic for them.
Age, location, gender, etc are the secondary makers.
II. Psychographics
Psychographics is qualitative data. It tells you what your target audience does.
Most common psychographic characteristics are:
Personalities – Define their traits like bold, enthusiastic, creative, introvert, etc.
Lifestyles – Their day-to-day activities, how they spend time.
Hobbies – Do they like to read, watch movies, or hit the gym.
Values – What they care about, their sense of right and wrong.
This data isn't available on the internet easily. You will have to understand your customer's emotions. Develop familiarity with them.
You need to know what are their interests, what are they passionate about, and where do they spend the most time online.
One way to do this is to monitor their online activities. Use tools like Facebook Insights to gather this information.
Step 2: Stalk 'em
But not in a creepy way!
You have to find out what your target audience does online. Where do they spend the majority of their time?
You can find this by analyzing their social media data or performing keyword research. A lot of companies even conduct customer interviews to learn more about their interests and desires.
Harry found his target audience hanging out on Facebook groups, Slack, Reddit, Twitter, and some other third party sites.
He narrowed it down further by finding the exact groups and channels used by marketers.
After a lot of research, this was the end result: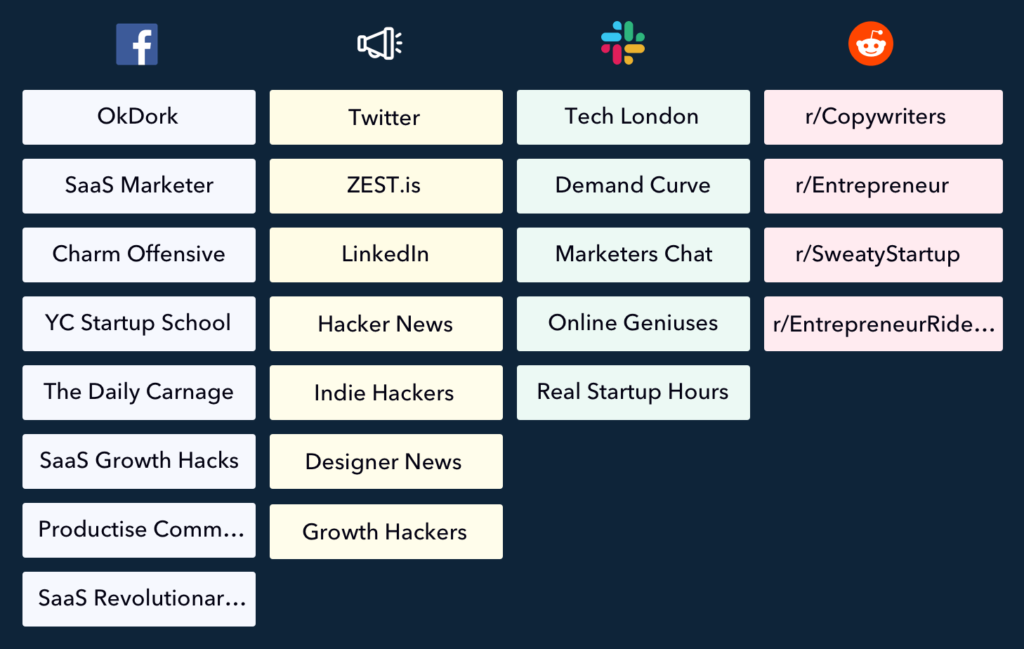 You will hit a jackpot if you can find this for your business niche. Right audience. Right platforms.
Step 3: Deliver Value
You have found your people, what next?
You'll have to deliver value to get engagement.
This value must be defined from the audience's perspective, not yours. The real value will be determined by what impact it has on your audience's success.
See how Harry adds value to Slack groups: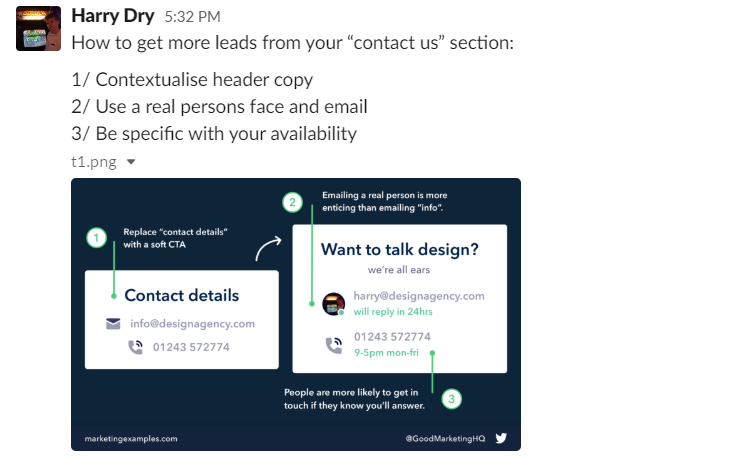 This information will help a lot of website owners and marketers who are trying to capture leads.
Most of the content he shares comprises of 3 things:
I. Actual Content
This is the most valuable part. The text you write should be informative and interesting. It should be easy to consume.
Make sure you write short sentences. Every word should have its place.
II. Visuals
If you add this text to social media channels or Slack you should add images. A relevant image captures more attention and adds more value to your content.
III. CTA
Harry shares long form content on Twitter, Reddit and Indie Hackers. At the end of every content, he politely asks his readers to sign up for his newsletters.
For Facebook and Slack groups, he uses branded visual tips. He calls the reader to the articles on his website. And at the end of each article he asks his audience to sign up.
There should always be a clear call-to-action for your readers. Tell them what they need to do. You can ask them to share your content, sign up, leave a comment, or anything else.
Step 4: Engagement
Harry spends a total of 8 hours in this whole process: 4 hours posting and 4 hours replying.
Because replying to your readers is just as important as posting.
It helps build a relationship between you and your readers. It also makes them feel more involved and encourages them to come back.
You can also add more information to your comments by answering questions.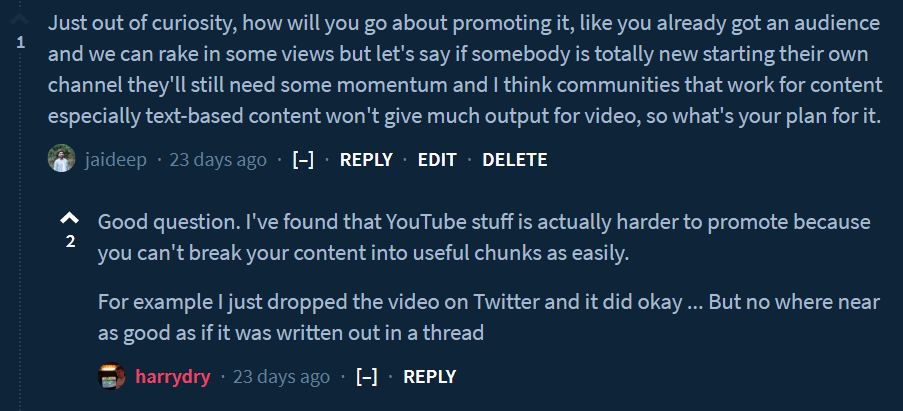 Step 5: Analyse Your Audience's Engagement
It is very important to track and analyze every action and reaction you get on your website or post.
We always monitor how much traffic is coming to our site. Similarly, keep a track of how people are engaging with your content.
Are you just getting some like and upvotes or are people subscribing to your page or channel?
Monitor how your content is shared.
Harry makes sure his readers share the same thing on the same platform.
According to him – 'Isolated sharing gets ignored. Concentrated sharing compounds.'
So he directs everyone to the same Twitter thread and asks them to share.
We tried this too and got an amazing response.
Should You Copy This Strategy?
What worked for Marketing Examples is not a new strategy. People have been doing it for a long time now. But what made this work for him is consistency.
Nothing works overnight. Give it time.
You'll have to give a lot before gaining a lot.
Follow these steps:
Find the right audience
Find the right platforms
Deliver value
Engage
Analyze and Improve
And do this regularly!
It will take time, research, and a stubborn commitment. But if you do this right, you'll see significant results.