Companies are increasingly outsourcing their work to freelancers instead of hiring full-time employees. It gives them access to a pool of highly skilled workforce at a fraction of the cost. Plus, for a small business, outsourcing helps reduce labor costs and overhead expenses, especially for short projects.
Due to this popularity of outsourcing, platforms like Upwork and Fiverr are coming much in demand. Of course, they aren't the only two freelancing platforms, but these two are definitely very popular. Small to medium-sized business employers can easily outsource their work through these websites.
But keeping up with two completely different platforms can be hard. So we'll have to pick one, and I'll help you choose the best one as per your job requirements.
To make this comparison more interesting, I have a third option, Digifloat. This is a subscription service that gives you a team of graphic designers, web developers, and content writers.
This Upwork vs Fiverr vs Digifloat comparison will cover the following categories:
Let's get started by comparing Upwork vs Fiverr vs Digifloat…
1. Price: Upwork vs Fiverr vs Digifloat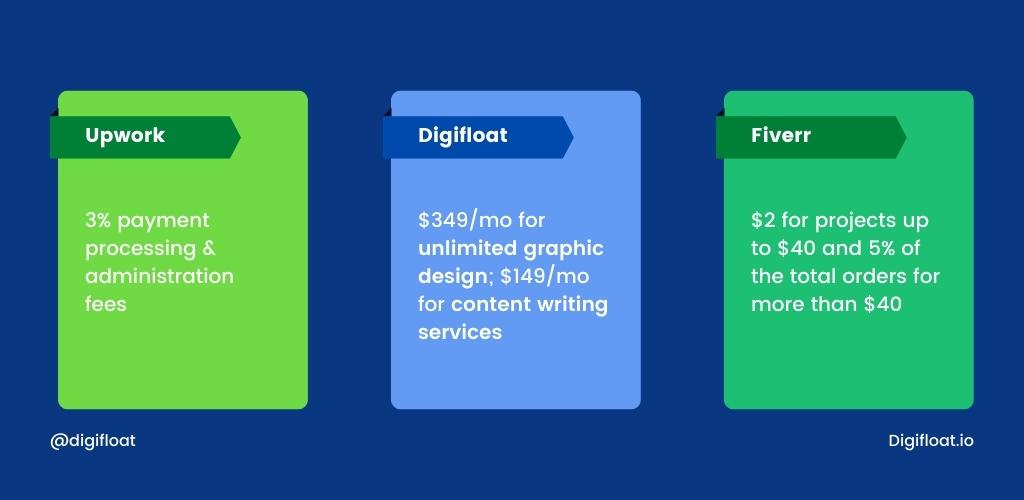 Upwork
With Upwork, you'll be charged a 3% payment processing and administration fee. So let's say you hired a freelancer for a fixed price of $100. You'll be charged an additional $3 fee and your total will be $103.
If you choose to pay your freelancer hourly, the fee will be assessed when they charge your billing method each week.
You can also sign up for Upwork Plus where you'll have to pay $49.99/month, in addition to the 3% payment processing and administration fee. In this plan, you'll get dedicated support from an account manager and talent specialists.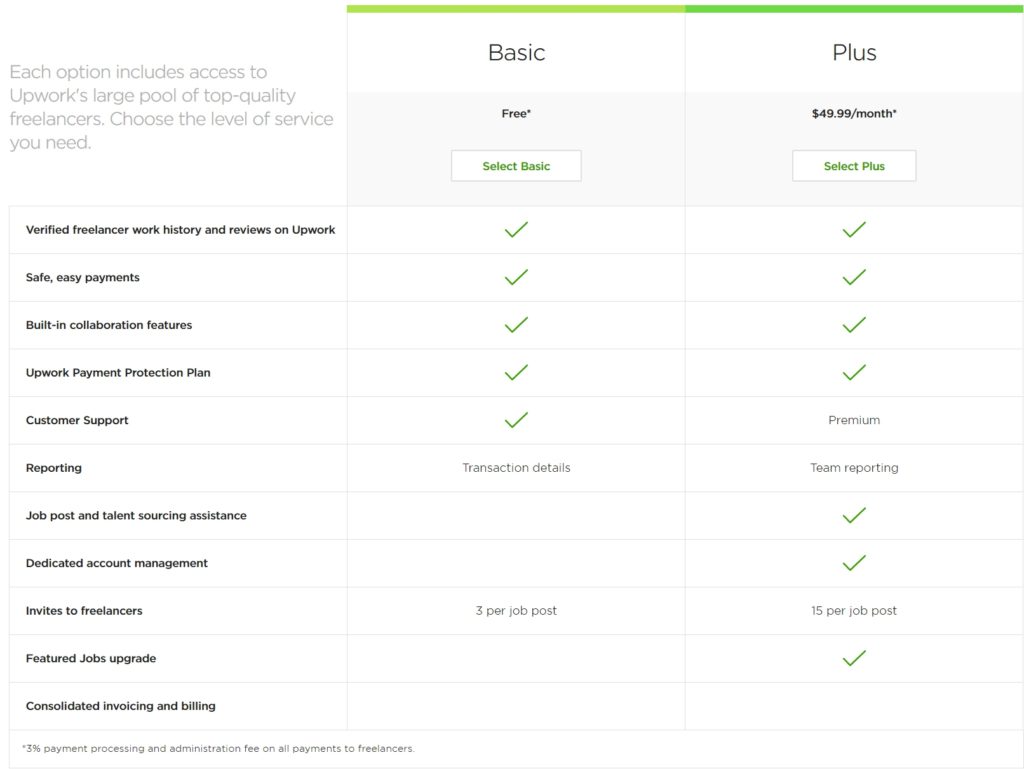 Apart from this, Upwork has a customizable Enterprise plan where you get special talent sourcing, premium customer support and a dedicated account manager. You'll have to pay a fee that will be determined once you get on a call with their team. If you choose to buy the Enterprise plan, you won't have to pay a 3% processing fee.
For the freelancer, the commission rate is decided based on their relationship with the client. It's 20% of the first $500 (with a single client), then 10% of total billings between $500.01-$10,000, and 5% after the total amount exceeds $10,000.
Fiverr
Fiverr is the cheapest option for hiring a freelancer. They charge a processing fee of $2 for purchases up to $40. For orders more than $40, you'll be charged 5% of the total amount.
However, your freelancer or as Fiverr calls them your "seller" will only get 80% of their earnings and the rest 20% will go to Fiverr as a commission.
Digifloat
At Digifloat, you get unlimited graphic designs, UI/UX development, video creation and editing services, and content writing services for your business.
The prices are as followed:
$399/mo for unlimited graphic design
$99 for logo design services
$179/mo for content writing services
Talking about our employees, we pay them a monthly salary. They are hired based on their knowledge, talent, and experience. And we make sure they are paid fairly as per industry standards.
2. Onboarding Process: Upwork vs Fiverr vs Digifloat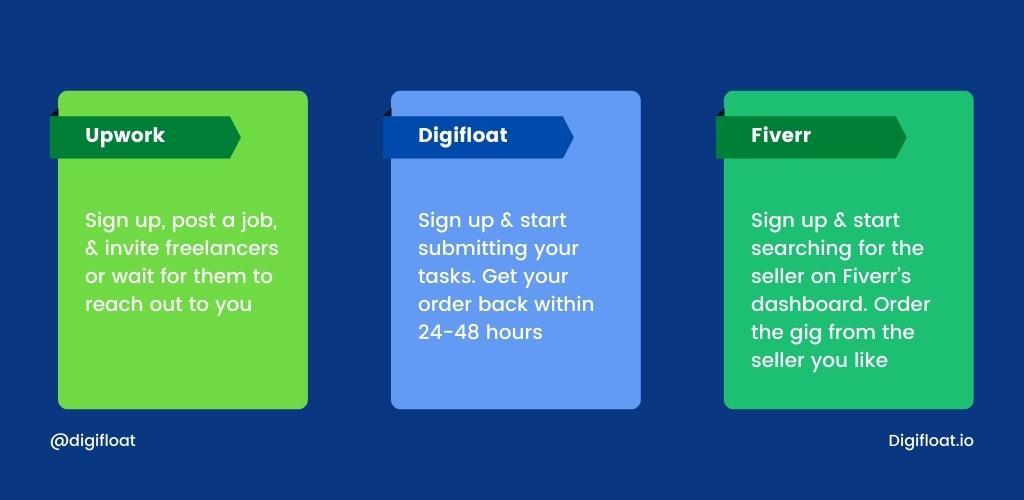 Upwork
To hire a freelancer on Upwork, start by creating an account. You'll be asked some basic details like why are you here, or how many employees you have in your company.
Once you have your account, you'll have to post a job to hire a freelancer. Now Upwork is known for its detailed job description. The more descriptive you can be the better.
After you post your job, you can either wait for freelancers to apply or you can manually search for the available candidates. Upwork will probably have a few thousand people for the job, you can use their advanced filter option to narrow down the search results.
But remember you'll only be able to invite the freelancer for your project on Upwork. The freelancer will have complete freedom to accept or decline your invitation.
Fiverr
Similar to Upwork, you'll have to get started by creating an account on Fiverr. Then on your dashboard, you'll get profiles of sellers with their gig descriptions, skills, and ratings. You can use search filters like price range, seller level, and language to find the right people for your job.
The services offered by sellers here are all productized. You have to make sure you read through the description of the seller, and see their delivery time and previous reviews. Once you find the right person for your job, click on the "continue" or "order" button on their profile.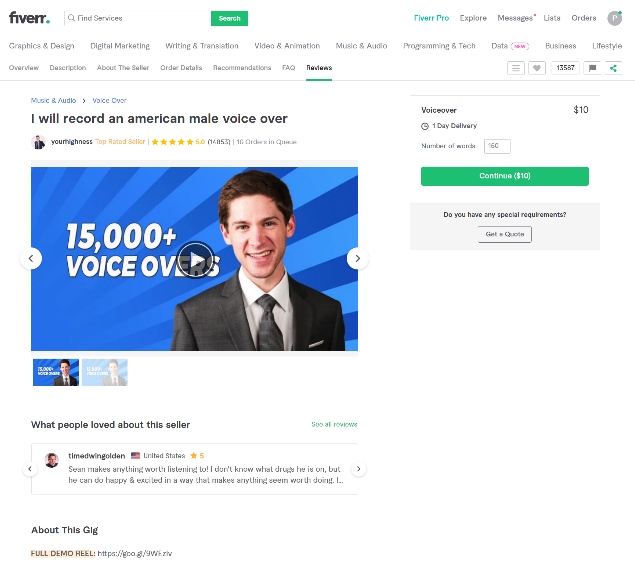 You'll have to pay the money through a credit card or PayPal in advance. But the freelancer will receive this money only when you'll approve their work. Fiverr will hold your payment until the gig is completed so if in case you aren't happy, you can ask for a refund.
Digifloat
Digifloat also offers productized services but on a monthly basis. Once you sign up we'll assign you a dedicated account manager. They'll guide you through the entire onboarding process. It's actually quite simple, you can submit your tasks through emails or Trello.
Your account manager will further assign your tasks to the right person, so you won't have to hassle with manually searching for freelancers. You'll get a time estimate after you've submitted your tasks but in most cases, it's 24-48 hours.
3. Workforce: Upwork vs Fiverr vs Digifloat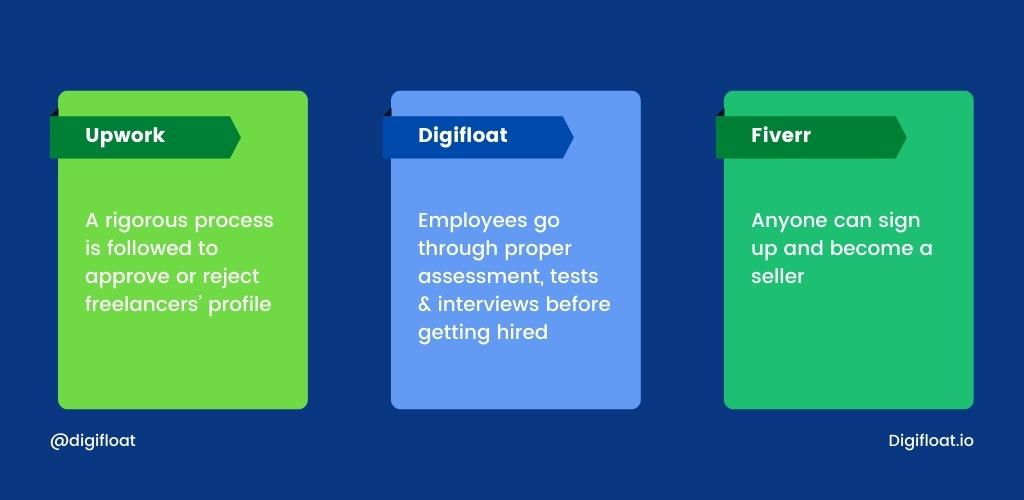 Upwork
Upwork is very selective while approving their freelancers. They haven't disclosed the exact criteria on which they approve or reject a profile. But a lot of times, they consider the supply-demand balance and the quality of a freelancer's profile.
They want to make sure every person that signs up on their platform is serious about their profession. Hence, they look out for the minutest details like what email you are using to sign up. They don't even give preference to Gmail IDs, they always ask to sign up with the work email.
This is a good thing for people who are looking to buy services from Upwork. You can be assured that the profiles you see are verified and fully approved.
Fiverr
The sign-up process on Fiverr is completely the opposite of Upwork. Almost anyone can create an account and become a seller on Fiverr.
To verify the freelancer's work, you'll have to go through the reviews left by their previous client. You'll also be able to see the level of the sellers as Fiverr identifies them as new sellers, level one-sellers, and top sellers.
Digifloat
Digifloat has a team of in-house writers, designers, and web developers. They are hired after proper assessment, tests, and interviews.
We also hire our employees on a probationary period in order to put their skills to the test. Only when they complete this period with consistent and exceptional results, they are assigned to our client's projects.
4. Job Tracking & Monitoring: Upwork vs Fiverr vs Digifloat
Upwork
Upwork allows you to hire someone on an hourly basis, so they make sure to record the activities of their freelancers. For that, they use a tool called Work Diary that records work-in-progress snapshots in hourly rows, representing a 10-minute billing segment.
You can view these snapshots and monitor the work done by your employees. If you find any suspicious activity, you can contact the freelancer or talk to Upwork's support team.
Fiverr
Since Fiverr offers productized services, you cannot track or monitor your seller's activities. In most cases, the person will have the turnaround time mentioned in their job description. Some freelancers even ask for extra money for 1-2 day delivery.
You'll have to get in contact with the seller to get updates on the progress of your project.
Digifloat
When you sign up for Digifloat, you'll be added to a dedicated Trello board. The board will have categories like To-Do, In Progress, Submitted for Revision, Completed, etc. You can easily make cards for each of your tasks and add them to the To-Do list. You'll be able to track the progress of the task as the cards move between categories.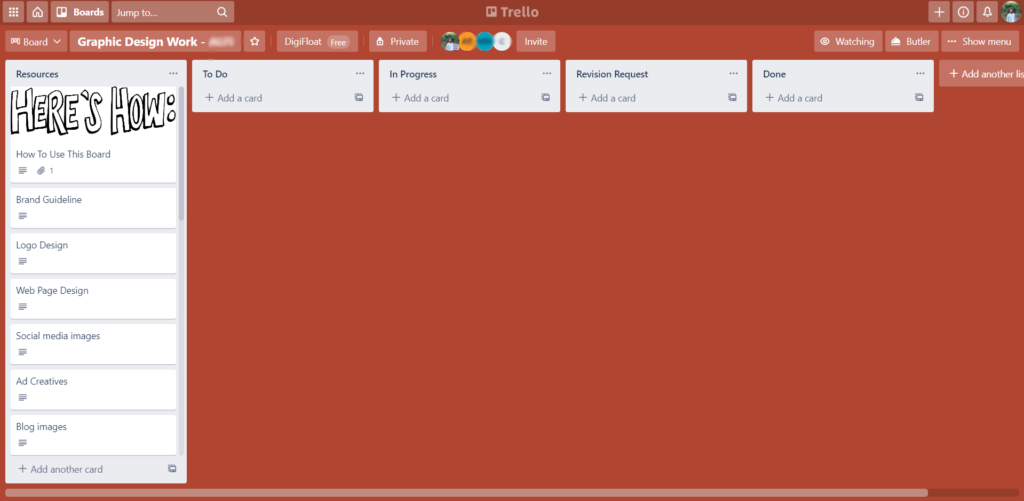 Apart from this, you'll also be assigned a dedicated account manager. They'll be responsible to keep you updated throughout the task.
5. Dispute Resolution: Upwork vs Fiverr vs Digifloat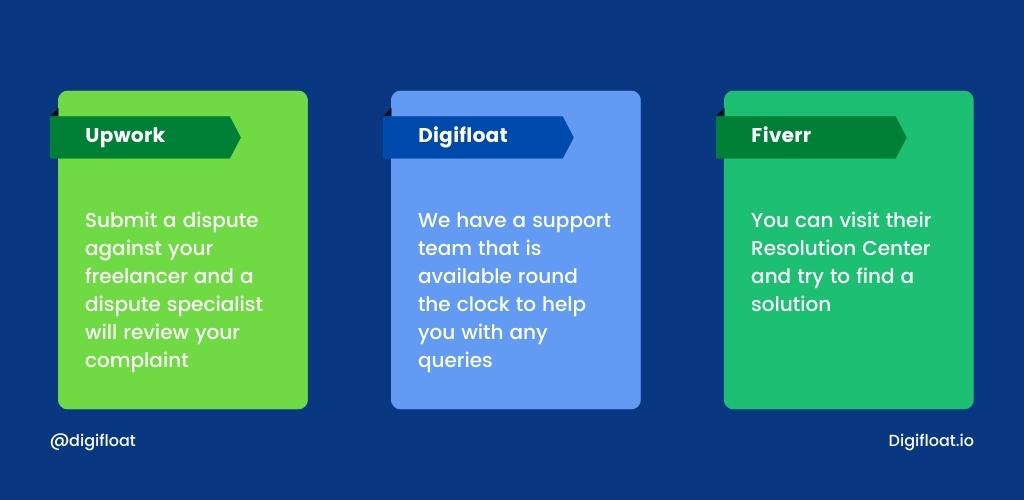 Upwork
Upwork allows you to easily raise a dispute against your freelancer. But remember contacting their customer support team or requesting a refund does not qualify as raising a dispute.
You can read their articles to know the steps of filing a dispute according to your issue.
Once you have submitted your dispute, Upwork will assign you a dispute specialist, who'll review your complaint and take the appropriate steps.
Fiverr
Fiverr has a Resolution Center where you can find small articles about the most common queries.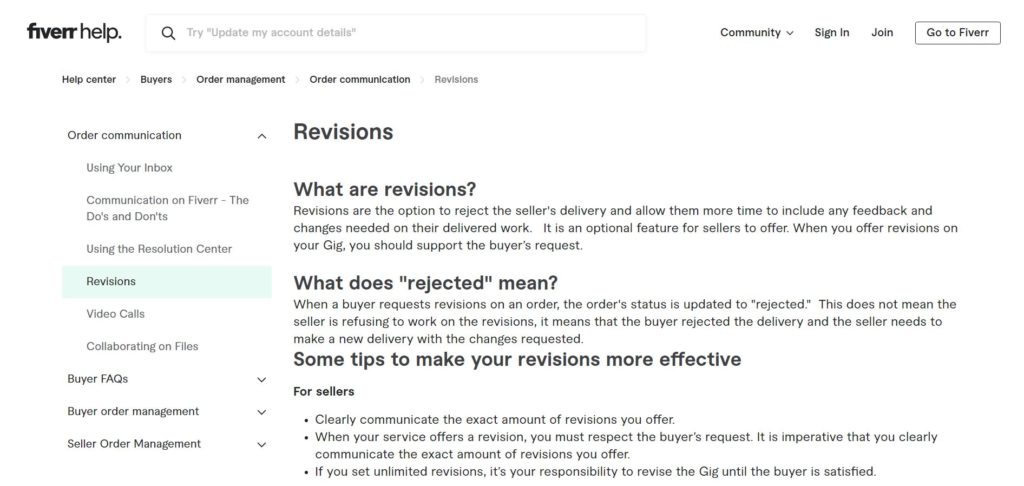 If you aren't satisfied with their solution, you can reach out to their customer support. In most cases, you'll be able to ask for a refund if you aren't satisfied with the services.
Digifloat
We take customer grievances very seriously. We have a support team that works round the clock to answer your queries. Apart from that, you'll have direct contact with your account manager.
Since we offer unlimited revisions with every plan, we hardly get any disputes. If you don't like what we delivered, you can ask us to change it again an unlimited number of times.
And if you aren't satisfied even after the revisions, you have the right to ask for 100% money back within 7-15 days of signing up. This refund window is different for all our services, I'd recommend you to check our service pages to know all the details or contact us.
Final Comparison – Upwork vs Fiverr vs Digifloat
I tried to cover all the important aspects in this Upwork vs Fiverr vs Digifloat guide. All the 3 platforms have their own pros and cons, and you'll have to go with the one that suits your requirements.
Here's a small conclusion table for Upwork vs Fiverr vs Digifloat: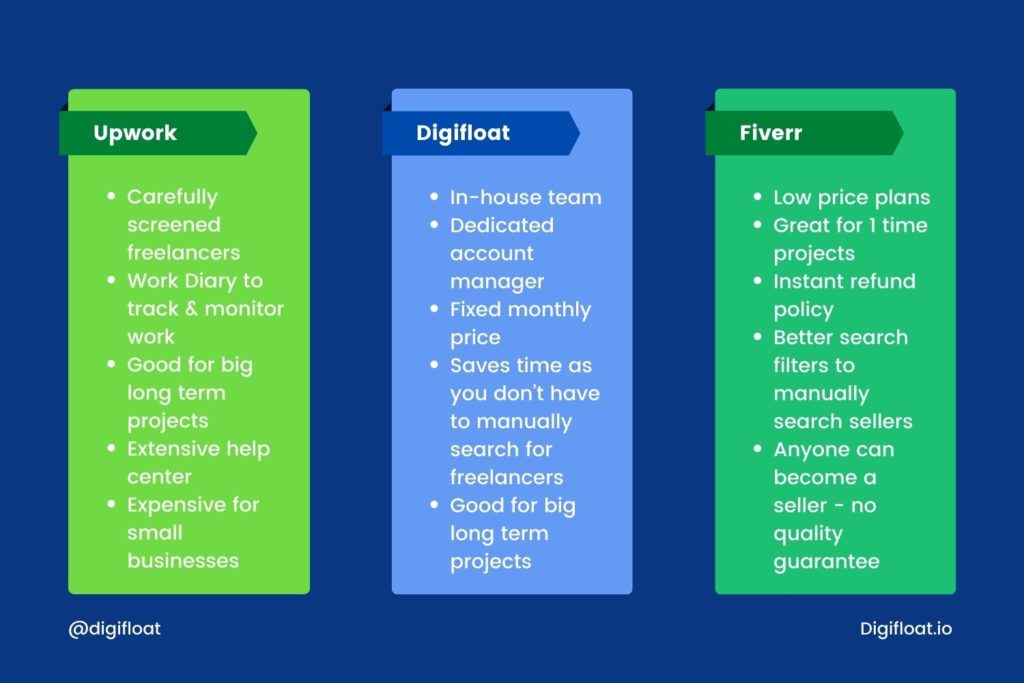 Now you can use this table to compare Upwork vs Fiverr vs Digifloat as per your requirements and priorities.
I'd recommend going for Fiverr if you have small short-termed projects. For large long-term projects choose Upwork. And if you want to completely outsource your work and save more time, sign up for Digifloat.
We have a team of in-house designers, developers, writers, and editors who'll provide on-demand services to businesses of all kinds.
Check out our unlimited graphic design, logo design, and content writing services.