Today, almost 77% of internet users read online blogs. And in the coming future, this number is only going to rise.
From a readers' perspective, a blog helps to learn new things and stay updated about industry trends. For a business, a blog increases engagement with the target audience, it generates credibility and helps capture more leads.
Hence, it's always a win-win!
The problem is that not everyone is an expert writer. And even if you have great knowledge and experience about your niche, you'll have to find time to write. The best solution in such a case would be to outsource your blog content and let the professionals do the job.
Hiring the best blog writing services will give you access to writers who are experienced in various industries, and you won't have to waste time finding and vetting the right people.
To help you make a decision I've listed down 9 best blog writing services with their prices, onboarding process, and their pros and cons.
This article will help you choose the right content providers for your business.
9 Best Blog Writing Services
Let's explore each of these blog writing services in-detail…
1. Digifloat
Digifloat is a team of creative and technical writers who consistently deliver high-quality, plagiarism-free content that is customized for your brand. The writers are experienced in various industries and have a good understanding of SEO. They make sure to perform in-depth research about a topic before writing.
We also have a team of editors who rigorously review every article before delivering. During the review process, editors check for spellings and grammatical errors. They also make sure the content is well-formatted and ready-to-publish.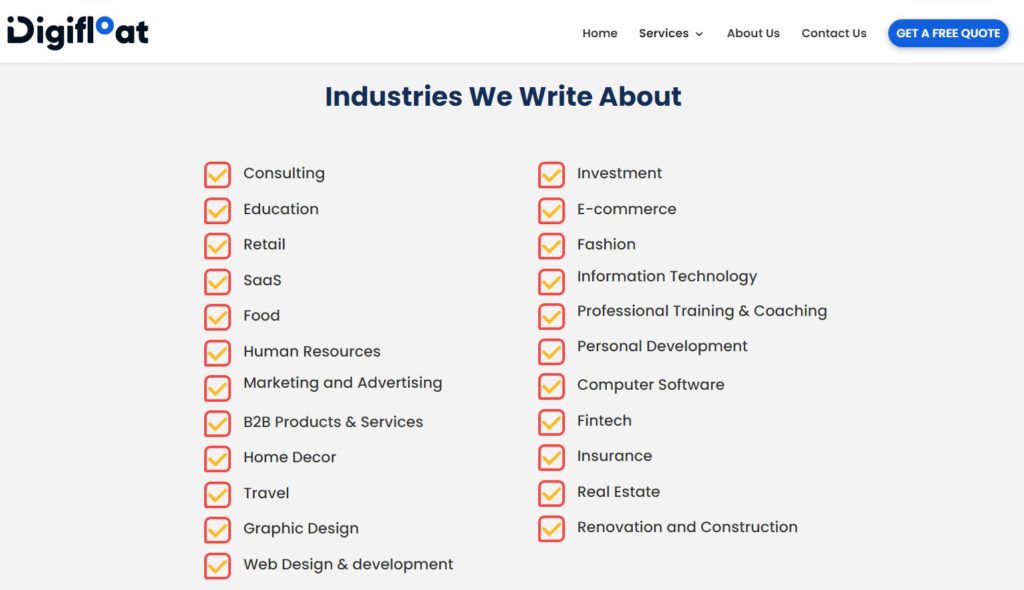 Price
We have 3 price plans for our blog writing services:
Starter – 3000 Words for $179/Month
Agency – 8000 Words for $399/Month
Enterprise – Your Very Own Content Writer for Custom Pricing
If you sign up for any of these plans, you'll be able to request blog content, social media posts, and product descriptions. You'll get unlimited revisions and a dedicated account manager.
Onboarding
Once you sign up for a plan, you get a welcome email from your account manager. They'll make a Trello board for you where you'd be able to submit your content requirements by filling a content brief.
The account manager will assign your project to a writer from your niche, and they'll also stay in touch with you throughout the project. You can talk to them over email, voice or video call. Your manager will inform you about the turnaround time as per your content brief. But on average, you can expect your content to be delivered within 24-48 hours.
After you have received your content, you can either approve and download the file or ask for unlimited revisions and our revision time won't take more than 12-24 hours.
If you aren't comfortable with Trello, we can also work through emails. Your account manager will work with you to find the system you are most comfortable with. This helps us deliver the best blog writing services to all our clients.
Comparison
Pros
Cons
1. Unlimited revisions
2. In-house writers
3. You get thoroughly researched content in every plan
4. 24-48 hrs turnaround time
5. Discounts & free samples available for bulk orders
6. 7 days money-back guarantee
1. No free trial available

2. CrowdContent
Crowd Content is a self-serve platform that delivers a variety of content services. More than 5000 freelance writers have joined their team to deliver content in various niches. Their database also consists of writers who specialize in fields like medicine, legal and engineering.
You can use this platform to manually search for a writer or ask for recommendations from your customer success manager.
Price
They have 2 price plans for their blog writing services:
Marketplace: Here you have to pay as per the quality of content you require –
1-star quality – Entry level for 2.2c/word
2-star quality – Freelance for 3.5c/word
3-star quality – Professional for 8c/word
4-star quality – Expert for 12c/word
Enterprise: Customize plan as per your requirement, the best suitable for bulk content demands.
Onboarding
You can start by selecting the word limit and content quality requirements. You'll have to fill a form to sign up. The amount you'll pay will be added to your wallet as funds.
Then you can start placing your order by filling up a small brief. Once you post this brief, a qualified writer will claim your order and write your content based on your guidelines. You'll also have an option to chat with this writer to share more details.
The turnaround time will depend on your content length and research required. But you'll be able to set deadlines for your orders. And once you get your content back, you can ask for unlimited revisions but only within the first 3 days of delivery.
If, in case, you aren't satisfied with the results you can reject the content, and they will refund you the cost of that order.
Comparison
Pros
Cons
1. Unlimited revisions
2. Self-serve platform
3. Options in prices
4. It's a content mill, so you'll find a huge pool of talent
1. No free trial available
2. It can be a little tedious as any writer can claim your project, if you aren't happy with the result, you'll have to search for another writer
3. You get only three days to review content
3. FatJoe
FatJoe offers link building and content creation services to agencies. Their scope of work includes blog writing, educational articles, press releases, web page content, and product/service reviews.
They have also added a few sample articles on their website, that you can read here.
Price
They also have 2 price plans for their blog writing services:
Basic – $0.0417 per word for 3 stars rated writers
Pro – $0.1112 per word for 4+ stars rated writers
The basic plan will give you basic subject research and no images. Whereas in the pro plan you get thorough subject research, royalty-free images, meta descriptions, and well-formatted ready to publish content.
Onboarding
On their website, when you select "order now" for any one of the price plans, you'll be redirected to the order page. Here you can select the number of articles you require and provide word count, brief, keyword suggestions, etc.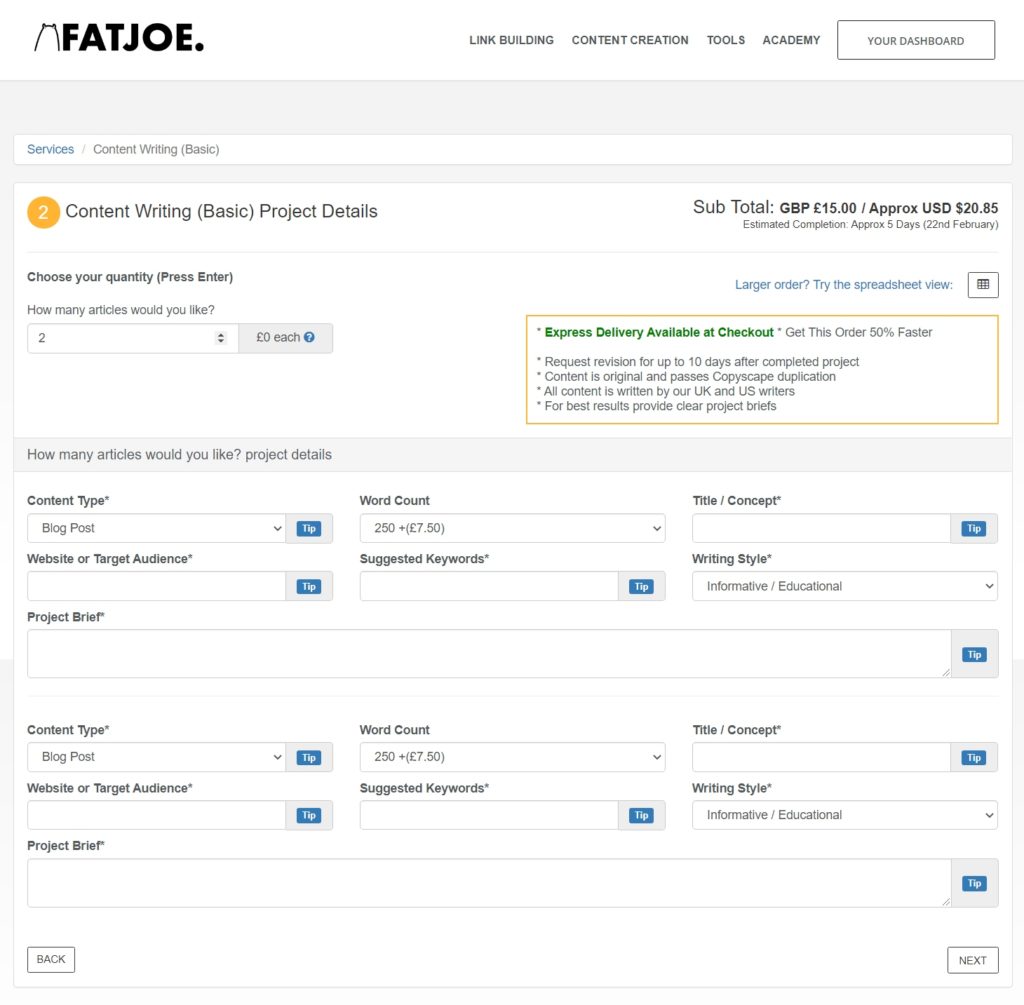 Once you fill in this information, you'll have to register and create a new account for yourself. This account will give you access to your dashboard where you can view the status of your order and add new orders.
For the turnaround time, FatJoe has mentioned that it'll take at least a few days. The exact estimate will depend on the number of content pieces you require. And once you get your content back you'll have 10 days to ask for revisions, your writers will make the edits, and re-submit the project back within 2 days.
Comparison
Pros
Cons
1. Both UK/US-based writers
2. Trusted by a lot of SEO agencies
3. You get royalty-free images and meta descriptions in the pro plan
1. No free trial available
2. Exact turnaround time not mentioned
3. The revision time i.e. 2 days is quite long
4. For a lot of people, basic plan might not be as appealing as it only includes a basic subject research
4. ExpressWriters
ExpressWriters started in 2011, and is now a team of 90+ members. They serve premium content services that are ideal for businesses with a good marketing budget.
They offer blog writing services along with marketing strategies for an extra cost. This service includes creating an editorial calendar, in-depth and consistent SEO, keyword, and headline research, etc.
Another feature of Express Writers is their paid add-on options where you can request images, metadata, and much more.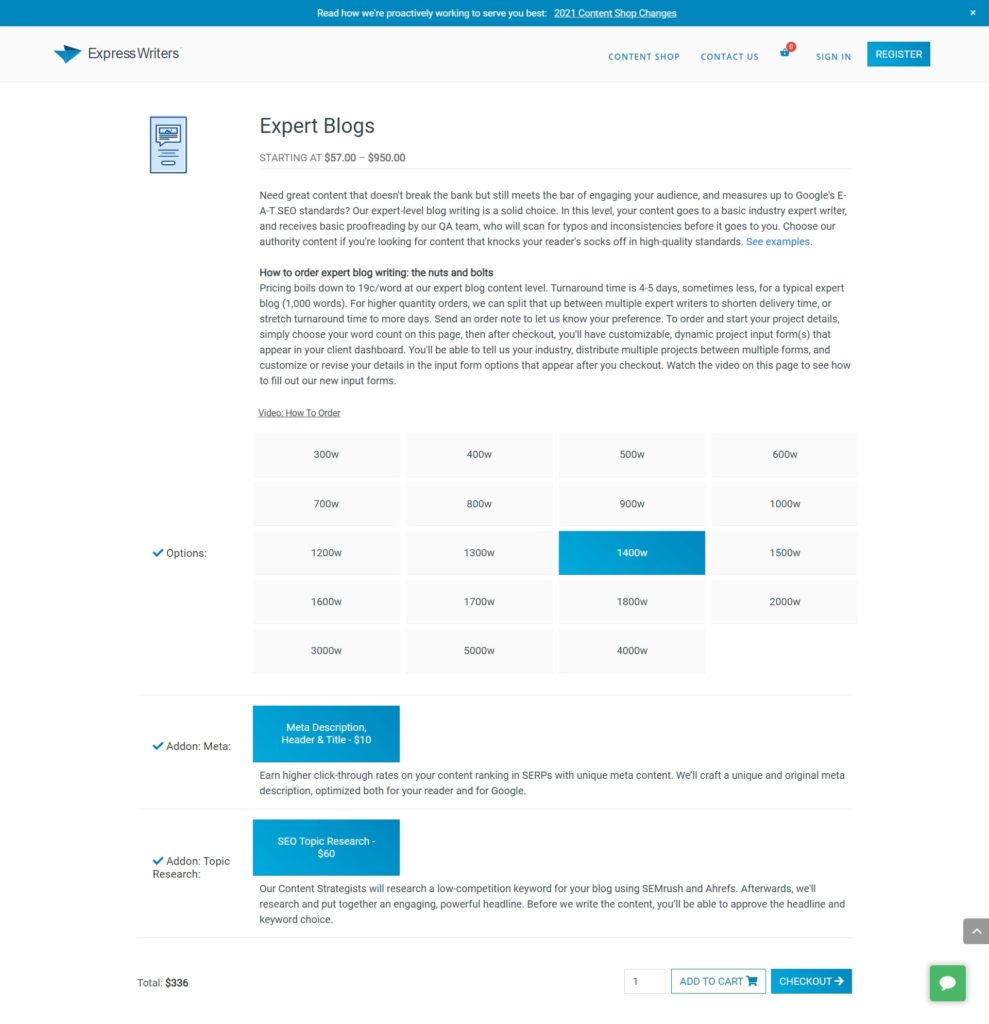 Price
The prices for their blog writing services are as followed:
Expert Blogs – 19c/word
Specialist Content – 24c/word
Authority Content – 30c/word
General Blogs – 09c/word
You can check prices for all other additional writing services here.
Onboarding
You'll have to start by selecting and purchasing your order from the content shop. All the plans you choose, will be added to your cart.
Once you make the payment, you'll have to fill out a project detail form. Your writer will be chosen as per your content requirements. Their team will deliver the final files in multiple pieces for you to approve. If you have paid for it, you'll get keyword research first, blog post second, and so on.
You'll be free to ask for up to 2 revisions in your project.
Comparison
Pros
Cons
1. You get a variety of blog writing services
2. Paid add on features available
3. They can help you perform keyword research and create a marketing strategy
1. No free trial available
2. Only 2 free revisions available
3. Services are pricey as compared to their competitors
5. Ghost Blog Writers
Ghost Blog Writers is a team of 50 writers spread across the US, Canada, the UK and Australia. They offer blog writing services that include topic research and recommendations for your blog. They'll also give you the first post for free. You can use this opportunity to see how their writers perform and if they are a good match for your brand.
Price
They have 4 basic price plans, but you can contact their team to get a customized plan:
2,000 words – $220/post
1,500 words – $165/post
1,000 words – $110/post
500 words – $55/post
Onboarding
To get started, you'll have to fill up their contact us form. From there a member of their team will get in touch with you to discuss your requirements. You can ask your doubts and questions about their services during this discussion.
If you are satisfied, you can go ahead and give them a topic to write about or ask them to suggest something. The first post will be completely free, you can use this to see if their writers are a good fit for you or not.
Comparison
Pros
Cons
1. Free trial available
2. They'll help you find topics for articles
1. Onboarding can be a bit of hassle as you cannot directly sign up. You'll have to first contact their team for customized services.
6. Scripted
Scripted is a third party platform where you can get direct access to freelance writers. You'll have to post your own content briefs, send proposals, and hire writers based on their profile descriptions and experience.
Once you find someone who you like, you can communicate with them directly to execute your vision.
Price
Their blog writing services have 3 prices plans:
Self-Serve Basic – Best for 2-4 monthly content pieces – $199/month
Self-Serve Premium – Best for 5-10 monthly content pieces – $349/month
Cruise Control – Best for 10+ monthly content pieces – $1,299/month
All 3 price plans have their own features. You'll get spelling, grammar, and plagiarism check, editorial review, and free blog ideas in every plan.
The Self Serve Basic plan will only give 2 revision rounds. In order to get 3 revisions rounds, competitor's keyword analysis, content strategy & topic ideation, and a dedicated account manager, you'll have to sign for the self serve premium plan.
In their most premium plan i.e. Cruise Control, you'll get everything from the previous plan plus a fully managed content production and premium writer prioritization.
Onboarding
Start by signing up on their website by creating a new account. You'll find thousands of professional blog writers ready to hire for your projects.
You can browse through their portfolio or create a project first. Writers will see your projects and propose their unique ideas. You can start with one or more job proposals that you like the most.
The turnaround time will differ depending on your requirements and your writer. But you'll get the first draft within a week maximum. You can accept the content or request a round of edits.
Over time, if you prefer to work with only a few selected writers, you can choose the invite only option on your project.
Comparison
Pros
Cons
1. Self serve platform
2. You get free blog ideas
3. As you upgrade, you get good features that aren't offered by other agencies
1. Limitation of 2-3 revisions round only
2. You'll have to spend time finding a writer for your project.
7. The Hoth
Next on our list of the best blog writing services, we have The Hoth, a one-stop solution for businesses who are looking to automate their blog. You can hire their team for everything including keyword research, content research, topics creation, blog writing, proper formatting, adding internal and external links, and post the final content on your WordPress site.
They also claim that all their blog articles are highly relevant and SEO friendly.
Price
They have 2 price package for blog writing services:
Blogger – 500 words blog post for $40
Blogger Pro – 500 words blog post for $80
The basic difference between these packages is that in the pro plan you get expert niche writers who can match your brand's style and tone.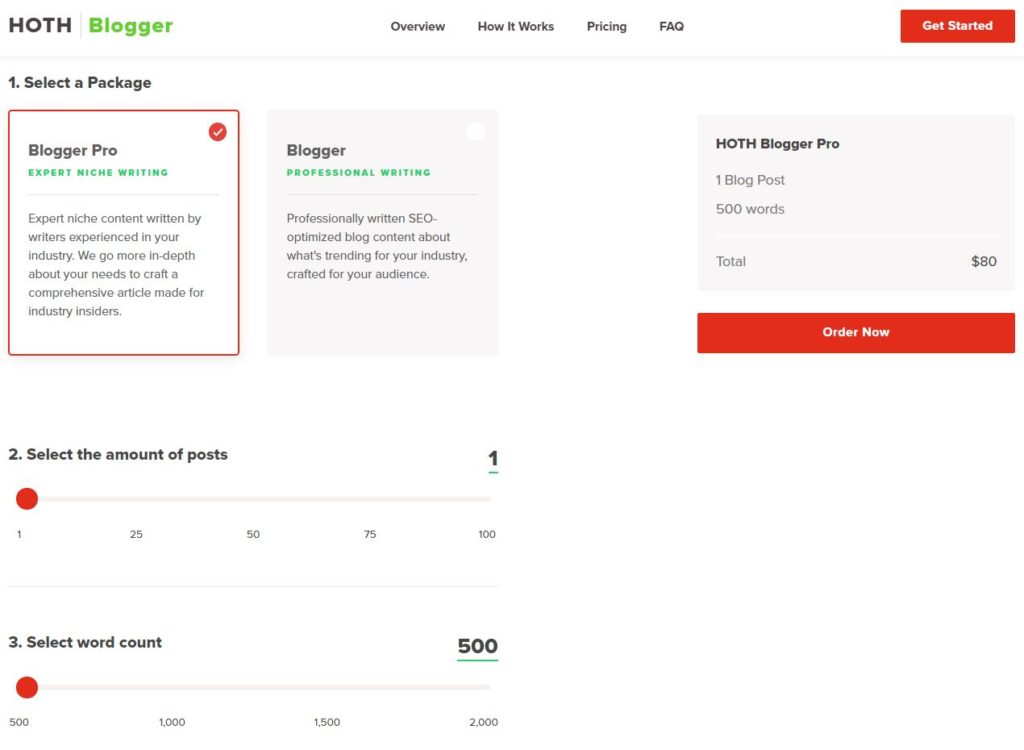 Onboarding
Start by choosing the plans, selecting the number of blog posts and word count you require. Explain a little about your business and their team will start keyword and topic research for you. You'll get a list of topics you can approve or reject and ask them for more suggestions.
Once the topics are finalized, you'll be assigned an experienced writer who'll deliver your blog posts within 2-3 weeks, which is quite a lot compared to other services on this list. You can ask for unlimited revisions in every article.
When you'll approve the post, their team will even post it directly to your blog.
Comparison
Pros
Cons
1. You get all content services under one roof
2. They'll post the article on your blog
1. 2-3 weeks turnaround time
2. Your articles will get auto-approved in 10 days if you don't reply
8. SEO Butler
As the name suggests, SEO Butler is a SEO focused business that offers content writing, social signals, and citation services. They have divided their content services into two parts: Content for Your Website and Guest Posting Content.
You can choose all the services you need, add them to your cart, and pay altogether, like you would on an e-commerce website.
Price
A general blog content will cost you $0.05/Word and a technical blog will cost $0.07/Word.
Other prices are as followed: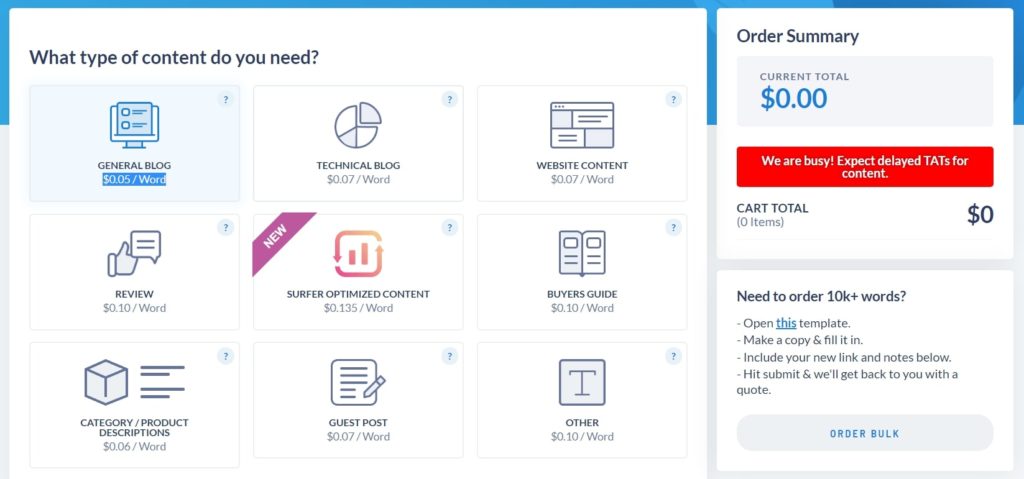 Onboarding
From the screenshot above, you'll have to choose an option for your content. From there you'll get to this form: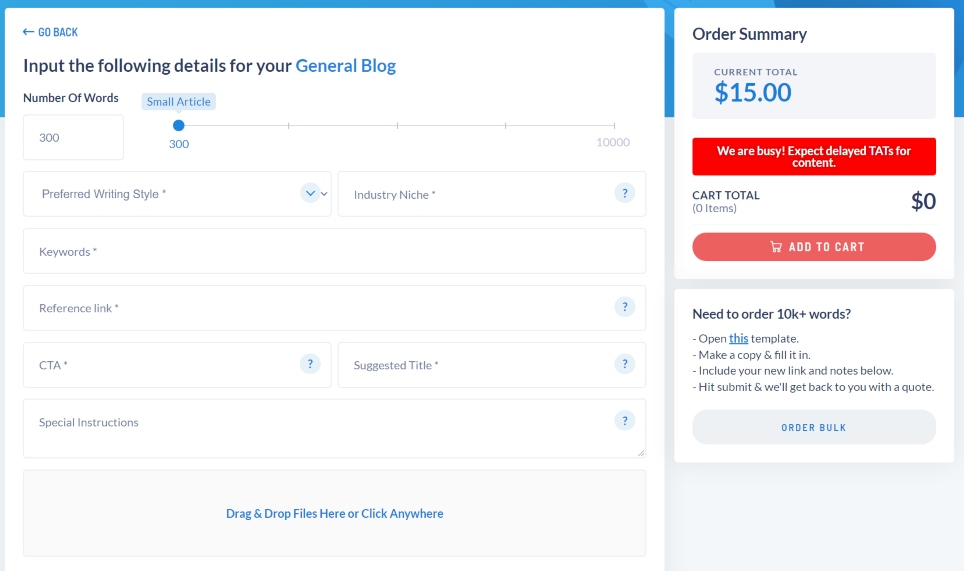 Fill in all the details here and your order will be added to your cart. You can either add more things to your cart or checkout. You'll be asked to create a new account and pay for the order.
Once the order is placed, the turnaround time will be around 6 days. It can be a bit higher depending on your requirements and the writers' availability. Whatever the case maybe, you'll be informed beforehand, like you can see in the screenshot above, Before "add to cart" they have mentioned they're busy at the moment. There might be a delay in delivery.
Comparison
Pros
Cons
1. Good for bulk orders as you get good discounts
2. They are good if you really prioritize SEO friendly content
1. Turnaround time can be slow i.e. 6 six days
2. You cannot ask for revisions after a month
9. TextMaster
TextMaster is a translation, web content writing, and proofreading service. They have hired a team of freelance writers in more than 50 languages. Hence, you can ask them to deliver multilingual web content writing services for your brand.
Price
They have 2 price plans for their blog writing services:
Standard – $0.073/word
Enterprise – $0.17/word
And you can customize your order by adding the following services:
Extra Proofreading – $0.024/word
Rush Order – $0.048/word
Expertise – $0.12/word
Onboarding
The first thing you'll have to do is create your account on their web application. Once you are inside, you see your personalized dashboard. Here you get the option to create a new project. Name it and remember this will be the entire project, you'll have to assign articles as tasks, under each project.
For example, you can have 1 project called SaaS blog and create 4 tasks of 4 blog articles under it. You can have another project called Tourism blog and create 2 tasks of 2 blog articles under that.
When you create these tasks, you'll be asked to fill a small brief describing your requirements to the writers. Once you are satisfied, click on "submit task". The article will be assigned to a writer, who'll deliver it within a week.

After you have completed a few projects, you'll get an option of adding your best writers as your favorites. This will allow you to choose them manually in future tasks.
Comparison
Pros
Cons
1. Multilingual content
2. À la carte pricing
3. You can rush order by paying a little extra
1. There is no exact mention of the turnaround time
Summing Up: Best Blog Writing Services
Blogs have become a necessity for every brand. And hiring a writer in-house is not a feasible option for a lot of us. Agencies and content mills are the best option available in the current market situation.
And now you can get your first blog post within 24-48 hours by signing up for our best blog writing services today.