Are you looking to hire freelance writers for your company? Most employers struggle to recruit the right people since it's an extremely difficult process.
The reason most people struggle to hire freelance writers is that they don't know the exact steps. What we know is the classic recruiting process of finding prospects > conducting interviews > hiring the employee. This doesn't work for freelancers.
For starters, it's not always possible to have interviews with freelancers. If you're signing up on a freelancing platform like Upwork, the freelancer might not even be in your time zone to have an interview. The onboarding process is also completely different than an in-house employee.
That's why I thought about writing an article to show you how to hire a freelance writer. Now, we run a content writing service at Digifloat, so we have pretty good experience in hiring writers from different industries. I have previously written a post about how we hire in-house writers and today I'll show you how we hire freelance writers.
You can duplicate this exact process to hire freelance writers for your company.
How to Hire Freelance Writer
Find Prospects

Indiehacker
Reddit
Upwork
Digifloat
iWriter

Start the Hiring Process

Start the Investigation
Pay for a Trial
Let's get into some details…

1. Define Your Requirements & Budget
Most times people end up with bad freelance writers because they don't start with a plan. Yes, you need to hire freelance writers, the first thing you'll think of doing is creating an account on a freelancing platform. But before you do that, have you considered any of the following things:
What Kind of Writer Do You Need?
Content writing is a complex field that consists of various kinds of writers. A freelance writer can write in different niches or they might have a specialty or a unique skill. Depending on their expertise, they bring different capabilities to the table.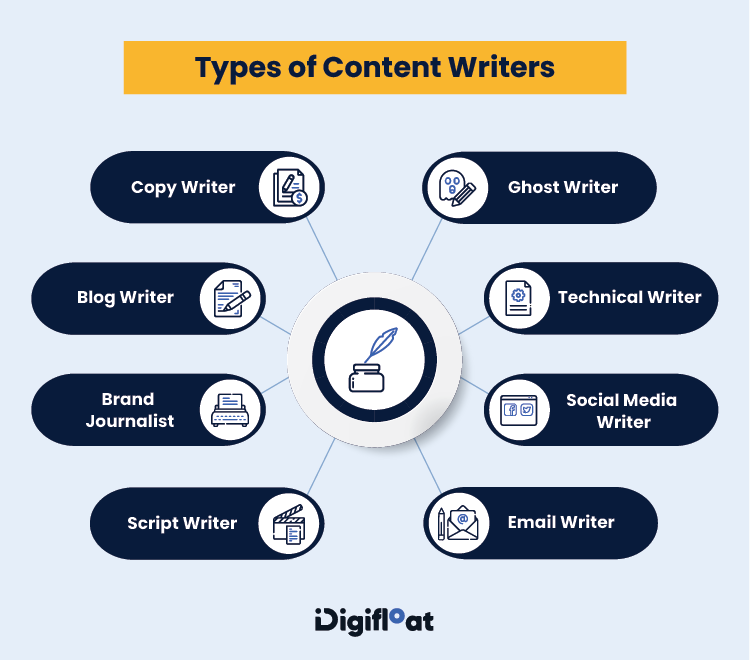 Blog Writer – Handles the articles and blog of your company/website.
Copywriter – Handles website copy, sales material, product descriptions.
Brand Journalist – Handles your brand and customer stories, interviews, press releases, and internal communications.
Ghostwriter – Writes various types of content that are credited to another person as the author.
Technical Writer – Can write in-depth guides and manuals, instructions, etc.
Social Media Writer – Handles social media posts on various platforms and produces interactive content.
Email Writer – Specializes in creating drip campaigns, newsletters, sales, and customer nurture campaigns.
There are writers who can specialize in more than one field. But you need to understand your business requirements first. Do you want to build a blog or a brand reputation? Do you have a sales goal you want to accomplish through your content? Answer these questions before moving forward.
How Will You Pay the Freelance Writer?
You can pay your writer in many different ways – it'll mostly depend on your project's requirements. If you just want one small content piece you're better off paying the writer per word or per hour. If you have a long project, say you're building a website, it's best to decide on a fixed retainer amount.
Here's a basic difference between different payment types:
Per Word – If you're sure about how many words you need, you can pay the writer per word. Say, for example, you need a blog post of 1500 words or a social media post of 150 words.
Per Hour – Many experienced freelancers and freelance platforms like Upwork prefer a per-hour payment. If your project requires a lot of research and preparation, you'll have to pay the writer per hour. This would also be a great option if you aren't sure about the exact word limit, like in the case of a website's copy.
Retainer/Project Fee – If you have multiple projects or a large scope of work, hire a writer on a retainer fee. It'll be like paying a fixed salary to an employee. We follow the same structure at our content writing agency where you pay us $179 for 3000 words every month.
How to Create a Job Description?
To answer this question, you'll have to review your business goal. DON'T COPY A CONTENT WRITER JOB DESCRIPTION FOR THE INTERNET. This is the worst thing you can do to kill your chances of hiring good talent.
Job descriptions need to be customized as per your requirements. This is where we'll use everything we did in the first step.
Some key points to remember are:
Keep the job description short and concise. Nobody likes a long and winding list of requirements.
Include all relevant information like a small summary about your brand, your budget, etc.
Keep the expectations realistic.
Always add your contact information.
Avoid searching for hybrid skills in different roles, for example, don't look for a "content writer who knows how to use Photoshop".
Check for grammar and spelling mistakes. Good writers won't take you seriously if your job description is grammatically incorrect.
Avoid buzzwords like "superstar writer" or "self-starter".
Also, avoid jargon like "content is king". Trust me I have seen this in so many content writer job descriptions.
Use proper formatting with paragraphs, heading, bullet points, etc.
Just like you judge the freelancer through their resume, they judge your company through your job description. And most talented and experienced employees are very selective while choosing who they'd work with. So make sure you spend time crafting a good job description to hire a freelance writer.

2. Find Prospects
Now that everything is in place, we can get into some real action. It's time to find prospects or writers interested in writing for you. The first thought would be to jump on to a freelancing platform. But I am here to introduce you to more places where you can find and hire freelance writers.
Indiehacker
Not the first place, you'd think about when looking for a writer. But Indiehacker is a big community where you can connect with like-minded professionals. You can post your requirements and budget to find prospects.
I agree that the number of people who'll apply will be limited. But these are real people who won't waste your time. You can use this platform to find writers for long-term projects as well as for small one-time gigs.
Reddit
Head over to the r/HireaWriter to find hundreds of freelance writers in every niche. It's a competitive place because the ratio of employers and employees is very disproportionate. But the reason I prefer this platform is because of the wide variety of writers available.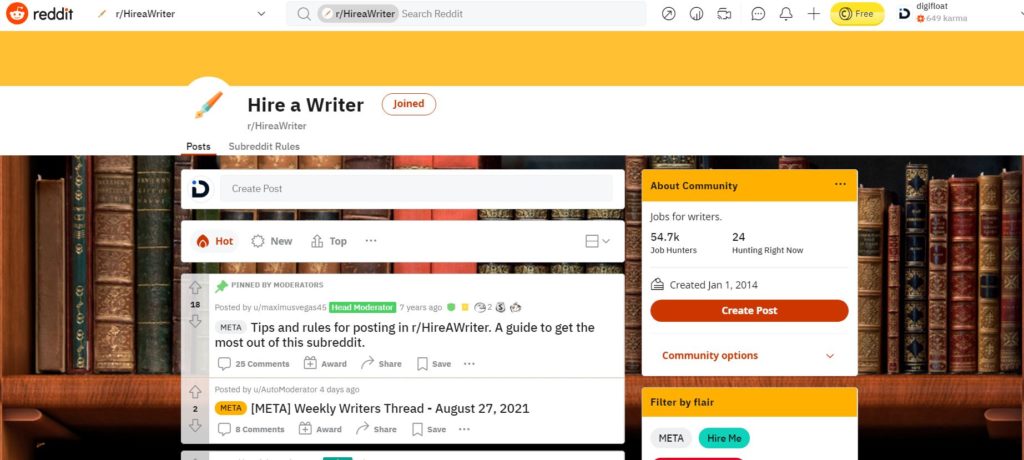 Here you can find writers who can write blogs, emails, social media posts, scripts, documentaries, fan fiction, sci-fi content, etc in any niche imaginable. Plus, the writers here are mostly looking for small one-time offers so the prices are quite affordable.
Upwork
I had to mention the most popular freelancing platform here. Upwork attracts thousands of writers from around the world. All you have to do is sign up and post the job description.
The reason why I recommend Upwork over other freelancing platforms is their rigorous hiring process. They are very selective while approving the freelancer's profiles. Even the minutest details like what email they're using to sign up are considered during this process. Upwork wants to make sure that the freelancers are serious about their profession hence they don't even give preference to Gmail IDs. You'll need a work email to sign up as a freelancer.
If you're interested in hiring freelancers through freelancing platforms, check out my article about Upwork vs Fiverr.
Digifloat
Digifloat is an agency that offers content writing services for a fixed monthly fee. We have hired in-house writers who specialize in different fields of writing. You just have to sign up & submit your content brief through email or Trello and our writers will get to work instantly.
We'll assign you an account manager who'll constantly look after all your content requests. And you'll be able to track the progress of each task via email or your Trello board. It'll look something like this: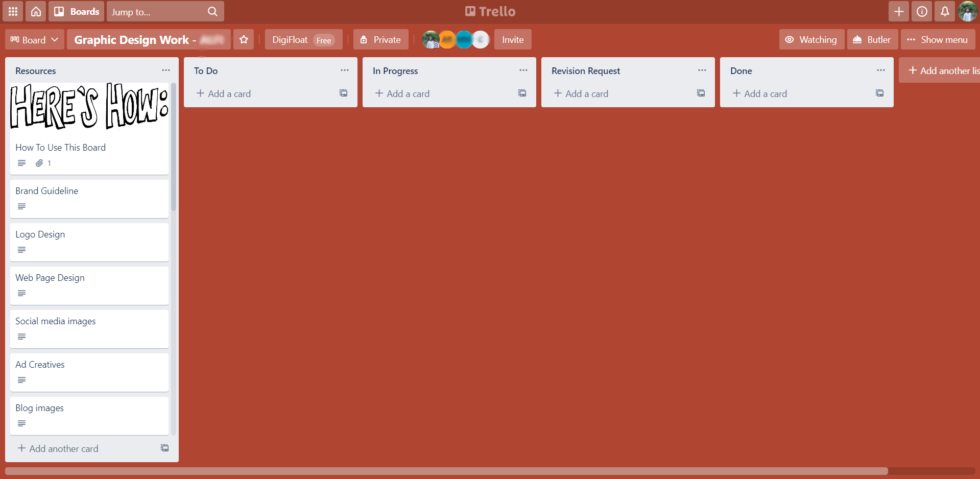 iWriter
iWriter is also a freelancing platform like Upwork but only for writers. They distinguish their writers based on their work experience. And the prices start as low as $1.40 per word.
To get started, you'll have to sign up on their website, add money to your account, request content through their content brief, then wait for writers to accept your project. Once the writer uploads your completed project on your dashboard, you'll get 3 days to approve or reject the article.
If you don't like your content, you can click "reject" and place the order back for another writer to write. But you'll get only 3 days to review the content, after that it'll be approved automatically and the money will be deducted from your account.
3. Start the Hiring Process
Now you have the names of people interested in writing for you. Whom should you hire? To make sure you hire the right person, follow my 3 step hiring process:
Start the Investigation
When hiring an in-house writer the next step is to conduct interviews to know more about the prospects. But as I mentioned in the beginning, this is not always an option when you want to hire freelance writers.
So we'll take another route to know more about the candidates. The good part of hiring writers is that you can judge their writing skills just by reading their profiles. Most freelancers will have a detailed bio on freelancing platforms. Some experienced writers also have their own websites.
The most important thing to look for is spelling or grammar mistakes in their bio. If you find any, just add them to the rejected list, no second thought.
Then you can judge their writing style, is it casual, authoritative, funny? These things would be hard to judge in their previously published articles as those go through rigorous editing before publishing.
Another thing you can do is read their online reviews. Upwork allows clients to leave feedback on the writer's profile. Even if you are hiring an agency, you can find their reviews somewhere like we have some awesome reviews on Trustpilot.
Pay for a Trial
In the previous step, you'll eliminate a lot of candidates. By now you'll have a few prospects left that are all good. Now I am going to recommend something that's kinda controversial – hire them all for a paid trial. Give them an article or social media post to write and pay them per word or per hour, however, you prefer.
Yes, it would cost you money. But it'll be worth it! When you hire someone without putting them for a test, you're basically shooting in the dark. That's also a risk where you can lose money.
We do this every time we hire a new employee, whether it's a designer, writer, or client manager. We invite the person onboard for 1 day, give them tasks, and see how they perform. It has proven to be very effective for us.
And it's not just us, a lot of top marketers and entrepreneurs, recommend hiring employees on a trial basis. Once you add this step to hire freelance writers, you'll always end up hiring the best one for your company.
To Sum Up: How to Hire Freelance Writer
That's pretty much it! This is our entire process of hiring a freelance writer. It's a little unconventional but highly efficient. If you copy this exact process, you'll be able to find and recruit the best freelance writers from your industry.
But if you're ready to throw in the towel, check out our content writing services. We have hired a team of professional writers who excel in delivering high-quality, plagiarism-free content in any niche. Our content is 100% SEO-friendly and unique to your brand's voice.
Sign up for our content writing services and get personalized content today.