AI is basically everywhere, and it's involved in every step of the creative process. You can use it to create written content, visual images, optimize your search engine presence, and so much more. But one of our favorite ways of using AI is as a blog ideas generator.
It's quite effective because AI-powered tools use natural language processing (NLP) algorithms to analyze data, identify trends, and suggest topics that are relevant to our niche. All we have to do is simply ask these tools to suggest some ideas for our niche, and it takes seconds to suggest 100s of new blog post ideas in no time.
For instance, I asked ChatGPT to provide some blog post ideas about graphic design, and here's what I received:
If I filter these out right now, I can see at least 7 new ideas for our upcoming blogs.

But if you cannot access ChatGPT in your country, below are some other awesome AI blog ideas generators that you can use while brainstorming:
1. Copy AI
Copy AI offers a free blog ideas generator where all you have to do is enter a topic or keyword and choose a tone, for example, here we entered the keyword "content marketing ideas":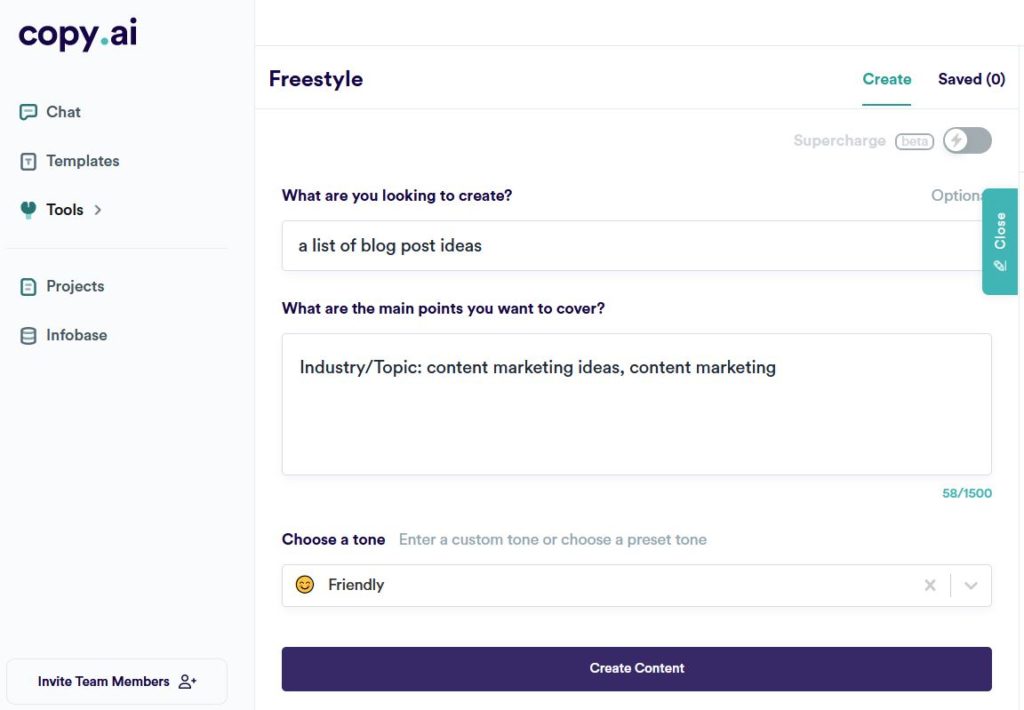 And we received many creative blog post ideas: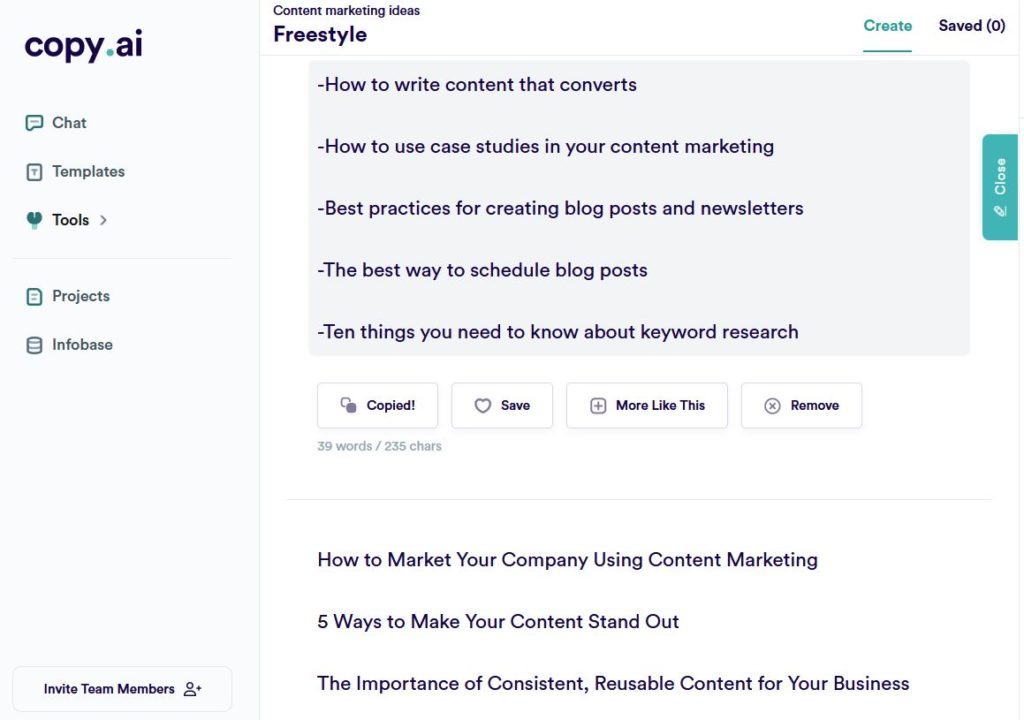 2. Writesonic
Writesonic also has a similar free blog ideas generator that can give you suggestions in more than 25 languages. Here's an example where we used the term "social media post ideas" to generate some article ideas: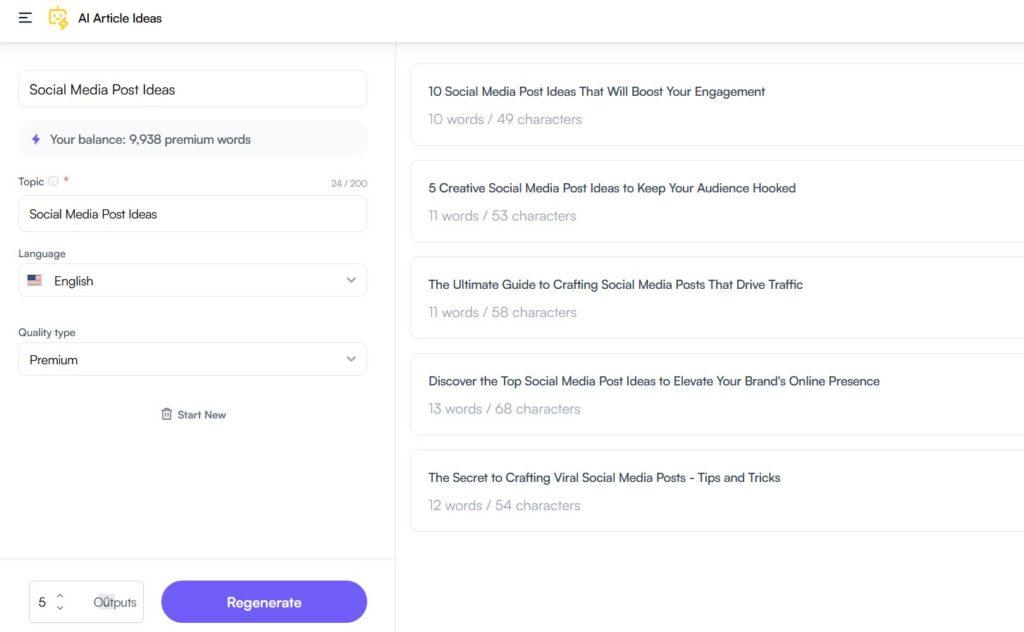 3. Answer The Public
Answer The Public is a favorite AI tool for marketers everywhere. You can use this tool to understand what people are searching for online and use that information to generate unique content ideas for your blog.
You can enter any keyword and view a web of interconnected topics, a list of questions, and other related terms. This information is also presented in a visually appealing and user-friendly format, making it easily comprehensible.
Using AI for More Than Blog Post Ideas
AI can do a lot more than simply generate blog post ideas. This has even sparked a lot of interest and raised some critical questions about the capabilities of artificial intelligence and its limitations.
Some believe AI has the potential to create high-quality content, while others argue that human creativity and intuition are irreplaceable. We obviously agree with the latter, AI can only analyze large datasets and generate output based on those statistical models, but it lacks the ability to understand context, subtext, and nuances of language.
But that being said, we also believe you can incorporate AI into your writing process to generate high-quality content. Below are some non-controversial ways in which you should use AI while generating online content:
Generate Headings
Similar to generating blog post ideas, AI is also really helpful in generating headings for blog articles. There are free tools like ChatGPT, Content Row or SEMRush Title Generator that'll help you to create SEO-friendly headings and headline analyzers like the one by Sharethrough and CoSchedule that can analyze the quality of your heading.
Edit & Proofread
Although we rely on humans for the final editing and proofreading, tools like Grammarly and Hemingway are extremely helpful in avoiding minor grammar, punctuation, and spelling errors.
Content Distribution
Content distribution is an important part of your content marketing strategy. And while AI is a great asset that helps in creating great content, it can also help get that content in front of the right audience.
You can use social media tools like Hootsuite or Buffer that use AI-powered algorithms to improve your social media reach and tools like Mailchimp or ConvertKit to increase your email engagement and conversion rates.
How Not to Use AI for Content Creation
While there are endless possibilities with AI, it cannot replace humans. It can only generate error-free content, but it lacks the personal experiences, intuition, and emotions that connect with readers on a deeper level.
If you need high-quality content that resonates with your audience, you'll have to trust human writers like ourselves. Our team of experienced writers brings unique perspectives and creative insights to the content whilst making it stand out from the crowd.
So you don't have to settle for AI-generated content, sign up for our content writing services and get blog articles that are crafted by real human experts.