We are currently in the process of designing a mascot for our company. And let me tell you, it isn't an easy task. It took us months to do our research, find inspiration, and refine our vision. After tons of sketches and designs, we're finally close to designing a perfect mascot for Digifloat.
While we have been designing mascots for our clients for years, this time, we gained much more insight into building an entire marketing strategy around our mascot. In this article, we want to share what we learned, everything from the very basics to the advanced techniques that will help you create a perfect mascot for your brand.
How to Design a Mascot in 9 Simple Steps
Let's dive into more details and learn how to design a mascot.

1. Understand Your Brand & It's Personality
If you already have an established business, you'll probably be aware of your brand's personality. Ideally, it's described by how your target audience perceives your brand. Now, your mascot doesn't necessarily have to represent your brand's personality, but it can be a highly effective way to do so.
So, for example, if your brand's personality is fun, vibrant, and youthful, your mascot can embody these qualities by being colorful and energetic. On the other hand, if your brand exudes professionalism and trustworthiness, your mascot can reflect these attributes through a more refined and authoritative appearance.
Basically, aligning your mascot with your brand's personality will help you create a cohesive and memorable brand image.
2. Research & Brainstorm
Just like you'd do before starting any other project, you need to do proper research and a brainstorming session with your team before finalizing your mascot. This step is crucial to gain insight into the current market trends, competitors' mascot strategy, and your target audience's preferences.
You can simplify Google keywords like "top mascot designs for 2023" or "the most popular mascots of all time" or use tools like Dribbble, Behance, or Pinterest to find some good mascot design references.
For the brainstorming part, you can organize meetings with your team to generate ideas and build a compelling narrative around your mascot. Also, try to involve various departments and not just the design team, as diverse perspectives can lead to more innovative concepts.
3. Finalize a Character
During the brainstorming session, it can easily get overwhelming to decide the nitty gritty of designing a perfect mascot. So, instead, consider taking a step-by-step approach and begin with choosing the character type.
For example, do you want a human mascot like Ronald McDonald or Mr. Clean? Or perhaps an animal mascot like Tony the Tiger or Chester Cheetah? Or you want to do something different and choose an object mascot like the M&M's Characters or the Kool-Aid Man.
Conventionally, brands used to choose:
Human mascots if they want to communicate human values, emotions, and experiences. For example, KFC uses Colonel Sanders to represent their brand's long history, tradition, and authenticity.
Animal mascots if they want to convey specific qualities or traits, like strength or loyalty, that are associated with the chosen animal. For example, Red Bull uses a Bull that symbolizes strength, power, and energy.
Object mascots if they want to convey their values and unique attributes through a symbol or an icon. For example, Michelin created Michelin Man, which is basically a symbol made of tires that represents the brand's values of durability and reliability.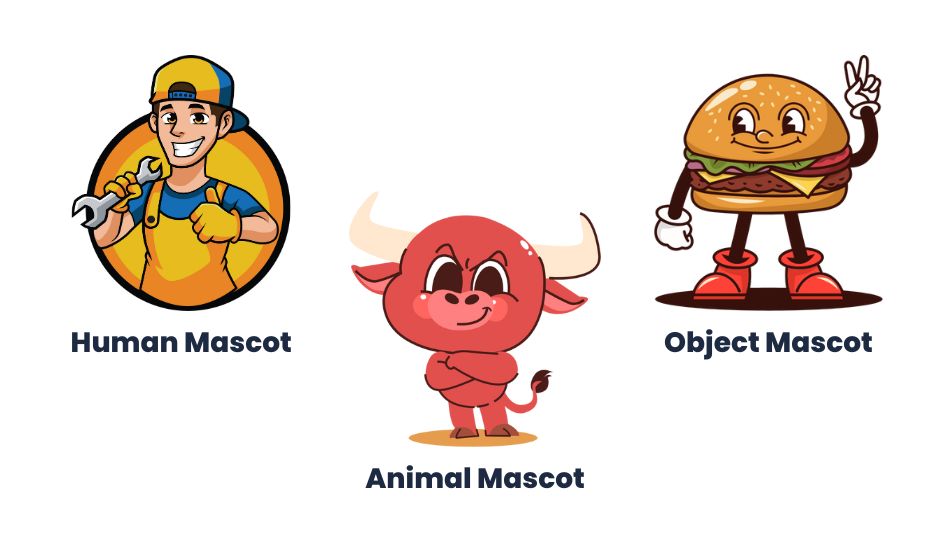 Do remember that these rules are not set in stone. In fact, a lot of brands go against the conventional choice, for example, M&M's have object mascots of their own candy, but they exhibit human-like personalities and emotions, which helps in building their playful yet authentic brand image.
Ultimately, your character choice will depend on how you want to present your brand and the specific message you aim to convey to your target audience.
4. Define its Personality
Up until this step, you will have a vague idea about the personality of your mascot. You'll even consider this while choosing the character type. However, in this step, you need to go a little deeper to personalize your mascot.
For example, you need to highlight its specific features like what kind of clothes it would wear, how it would move, or what kind of things it'll say. These qualities will help in giving your character a unique and distinctive personality.
5. Sketch Your Ideas
Now, grab a piece of paper and a pencil and start sketching some ideas, even if you believe your drawing skills are not top-notch. Just draw whatever kind of pictures or scenes you can imagine your mascot. This sketching phase is a creative playground where you can freely explore different design concepts and visual elements for your character.
You can experiment with various poses, expressions, and attire for your mascot. You can also create a storyboard that depicts how your mascot will react in various situations and contexts. This will help you visualize your mascot on various marketing materials and sales campaigns.

6. Pick the Right Colors
Your drawing will be black and white, so you need to add some colors. This is an important step because the colors will significantly influence the perception and recognition of your mascot.
In most cases, the mascot colors align with the brand's color palette and the personality traits that define the character. For example, red is a color that is associated with power and excitement, whereas the color blue is associated with calmness and loyalty.
You have the freedom to experiment with various color combinations, however, we'll recommend prioritizing consistency with your brand's primary colors.
If you want to read more about brand colors and how to create a perfect brand color palate, read this article.
7. Start Designing
In all our previous "how-to" articles, whether we're talking about how to design a t-shirt or how to design a logo, we always recommend to our readers a bunch of design tools that they can use to design something themselves. But that's not the case when it comes to designing a mascot.
You have to understand that creating a mascot is an intricate process that requires expert design knowledge and experience. That's why we recommend you invest in a professional graphic designer or a mascot designer. This investment will be well worth it; after all, your company's mascot will become the face of your brand.
The following guides will help you hire the perfect designer to design your mascot:
Additionally, if you have more design requirements, such as social media graphics and blog images, or need assistance in shaping your entire brand identity, you might want to explore the option of signing up for unlimited graphic design services. Here're a few resources that'll help you do just that:
8. Get the Necessary Licenses
When you're creating your mascot, you need to ensure that there is a clear contract that outlines the terms of the ownership of the artwork and the usage rights. This is especially important if you're getting your mascot designed by a freelancer, as they may not automatically grant you full rights to the artwork they create.
Also, if instead of hiring a graphic designer, you opt for an online tool to design the mascot yourself, then you need to be careful about a few things, such as:
the usage rights and attribution requirements for the graphics, images, and templates you are using,
the watermark requirements of the online tool,
the licensing requirements for fonts, if there's any text on your mascot, for example, a letter on their clothes
and the copyright policy if your mascot is inspired by a known character or closely imitating existing mascots.
These restrictions are another reason why we recommend you hire a professional designer to design your mascot.
9. Test & Refine
Once you have designed your perfect mascot, it's time to put it to the test. A lot of people skip this step, and they just start using their mascot everywhere. This can create certain problems, such as unforeseen design flaws, technical issues, negative associations, or even controversy.
Therefore, you need to test your mascot with a small group of people. You can start by seeking input from your internal team or even organize focus groups with members of your target audience. If it's not possible to gather feedback physically, you can create online surveys that include questions about the mascot's likability and relatability.
You can share these surveys on online platforms that are used by your target audience or simply use email marketing. If you're getting a positive response, you can start using your mascot on different marketing channels, such as social media, website, or email campaigns.
Just remember to monitor how your audience is interacting with your mascot and continuously incorporate the feedback to make changes to your mascot's design and personality.
Summing Up: How to Design a Mascot
Designing a mascot isn't just about creating a character, it's about building a connection with your audience. The 9 steps we discussed in this article will surely help you design a perfect mascot for your brand.
But if you need more help, just hire us! We have a team of in-house designers who have been designing mascots for years. They can help you design a mascot that'll bring your brand to life. All you need to do is sign up for our unlimited graphic design services and get started.