Have you ever considered your brand positioning?
What place does your business occupy in your customers' minds? And how do they distinguish your brand from your competitors?
The majority of this will be conveyed visually through your designs, colors, and your logo.
In this article, we will focus on the logo. I will guide you on how to design a logo for free or hire a designer.
I'll also help you in making the right design choices when it comes to styles, typography, and colors.
How to Design a Logo Online
Let's dive into some details about how to design a logo….
1. Find Inspiration
We have to start with some inspiration for what we want our logo to be.
A lot of people can find this inspiration around themselves. If you aren't one of them, take help from the internet.
Start by writing down some adjectives for your brand. These can be some specific features that make you stand out or something you want your brand to be known for. It can be innovative, environmentally friendly, youthful, sophisticated, etc.
Now you can search for logo design ideas with these words, like this: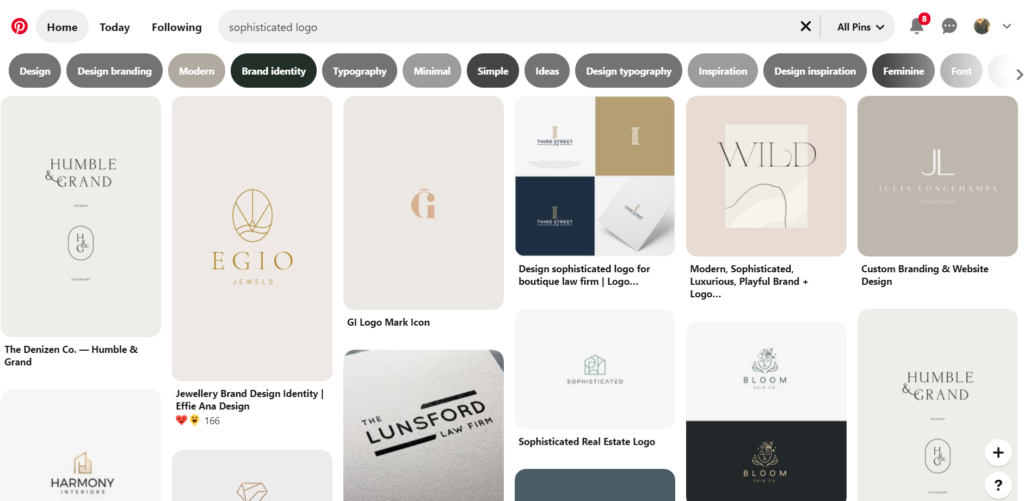 Think about how you want your business to be visualized.
When we started designing the logo for Digifloat we spent days looking for ideas. Here are a few sites that helped us the most:
Pinterest
Dribbble
Instagram (use #logoinspiration)
Behance
Logopond
Remember to keep saving the logos you like.

2. See Your Competitors
Competitors' research is an underrated goldmine. This is a place where you can see what works best with your target market. For example, our biggest competitors are Design Pickle and Penji. This is what their logo's look like: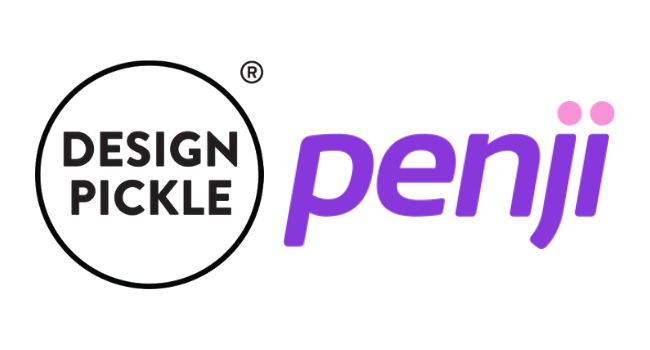 We knew a simple wordmark logo works best in our industry. This was our base idea.
When you research your competitors you have to look for ways to attract the same audience as they do but also set yourself apart.
You won't have to do something wild here. Small things can make a big difference. Like you can choose a different color or font.
For example, this is what our logo looks like:

It resonated with the same audience as our competitors but it still stands out from the rest.
3. Pick a Type and Style
The design of a logo can be categorized into many types. Most of these are a combination of typography and images. But every type and style of logo gives your brand a different feel.
I have broadly divided this section into 7 types of logos. You can pick one according to your brand and your target market.
I. Monogram Logo
These logos consist of letters usually initials from the brand's name. Like Home Box Office uses HBO in their logo. These initials become the brand's representatives.
Since you only add a few letters to this kind of logo, typography becomes essential. You have to make sure your logo is on theme with your company.
You can choose this kind of logo if your company has a long name or words that can be hard to pronounce.
II. Word marks Logo
Wordmarks logos also consist of the only font but with the full name of the company. Our logo is one example of these kinds of logos.
If you are a small company you should opt for these kinds of logos. This makes sure your target audience recognizes your brand name.
III. Pictorial Logo
These are graphic or icon-based logos like Apple or Twitter. In this case, the icon alone is enough to recognize the brand.
These logos can be tricky as you have to decide what icon to choose. What represents your company in a unique way.
Small businesses mostly do not opt for these kinds of logos as it's hard for them to make a true brand mark with an icon.
IV. Abstract Logo
An abstract logo has geometric symbols that may or may not represent your brand values. For example, the Adidas logo has 3 strips called trefoil emblems that they say represent the three parts of the world (North America, Europe, and Asia) where you can buy their products.
This is not an actual representation of the brand but it does convey some message of the company.
These kinds of logos can be confusing for the audience if you have a new company. Plus you'll have to spend a lot of time finding a graphic that has some cultural implications for your brand.
V. Mascots Logo
As the name suggests, this kind of logo has an illustrated character like KFC has Colonel Sanders or Pillsbury has the Doughboy.
These mascots become an ambassador of your brand. They can be a great tool to engage with your audience.
VI. Emblem Logo
The emblem logo has a font inside a symbol or an icon like Starbucks. These logos have a traditional and classic feel to them.
The only drawback is that these logos can be less versatile. You also cannot shrink an emblem logo as it might become too hard to read.
VII. Fusion Logo
This kind of logo has a combination of a graphic and letters like Burger King. The brand name and its symbol are presented side-by-side, stacked on top, or integrated together to create an image.
This can be a powerful logo design for your company as it reinforces your brand. These are also great options for small businesses that cannot rely on just a pictorial logo.
4. Choose Colors
The next step in learning how to design a logo is choosing the right colors.
Different colors convey different emotions to your audience. There is a whole psychology behind every color.
Think about what you want your brand to represent. If it's something playful you can go for orange or yellow. If it's related to nature you can choose green.
Below is an image that'll tell you what color represents what kind of emotion.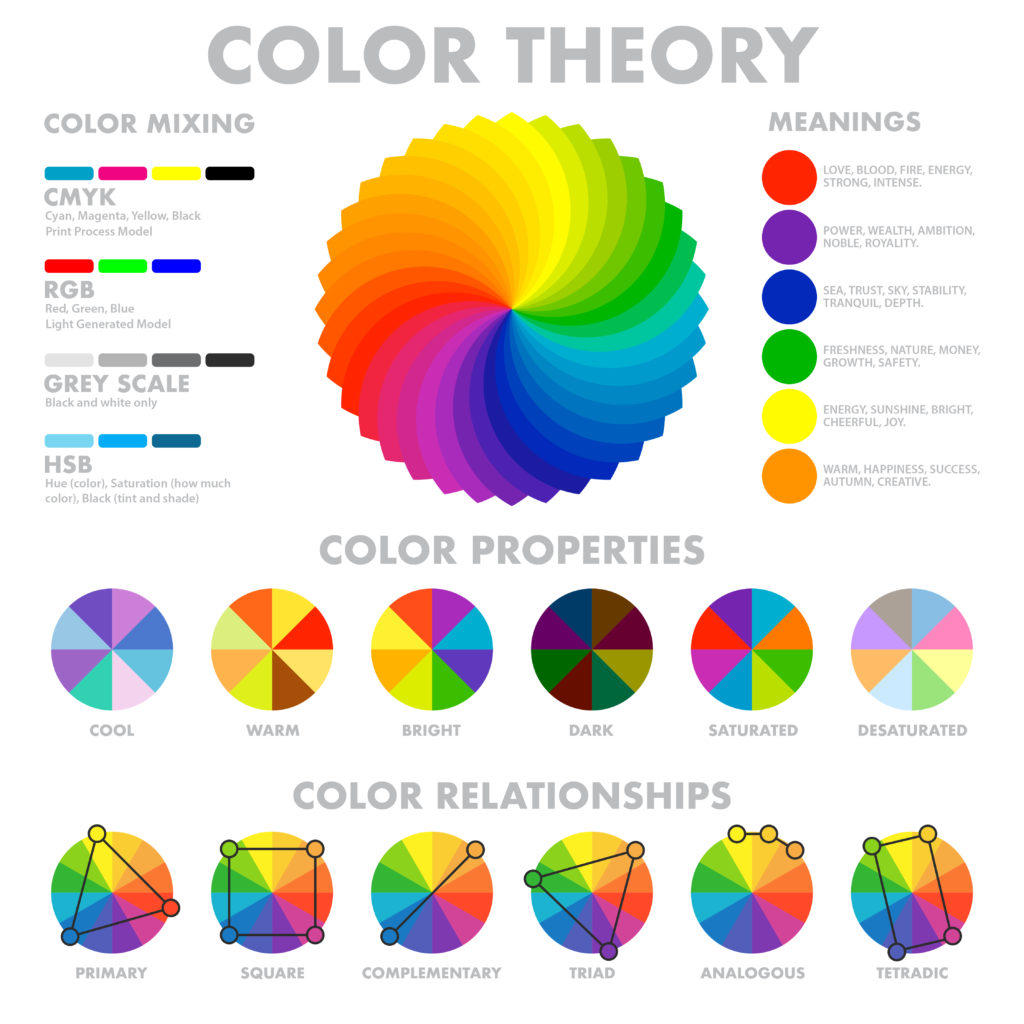 You can choose any one of these colors or combine several of them to tell a color story. To see what colors work well together, take a look at the color wheel in the above image.
Complementary colors are directly across from each other.
Analogous colors lie next to each other on the wheel.
Triadic colors lie at three equal sections from each other. They form a triangle in between.

5. Pick Out Fonts
I believe this is the hardest part, especially for a non-designer.
You can choose the colors and style based on what they represent and what you like but the font is whole another story.
Firstly there are thousands of options to choose from so you can easily be confused. Then every font conveys a different emotion and perception, so you want to find something that will complement your brand attributes and identity.
To make this step easier for you, I am listing down the 5 most commonly used logo fonts.
I. Serif
Serif fonts are the most timeless and classic fonts. They have a small extra stroke at the end of the main vertical and horizontal letters.
Brands like Tiffany and Rolex use Serif fonts in their logos:

These fonts are very useful for large blocks of text as it makes it easy for the eye to travel over the text. The most popular Serif fonts are:
Baskerville
‍Garamond
Minion Pro
II. Sans Serif
Sans Serif is the one that does not have extending features called "Serifs" at the end of strokes. They have less line-width variation and convey simplicity and minimalism.
Brands like Panasonic, Target, and Microsoft use these fonts in their logo:

These fonts tend to be easier to read when backlit⁠ which makes them most prevalently used in the text on computer screens. Helvetica is the most popular Sans Serif font.
III. Script
Script fonts are made from handwriting or calligraphy. They are fluid, versatile, and are often used in more whimsical contexts.
Brands like Kellogg's and Coca-Cola use these fonts in their logo:

Most popular Script fonts are:
6. Sketch Out Ideas
Now is the most fun part of this process! Take a pencil and a notebook and start sketching. Even though you are awful at it, just make something. Whatever vision you have at this point.
When we started out, this is what our sketch looked like: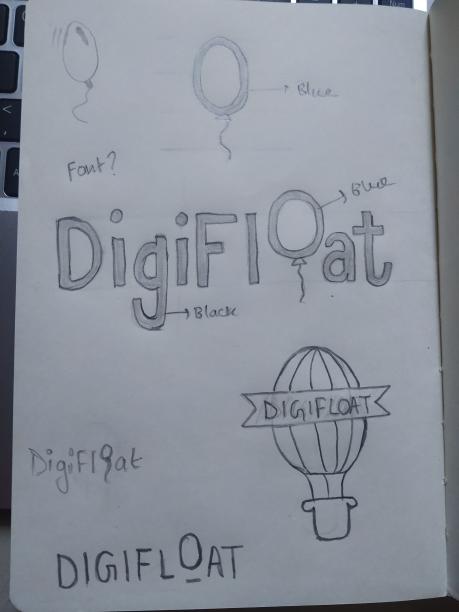 It's not perfect and not even close to what we have now. But it was a start. Putting your ideas on paper will allow you to actually see what the final designs will look like. You can even show these images to 1 or 2 close friends to see how they feel about the design.
7. Make a Brief
Now is the time to collect everything you have so far in one place. Even if you want to design your logo yourself, try to make a logo brief first. It wouldn't even take much of your time and it will act as a point of reference for evaluating the final designs.
Start by noting down answers to some simple questions I have listed below:
Company Related
What does your company do?
Who are your competitors?
Who is the primary target audience?
Design Related
Do you have an existing logo?
Do you have a tagline in the logo?
Do you have a specific image you want to include in your logo?
Do you want your logo to be an icon, text or both?
Is there any specific color you want to use?
What feeling do you want to convey with your logo?
Which format do you want to have your logo?
What logos appeal to you?
Project Related
Where are you going to use this logo?
What's your budget?
You can also refer to my article on Stupid Simple Logo Design Questionnaire
8. Design the Logo
Once you have done everything mentioned in the 7 points above, you'll have a pretty good idea of what you want. Based on this, you'll also know how complicated the design is going to be.
Now look at the 4 options below to decide how to design a logo for your business:
I. Use Online Logo Maker
If you want to create a simple logo for your startup you can use an online logo maker. I feel this option is less desired by people as they think it will give them a low-quality design. But it depends on which software you use.
You'll find hundreds of logo design software in the market. I have a list of 27 best software where you'll find free, affordable, and premium software – Logo Design Software
If you are designing a logo for a startup with zero budget try Hatchful by Shopify.
If your budget is somewhere around $50, try Logobly.
Just keep a few things in mind while designing your own logo:
It should be scalable.
Your logo should look good on different background colors.
Make sure it'll work across all platforms i.e. your website, apps, stationery, print t-shirt, etc.
II. Hire a Freelancer
Hiring a freelancer for logo design is the most popular option between startups and small businesses. And freelance job boards like Fiverr, PeoplePerHour, and Upwork are the most popular places to find freelancers.
Here you can find a designer for any budget but you'll have to spend time browsing through portfolios. Take your time and read their reviews and don't hesitate to contact them to ask questions about their experiences and process.
If you are confused about which freelancing platform to choose, read my comparison article on Upwork vs Fiverr.
Once you find the right logo designer on one of these platforms, share your brief and make sure you have clear communication about your requirements.
Also, remember to ask the following questions before hiring a designer:
What tools and software do they use?
How much time will it take to design the logo?
How many free revisions can you request?
What type of file format will they deliver?
Who will own the rights of the final logo design?
III. Hire an Agency
Outsourcing design has become a popular option since it allows you to delegate tasks to experienced professionals. I included this option here because a lot of agencies offer logo design services including us.
It might seem similar to hiring a freelance designer but there are a few differences, the biggest one being reliability. With a freelancer, there are chances of getting ghosted. With an agency like us, you can expect great reliability and 24×7 support.
Apart from this, you'll also get unlimited revisions and a money-back guarantee, in case the designs aren't up to your expectations.
Feel free to have a look at our logo design samples here.
Let's Summarize – How to Design a Logo For Yourself
To design an awesome logo start with a small idea. Research about the existing brands and your competitors. Pick the right designs, colors, fonts, and symbols for your brand's personality. Create a lot of rough sketches and don't shy away from asking for feedback from a couple of friends.
Your logo will stick with your company through the years. Make sure it represents your values and visions.
And if you need more professional advice, contact our expert logo design team.