A client who doesn't know what he wants is the worst nightmare of any designer.
But who's to blame here?
The number of options available in the market today are enough to confuse any business owner.
What colors look the best? Which font to choose? What styles will suit your brand?
You cannot directly answer any of these questions if you have zero design knowledge.
What you can do is go around these questions to find what kind of logo style will suit your brand.
Start by noting down answers to much simpler questions I have listed below:
(We have been using this logo design questionnaire template to design logos of our clients for the past 2+ years)
Logo Design Questionnaire
Company Related
1. What does your company do?
(It's not for your 'about us' page. Keep it casual and explain what your business does, what kind of product or service you sell)
2. Who are your competitors?
(This will give you an idea about what kind of logos are already used in the industry)
3. Who is the primary target audience?
(This includes their location, gender and age group. People of different age groups have different tastes. For instance, brands for kids usually have more brightly colored and fun logos whereas brands for the elderly are more on the classic side)
Design Related
4. Do you have an existing logo?
(If yes, then why are you wishing to change it?)
5. Do you have a tagline? If yes, do you want to include that in the logo?
(Although adding taglines to a logo is not recommended but some people insist on having the tagline in their logo)
6. Do you have a specific image you want to include in your logo?
(A shopping cart, any animal, a leaf? Is there anything that you specifically want in your logo?)
7. Do you prefer your logo to be an icon, text or both?
(Ideally, most startups go for both icons and text in their logo. But you can also choose either one of these)
8. Is there any specific color you want to use?
(Or is there any specific color you don't want to use?)
9. What feeling do you want to convey with your logo?
(Happy, excited, trust, empathy! What do you want your target audience to feel when they see your logo?)
10. Which format do you want to have your logo?
(Should your logo be vertical or horizontal?)
11. What logos appeal to you?
(Just type 'logo' in Google Images. Among the thousands of logos that pop in front of you, choose a maximum of 5 logos that you love)
Project Related
12. Where are you going to use this logo?
(Most online businesses intend on using their logos everywhere – website, business cards, marketing material. The design of your logo has to work in each and every location)
13. What's your budget?
(This is very crucial as the cost of designing a logo can range between $99 to $999. Always mention your budget in the logo design questionnaire.)
It may seem like a long list of questions.
But by filling out this logo design questionnaire, you can come so much closer to designing your dream logo.
You can come up with the right image and colors that will work to broaden your brand's identity.
But don't stop here!
Look out for some ideas and inspirations on various other platforms.
Places to Look For Inspiration
Even though design inspirations are all around us, sometimes it can be hard to spot them. Even designers find themselves staring at a blank canvas when inspiration evades them. It's nothing to be ashamed of. I know a few places you can look into for some inspirations.
1. Pinterest
My all-time favorite!
Much like Google, Pinterest is also a search engine that can be used to look up amazing design inspiration.
You can also easily save the pictures you like by creating a board for logo designs. The link of the board can be shared in your logo design questionnaire for reference.
2. Instagram
Login to your account and search for #logoinspirations.
Thousands of results will pop in front of you like this: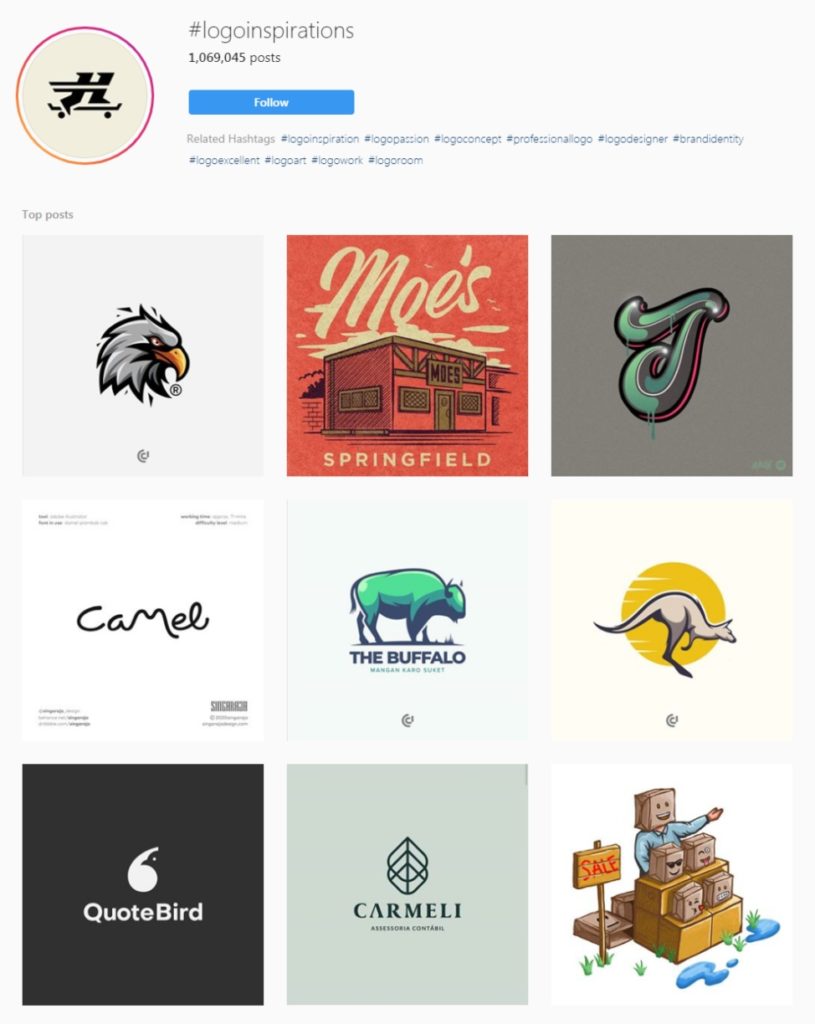 Most of these logos belong to talented design professionals who share their work on Instagram.
You can also try other hashtags like #logodesigns, #logodesigner, and #logoproject.
3. Behance
Behance is a site full of curated galleries. You can find some of the web's best design collections in here without putting in the effort of searching.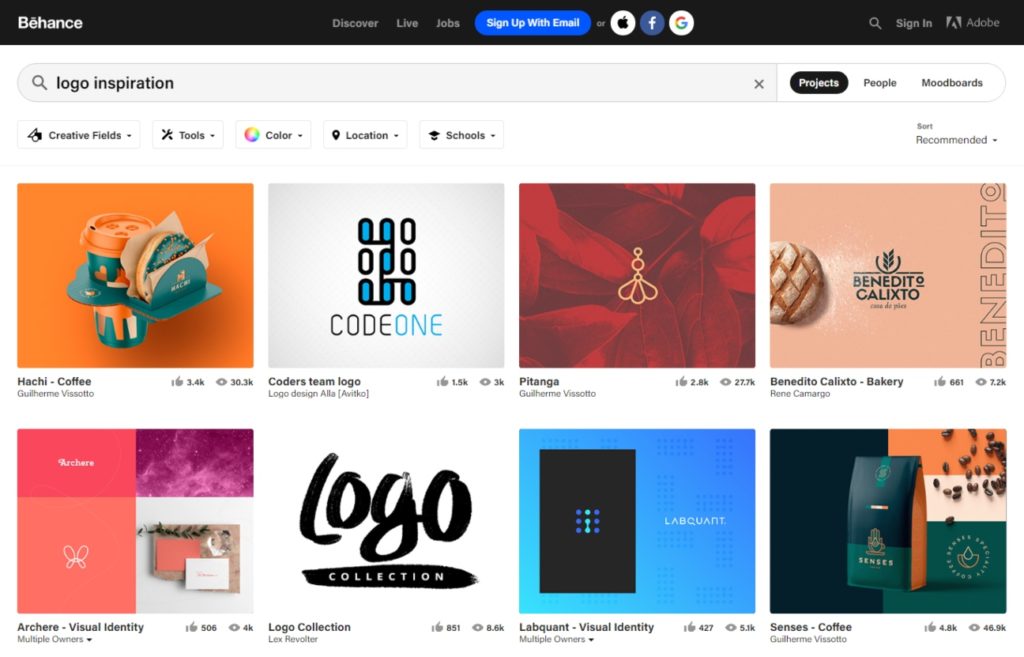 You can also filter these designs by creative fields or colors and much more! Or simply scroll through the homepage that features the "Best of Behance" design inspirations.
These 3 places will be enough to help you find some great inspirations for your brand logo.
And now that you have your logo design questionnaire and logo inspirations, it's time to look into how you are actually going to get a logo.
Hire Someone or DIY
Why should I hire a graphic designer when I can do it all by myself?
I cannot tell you how many times I have heard people say this.
The DIY approach is good if you have access to the right tools. For example, you can use Canva to create social media graphics or an online tool to make your own restaurant menu.
But when it comes to logo design, you're better off hiring a professional.
There are two ways to hire a logo designer: Freelance or Outsource
You can hire a freelancer if…
You have a tight budget and you just need a few designs here and there. These freelancers are easily available on websites like Upwork and Fiverr.
This method is going to cost you some time as communication can be a bit tricky with freelancers. They work on multiple projects at once and they won't give you a 24*7 service.
If you are confused about which freelancing platform to choose, read my comparison article on Upwork vs Fiverr.
You should outsource your designs if…
You are a startup/business that wants more than just a logo. If you are looking for a unique brand identity that correlates with your company's mission, vision, and values, you need to outsource your design worries.
With a design agency, you'll get expert designers and 24*7 support. You can also subscribe to a monthly unlimited graphic design service to manage your constant need for fresh graphics. These services are charged on a no-contract basis and come with a money-back guarantee.
Or simply hire our logo designers to create your first logo for just $99.